Tinned fish is trendy—and tasty. The Cheese Shop of Des Moines stocks 20 varieties, including scallops, mussels, sardines, codfish, mackerel, razor clams and more.
Writer: Wini Moranville
Photographer: Duane Tinkey
"These aren't your grandpa's kipper snacks," says C.J. Bienert of the colorful tins and jars of artisanal fish on display at the Cheese Shop of Des Moines. Indeed, if your experience with tinned fish is mostly limited to anchovies for Caesar salad and tuna blended with fixings to slather between sliced bread, you're in for a food awakening that will change your life.
Known as conservas, and long a staple in Europe, tinned seafood has become increasingly de rigueur in the United States over the past few years. Hotshot lounges, bars, and tapas haunts from Brooklyn to the Bay Area now star conservas on the menu; some, like the upcoming Little Fish in Seattle, are entirely devoted to the delicacy.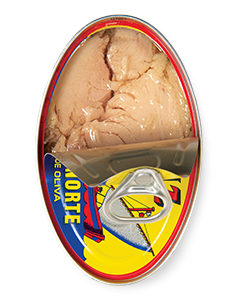 Way ahead of this culinary curve, Bienert fell hard for tinned fish while traveling through Spain in 2009. There, in a boutique specializing in the Espinaler brand of conservas, he marveled at the alluring array of decorative tins and boxes that were presented like gems in a jewelry shop.
"Some tins cost 50 to 60 euros each, which definitely sparked my interest," he says.
He has sold top-quality tinned fish at the Cheese Shop of Des Moines since it opened in 2011; currently he stocks more than 20 different varieties, including scallops, mussels, sardines, codfish, mackerel, razor clams and more, from such far-flung spots as Brittany, Portugal, Spain and Patagonia. Prices range from $8 to $25.
For the host, serving conserva is about as easy as it gets. According to Bienert, not only can you serve these delicacies straight from the tin, you should serve them straight from the tin—just as they would be presented in bars in Spain and Portugal. They need no embellishment because the flavor is already packed into the tin.
"The fish is cooked in its own natural juices, plus maybe some olive oil and other light seasonings," he says. "The canning process seals in all that flavor."
Skeptical? Pick up a tin of Patagonia Roasted Garlic Mackerel in Olive Oil. These buttery-lush, ultra-moist fillets, draped in olive oil and generously scattered with bits of soft, mellow garlic, needed only a little bread for soaking up the immensely compelling mackerel-infused olive oil.
Then, imagine how fun it will be to serve a slew of conservas in the A.C. (after-COVID) era, when we're finally able to swing open the doors to our favorite people. Until then, they'll make festive holiday treats in my little household, and I'll be gifting them to the people I've been missing most at my table this past year.