Above: Jessica Marino of Indie Floral built the floral structure the morning of the wedding. Megan's sister Allie officiated the service. Here, family members read prayers and Bible verses as the couple looks on.
Writer: Megan Rapp
Photographer: Anna Jones
When COVID-19 forced my fiance, Blake O'Brien, and me to reconsider pretty much every aspect of our 200-guest wedding over Memorial Day weekend, my motto—everything is going to be OK—went into full drive. We decided to make changes with a positive attitude and aimed to make the best of the situation.
What we didn't realize when we started adjusting our plans is that massively scaling down our guest list to immediate family would result in a perfect day. I'm now encouraging other couples to consider a micro wedding, with or without a pandemic (in fact, micro weddings were trending even before COVID-19). Here are our top reasons for going small.
1. Unexpected and unique location: We moved the event to our family acreage in New Virginia, as our country club venue was closed for large parties. Our location has one small cabin, so logistics such as parking, restrooms and backup power would have been tricky for the original guest list. It was meaningful to have the wedding at our family's property, which meant our Yorkie, Oliver, could spend the entire day with us (the country club had pet restrictions). We'll now have memories on our family acreage forever.
2. Quality time with guests: Blake and I determined we'd only have 90 seconds with each person who had flown in and given up their holiday weekend to celebrate with us. Instead, having only 12 guests allowed us to soak up the hours with everyone and spend long moments speaking with each person. This saved us from feeling rushed and allowed us to connect with our guests.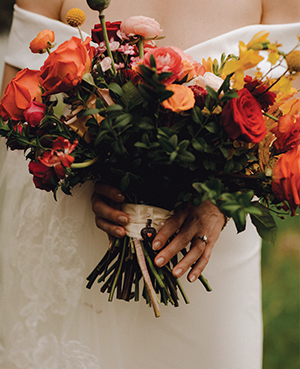 Bride Megan Rapp wanted colors that were warm and bright; Floral Design by Jessica Marino delivered. One of Megan's "something old" was husband Blake O'Brien's great-grandmother's brooch with a miniature coral heart; Megan wrapped the jewelry around her bouquet.
3. Flexibility: The morning of the wedding, my sister checked the weather and noticed a massive storm coming through about the time of our ceremony. We decided to move it up two hours, which would have been a logistical nightmare with a large event. The earlier outdoor ceremony took place in picture-perfect weather. Just as my sister (our officiant) announced us as husband and wife, the thunder cracked and rain started. The quick thunderstorm rolled in while we were inside the cabin doing toasts, and then disappeared before we enjoyed dinner and dancing outside. The timing couldn't have been better.
4. Al fresco dining: There's often quite a bit of expense and orchestration needed to plan an outdoor celebration, including lighting plans and electricity access, fans and portable air conditioning, a backup tent for rain, plus table and chair rentals. With just a dozen of us, we were able to eat dinner and dance under the setting sun. I loved that we got to eat outside. It was a gorgeous sky and a memorable meal.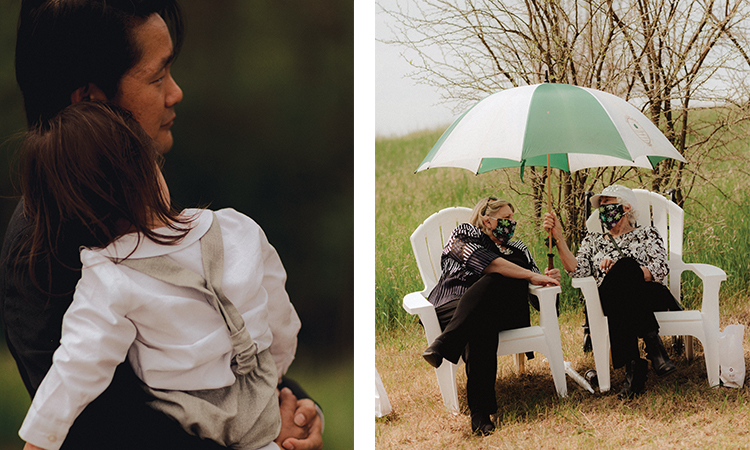 Left: Ringbearer Charlie, Megan and Blake's nephew, had to be woken up from a nap to complete his assigned task during the ceremony. Right: Megan's 88-year-old grandmother Juana Kay (right) was able to attend the gathering; here Adirondack chairs provide safe social distancing for Juana and her friend Marcia.
5. Personal touches: Blake and I were able to infuse ourselves into each detail of the day without having to worry about accommodating several hundred guests. Blake designed and built a beautiful cedar wood pergola with my dad, father-in-law, brother, brother-in-law and nephew. We draped the structure with cafe lights and bright green garlands, and dined and danced under it.
I enjoy gardening and traveling, and we planted an Elizabeth magnolia tree as a part of the ceremony. Everyone had a glass jar filled with soil that they poured over the tree, while Edith Piaf's "La Vie En Rose" played in the background. Now each May for our anniversary the tree will blossom in pale yellow flowers. Also, years ago on a trip to South Africa, I bought a dozen handmade linens in Cape Town with king protea flowers printed on them—just enough to use at our wedding table.
6. Home-cooked food: While my mother is a great cook, she's not a professional caterer, and cooking for 200 people would have been a big challenge. With only a dozen mouths to feed, she was able to make an authentic Mexican pozole from scratch, which we all devoured. My brother-in-law spent the month before the wedding perfecting a fresh-squeezed margarita recipe and played the role of bartender all night. Nothing beats homemade food and drinks made with love.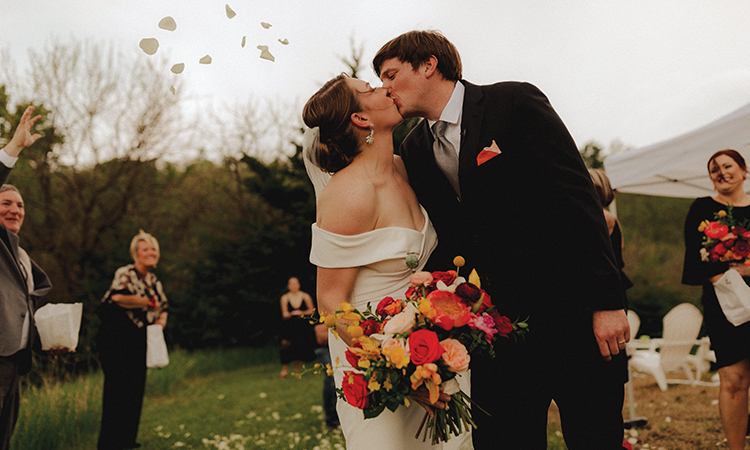 The guests tossed rose petals during the recessional as the string quartet played "Here Comes the Sun" by The Beatles.
7. Relaxed vibes: I'm a planner by nature, but it was a treat to have such a relaxed wedding day. It was peaceful and fun—there was no real schedule and no stress. It was just us and our family hanging out over drinks, dinner and dancing. The day didn't feel like a blur, but instead was full of special details and moments. I even had time to do a yoga session in the morning.
8. Extended photo shoot: Beyond getting married, my two priorities for the day were beautiful flowers and photos. Our floral designer, Jessica Marino of Indie Floral, created some of the most beautiful organic and bold arrangements I've seen. We also had a tremendous amount of time with photographer Anna Jones, who worked around the storm to capture the best lighting. We got the best of both worlds—sunshine shots and dramatic, stormy photos.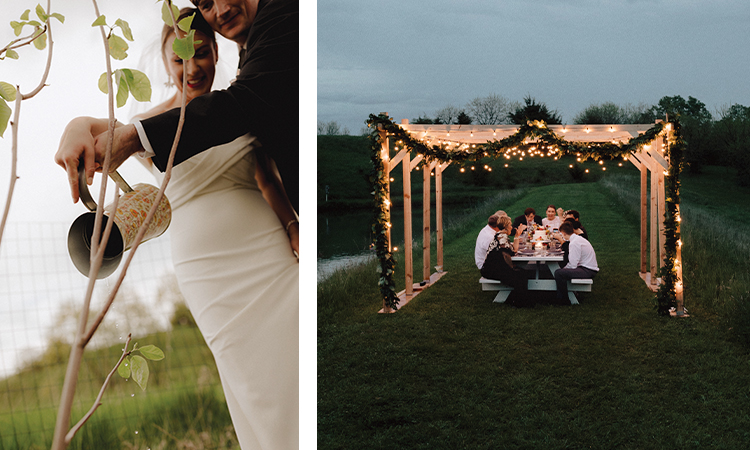 Left: Megan and Blake water an Elizabeth magnolia tree they planted during their ceremony; they discovered the species walking at Brenton Arboretum in Dallas Center. It's a favorite place to explore with dog Oliver. Right: The couple's family built the pergola several weeks before the ceremony.
9. One-on-one time as a couple: I didn't feel pressured to entertain everyone or follow a rigid timeline, so Blake and I got to hang out and enjoy each other. Isn't that the point of getting married?
10. My grandma was there: Because our group was so small and made up of immediate family, my 88-year-old grandmother was able to come for a couple of hours to participate in the ceremony and read a prayer. It meant the world to me, and given the necessary health and safety precautions, I'm not sure she would have made it to a larger gathering.
When I describe the day to people, I simply say it was peaceful and perfect. Even if we had to put on optimistic, rose-colored glasses to make it work at first, it ended up feeling like a perfect la vie en rose.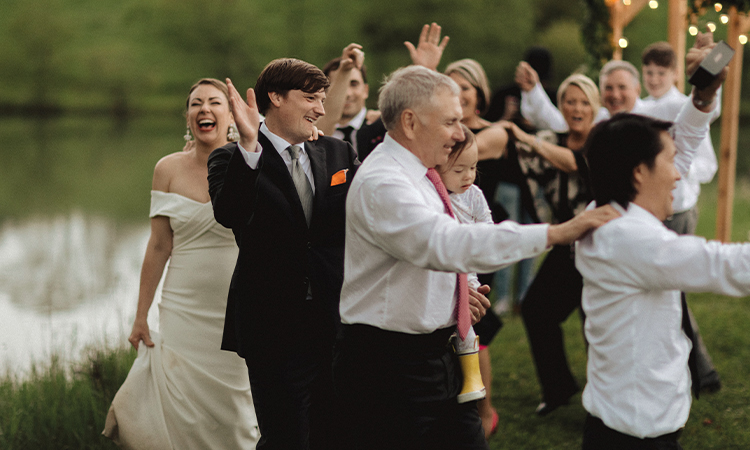 Blake's sister Baylee played DJ, creating a perfect dance party mix of 70s, 90s and current tunes. Brother-in-law Sung started the congo line.
Megan Rapp and Blake O'Brien live in the Ingersoll Avenue corridor with their Yorkie, Oliver. She works as a managing director for the United States International Development Finance Corp.; he's a mechanical engineer at IMEG. The couple met two years ago and had their first date at Exile Brewing Co. They love biking, hiking, good food and dog-friendly spots in Des Moines; favorites include Brenton Arboretum, Bartender's Handshake, Captain Roy's and the paths behind the Des Moines Art Center.
---
Hair: Carly Condon Studio
Makeup: Kelsi Ziemann Artistry
Rings: Brilliant Earth and Josephs Jewelers
Floral design: Indie Floral by Jessica Marino
Dessert (Wedding cake and pastel de natas): Glen Oaks Country Club