Layers of plants, such as this hanging succulent basket, mix with home décor at Petals + Moss in the East Village.
Writer: Beth Eslinger
Photographer: Duane Tinkey
Get into the houseplant trend with help from these local plant and floral shops. Find all sorts of foliage, including low-maintenance options, as well as accessories to freshen up your home for winter. You may even discover the perfect Valentine's Day gift.
---
Petals + Moss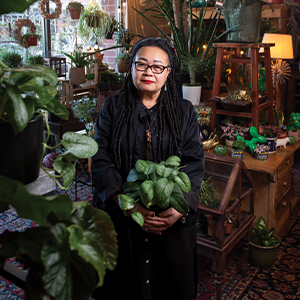 This eclectic East Village store provides shoppers the thrill of the hunt. Though the store has a small footprint, there's plenty to absorb on the walls, layered tables and styled shelves.
Owner Saley Nong's shop is stocked with all sorts of plants. Our favorite was the hoyas—the heart-shape cuttings would be a sweet Valentine's gift. In addition to greenery and containers, shop for decorative pillows, beaded slippers, jewelry, woven baskets and more. On our visit we fell in love with a small glass watering can for winter plant care. The staff attendee shared the love and thought it would be a great wine decanter. Fun idea.
(33 E. Grand Ave., #113; facebook.com/Petals-and-Moss-DSM)
---
Art Terrarium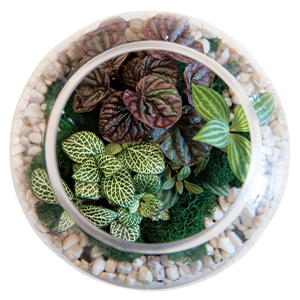 Take a planting break from your winter hibernation at this downtown shop. With big window expanses and loads of plants—succulents, cacti, rock plants, variegated trailing greenery, and tall standout specimens such as fiddle leaf fig—the shop entices even those without green thumbs to bring home something live. Their planting bar allows you to make the mess in the shop vs. your own home.
You'll also find cool containers, modern watering cans, hip macrame, cute candles, and matches in tiny glass bottles. Gardeners working on overwintering their prized plants find high-quality grow lights. The shop also features products online, including some DIY kits (macrame and embroidery) to keep you busy this winter.
(106 11th St.; artterrarium.com)
---
Adina Blooms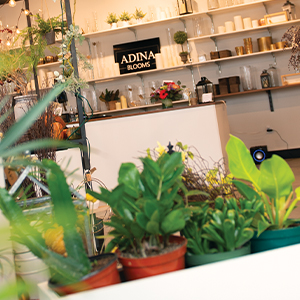 Located in Ankeny's Prairie Trail, this floral business also stocks a variety of houseplants. We discovered a trendy mix of greenery including succulents, colorful begonias (a national houseplant trend this year, according to top grower Monrovia nursery), elephant ears and snake plants. Ceramic pots in neutral tones complement modern and transitional decor. They offer delivery service for plants as well as floral arrangements.
In addition to live goods, find candles and lanterns to create an indoor garden aesthetic. The business also offers workshops, including a birthday party package.
(1515 S.W. Main St., Suite 105, Ankeny; adinabloomsankeny.com)
---
Renovation Jungle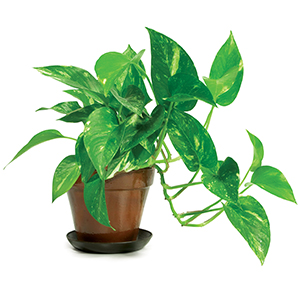 New on the Ingersoll corridor as of November, this modern shop delivers all the swoon-worthy greenery filling our social media feeds. Step inside the store (just south of El Patio Mexican Restaurant) and browse a living wall of plants—all shoppable—to create your own green oasis. Owner Allie Delaney is a houseplant guru and provides all sorts of help and advice. We asked questions about specific lighting and watering tips for a money tree and ZZ plant, best vining options for north-facing rooms, and how to overwinter a fancy begonia from the summer garden.
In addition to plant-care knowledge, you'll discover sweet, diminutive plants to top winter tables or mantels, clean-line containers, potting mixes and houseplant tools for your new live additions.
(607 37th St.; facebook.com/RenovationJungle)