Jalapeños give a spicy kick to Kristin Porter's shrimp soup.
Writer: Karla Walsh
Photographer: Duane Tinkey
With 103,000 Facebook fans and counting following her every meal move, Kristin Porter—the food writer, recipe developer and creator of the website Iowa Girl Eats—has a full plate.
"My love for cooking was triggered by the fact that I love to eat," says Porter, who lives in Urbandale with her husband and three children. "My appetite has always been oversized. Plus, when I was growing up, my parents always placed a heavy emphasis on eating homemade meals together, so cooking has always been a source of comfort and sense of home for me."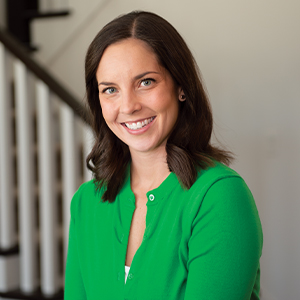 She launched Iowa Girl Eats in 2009 as a lifestyle blog, and after she was diagnosed with celiac disease in 2013, it transitioned into a food and recipe-focused website with an emphasis on all things family-friendly and gluten-free. With greatest hits including Cheesy Chicken Burrito Skillet and oh-so-Midwest Pickle Wrap Dip, Porter has a lock on comfort food—often crazy-quick and with a twist. And she's confident you can nail every one of the nearly 1,000 recipes on her site.
"I usually test two recipes each week, oftentimes on my family at dinner or snack time to gauge if it's going to be worth testing a second, third or fourth time," Porter says. "Testing recipes multiple times is an essential part of my process. The thought of a reader wasting their money on ingredients, or wasting time in the kitchen, is unbearable."
She often draws ideas from her childhood, travels or restaurant meals, and the latter is the inspiration for this tested-and-tasty soup. "It was love at first bite," she says of the shrimp soup at Mi Patria, a West Des Moines Ecuadorian restaurant. "The soup contained ingredients that I was familiar with, but they were combined in an unexpected way. That tickled me right out of the gate, and each spoonful kept me going back for more and more."
---
Spicy Shrimp Soup
Serves 3 to 4
Ingredients
4 tablespoons butter
1 large shallot, microplaned or minced
5 cloves garlic, microplaned, pressed or minced
1 tablespoon flour (gluten-free if desired)
3 cups chicken stock
2 cups seafood stock
1 cup tomato sauce
2 jalapeños, divided (1 jalapeño sliced from the ribs and seeds, 1 sliced into rings)
3 small bay leaves
1/2 teaspoon dried oregano
1/2 teaspoon salt
1/4 teaspoon dried thyme
1/4 teaspoon white pepper
3/4 pound jumbo shrimp, peeled and deveined
2 limes (1 cut in half, 1 cut into wedges)
Chopped fresh cilantro
Cooked white rice, for serving
Directions
1. Melt butter in a 5- or 6-quart Dutch oven or soup pot over medium heat. Add shallots and garlic, then turn heat down a touch and saute until light brown and tender, or for about 5 minutes (make sure butter is just barely sizzling as to not brown the garlic). Sprinkle in the flour, then stir to combine and saute for 1 more minute.
2. Add tomato sauce, then stir to combine, ensuring there are no lumps in the flour and butter mixture. Add seafood stock, chicken stock, the jalapeño that's been sliced from the ribs and seeds, bay leaves, and spices. Turn heat up to bring soup to a boil then turn back down to medium. Place a lid partially on top and gently simmer for 30 minutes.
3. Remove bay leaves and jalapeños, then add lime juice (about 1/3 of a fresh lime) to taste, and salt if needed.
4. Turn heat back up to high to bring the soup to a boil, then add shrimp and boil until cooked through, about 1 to 2 minutes.
5. Scoop soup into bowls then top with cooked rice. Add sliced raw jalapeños (these add flavor and heat versus just being a garnish, so don't skip!) and chopped cilantro, then serve with lime wedges.
---
Secrets for Success
We tapped Porter for some bonus tips to guarantee soup success. The most important piece of advice, in her opinion? Make a double batch.
"Truly, I love all the recipes I share on Iowa Girl Eats—otherwise I wouldn't post them—but this soup has a special place in my family's hearts," she says.
Turn up the heat. For a spicier soup, leave the ribs and seeds on the jalapeño that simmers in the soup, or use two jalapeños. "The raw and simmered peppers add different flavors and heat experiences," Porter explains. "The jalapeño simmered in the soup adds a warmth that you'll feel in the back of your throat, while the raw slices on top will make your tongue tingle. Both have a place in this soup."
Stock up. Porter opts for Imagine seafood stock, which can be found at most Hy-Vee locations (search in the health food aisles).
Prep your shrimp. While it doesn't matter if you do or don't remove the tails before adding the seafood to the soup, be sure each shrimp has been peeled and deveined. You can buy them with this already done or Google for a how-to. When cooking them, remember shrimp only need to simmer for a minute or two—just till they turn pink. "Avoid overcooking in the pot to keep the shrimp tender versus rubbery," Porter says.
Don't skip the flour. While the soup will taste identical without the spoonful of flour, Porter recommends it for "luxurious thickness."
Prep it ahead. "The soup broth freezes extremely well. Scoop into a freezer bag, then remove the air and freeze flat. Reheat in a soup pot, then add shrimp and serve over rice for a nearly instant meal," Porter suggests.
---
Find all of Porter's recipes at iowagirleats.com or follow her on Instagram at @iowagirleats and on Facebook.