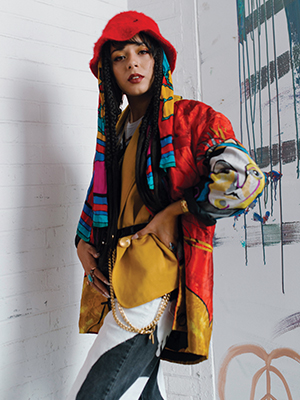 Allysha Cora Jean Walters
Age: 24
Profession: Artist and model
How you describe your style: Hobo chic. Cozy, laid-back clothing that's self-expressive, always including an eclectic blend of layers, patterns and colors.
Style icons: FKA Twigs, Lisa Bonet and Erykah Badu. I feel like they never dress to conform but to please themselves—that's the energy I want my style to have.
Piece of clothing you couldn't live without: A trench coat. I feel like it's the top layer that brings the whole outfit together and complements my "hobo" style. It represents my free spirit, ready to flow where life takes me.
The part of your style you're most known for: My hair. Just like my clothing, I change my hair to match my mood, so I consider it a big part of my style. Wearing any hair color or style I want helps me represent my creativity.
Where you shop: I mostly upcycle donated clothing myself or buy from local thrift stores. It's important for me to take something and make it my own and to buy within my own community. I try to avoid fast fashion, so I use my clothing to represent my DIY lifestyle as much as possible.
Photographer: Joelle Blanchard