This vintage red fireplace (based on a Malm design) is the pièce de résistance of Nick Sellers and Joseph Wanek's private front patio. Visible from the wall of windows flanking the otherwise neutral open-concept living room, the fireplace serves as the focal point for the entire home.
Writer: Missy Keenan
Photographers: Lauren Konrad (interiors) and Aynsley Starbuck (exteriors)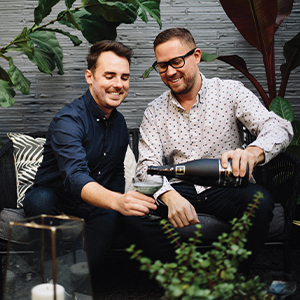 Nick Sellers and Joseph Wanek have taken half a dozen trips to tropical destinations such as Thailand, Costa Rica and their 2019 honeymoon to St. Barts. Then the COVID-19 pandemic hit, and the pair has stayed closer to home since then, going on just a few road trips.
Luckily for the couple, their design style of midcentury tropical oasis makes their plant-filled home feel a bit more like a Caribbean island than your average south-side Des Moines abode. Their collection now numbers about 100 plants, providing a verdant green backdrop to their indoor and outdoor spaces.
"We love that it makes our place feel more like a tropical paradise, especially in the winter," says Sellers, an art director with the ITA Group. "Surrounding ourselves with plants makes it feel like we're on vacation year-round."
In addition to making their home feel lush and lovely, many of their plants have sentimental value. Their tropical plants remind them of their travel landscapes. And Wanek, the plant whisperer of the couple and a stylist, has propagated several plants from family, including a hibiscus nurtured from a cutting he took from a plant in his grandma's bedroom.
When Sellers and Wanek aren't traveling, they enjoy meeting friends out for dinner, cocktails or karaoke. But during the pandemic they've been staying home more, entertaining friends who share a similar approach to COVID-19.
"The most important thing is that we trust the friends who come over—that they take COVID seriously and wear masks in public," Sellers says. "That takes some of the stress out of entertaining during these times."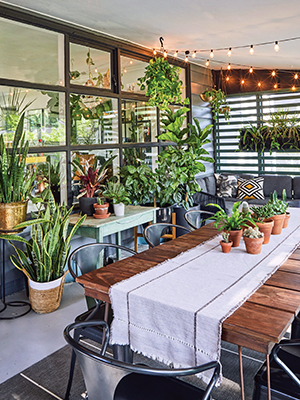 Even in the coldest months, the screen porch provides a retreat. Sellers and Wanek found most of their plants at Art Terrarium downtown and Harvey's Greenhouse in Adel.
The couple has two spots for outdoor entertaining—a screened-in back porch with a grill and dining table, and a private front patio with lounge furniture and a vintage red free-standing fireplace. Two years ago they found the fireplace for $150 on Facebook Marketplace (a steal, compared with a similar one they had fallen in love with for $800).
Because the fireplace is just a few feet from the house, it couldn't safely burn wood. For about a year the fireplace was essentially a good-looking lawn ornament. But this spring Wanek converted it with a propane tank, extending patio season until late October.
In preparation for moving the party indoors in colder months, they created a tiki lounge over the summer in their basement. They have mint juleps and karaoke at home, with Wanek drawing friends into pop duets such as Kanye West and Estelle's "American Boy."
"We have enjoyed the more intimate setting of talking with our friends at home versus going out to a bar," Sellers says. "We've also taken this time to connect with friends we don't see as often, which has been really great. It's also a huge perk that we've saved money by cooking and drinking at home instead of always going out."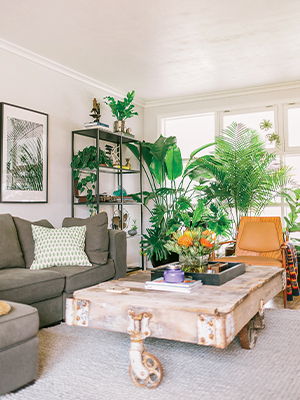 The coffee table reflects Wanek's industrial aesthetic, paired with a midcentury armchair that once belonged to Sellers' grandmother. Sellers photographed the botanical scene over the couch at the Greater Des Moines Botanical Garden. The couple held their 2019 wedding at the Botanical Garden, which is also where Sellers' parents were married. Sellers and Wanek have lived in their 1400-square-foot home for six years.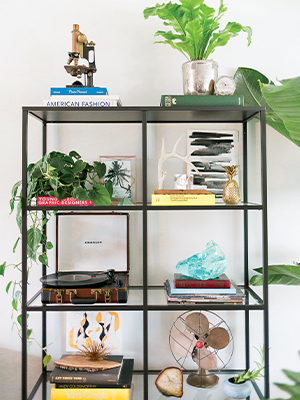 In addition to the greenery found in every corner of their home, these shelves hold a collection of things Sellers and Wanek love—a microscope that belonged to Wanek's science-teacher grandfather, a framed photo of Wanek from their trip to Thailand, and a record player Sellers gave Wanek for his birthday.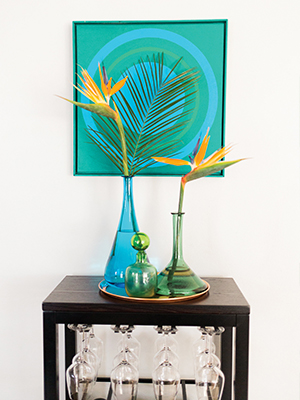 "I love vintage glass and I like to find it in these cool tones that match our house," Sellers says. "I found the painting at A Okay Antiques in Valley Junction."
The couple's kitchen is the product of a year's worth of serious elbow grease. They painted knotty pine cabinets in Valspar's "Blind Date," covered laminate counters with DIY concrete, tiled the backsplash, and added new cabinet hardware and lighting.