GrazeBox focuses on filling its boxes with goods from local purveyors.
Writer: Karla Walsh
Photographer: Duane Tinkey
Feed-a-crowd grazing tables or snack boxes are one of the quickest-growing food trends, according to Pinterest, with an increase in searches by 163% year over year. The tasty trend hit the metro in 2020, when several new brands added snack boxes or grazing boards to their menus to appease those who missed dining out but wanted to dine at home with ease and style. These options are jampacked with enough goodies to make a meal (just add a bottle of wine, a few beers or a pitcher of lemonade), and all can either be delivered to your doorstep or picked up curbside.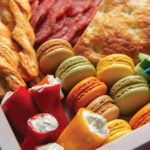 GrazeBox
With Central Iowa-based brands such as South Union Bakery, 5 Borough Bagels, Graziano Brothers, La Mie and more starring in her boxes, Lindsey Houck, owner of GrazeBox, is all about supporting local brands. For a morning meal, try the "I Like Big Brunch and I Cannot Lie" snack box that comes piled high with croissants, doughnut holes, cheeses, jams, fruit, honey and more.
(From $20, grazeboxdsm.com/s/order)
---
Cyd's Catering
Well-known wedding, special event, and business lunch caterer Cyd Koehn pivoted during the pandemic to assemble date night menus, holiday meals and more for curbside carryout at her Johnston home kitchen or via delivery. Among the most popular picks: the cheese and meat platter for two. Don't be confused by the name, though. This really serves more like four generously once you take into account the mountain of cheeses, cured meats, jams, nuts, crackers, fruit and more. Each order also comes with a sweet addition of local honey and a couple of bottles of water to wash it all down.
(From $20, cateringbycyd.online)
---
Five Minutes Til Midnight
Marinated cheeses, flavored hummus spreads, pepper-spiked aiolis and more make Todd Buffington's Vesper Boxes stand out from the charcuterie crowd. The Beaverdale butcher assembles a surprise box of those cheeses and spreads, meats, fruits, vegetables and other "rotating sundries" that often also include something sweet like chocolate or cake. Each week's selection varies, and the surprise is part of the fun.
($40, fiveminutestil.square.site)
---
All-Fresco Box
Get a taste of Puerto Rican delights from Jorge Pereles' new snack box company. Order the week's special All-Fresco Box and you'll score a mixed bag of island specialties. Each four-person pack features a handful of items like plantains, beef empanadas, chicken skewers, roast pork, yellow rice and garlic toast. Bonus: Slices of guava cheese flan are often available as a dessert add-on.
(From $21; preorder via Facebook Messenger or by phone at 515.601.8221 for pickup at Kitchen Spaces, 1139 24th St.)