Writer: Karla Walsh
Photographer: Duane Tinkey
The average chef works anywhere from 50 to 84 hours per week, and that's not taking into account menu design, ordering, meetings, media requests and more. So you might think that the last thing chefs want to do on their few days off is cook.
Think again.
These three Des Moines chefs treasure whipping up recipes for themselves and their families. We asked them to share a favorite day-off recipe and let us in on who's at their table when no reservation is required.
---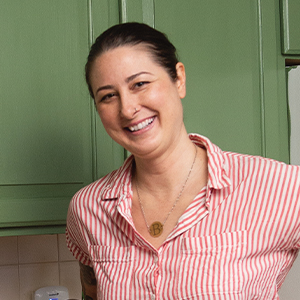 Brandy Leuders
The Grateful Chef
At home, Brandy Leuders likes to keep meal preparation simple.
"I'm no different from the typical Grateful Chef customer in that I like to turn my oven on, enjoy a glass of wine and time with my family, and pull out my meal with little fuss," says Leuders, who saw her take-and-bake meal service, located at 1938 S.E. Sixth Street, grow to new levels of popularity in 2020. (Many weeks, the Grateful Chef menus sold out in the first 30 minutes of preorders.)
Leuders and her two sons, Ethan, 14, and Oliver, 12, like to make days off an all-day affair. She enjoys starting her days around 7 a.m. with a cup of coffee. "I put on some music, a podcast or a book on Audible and clean up the house casually while enjoying my mug," she says. "I generally never schedule anything on my day off and have been known to not even get out of my PJs, and that's just the way I like it.
"My boys usually sleep in until at least noon, so I enjoy the quiet time before they get up," Leuders adds. "Once they do, I know they'll be hungry, so I usually make homemade French toast or avocado toast for us."
Leuders admits she got lucky to have kids who actually enjoy eating their vegetables, and all three rave about this easy, one-pan meal. "It's healthy, colorful and requires very little prep," she says.
---
Garrison Goodlet
G.G.'S Chicken and Waffles
Being a good chef means putting yourself on the line, Garrison Goodlet believes.
"You're kind of making yourself vulnerable when you cook because it's your work. It's akin to an artist painting a picture and asking, 'Hey, what do you think?' " says Goodlet, who launched his fried chicken and waffles brand in 2019.
"It means a lot to me that I can bring enjoyment to my whole family through food, and it also means the world that they are sharing this journey with me."
Now based out of Kitchen Spaces in the Drake area, the G.G.'s Chicken and Waffles team is truly all in the family. The crew includes Goodlett and his wife, Monica; 14-year old son, Josiah, and 11-year-old daughter, Mia; as well as Monica's parents.
"Our food at G.G.'s is really a 'cheat day' kind of food," Goodlet says. "When I feed my immediate family at home, I try to keep a health-conscious mindset. I want them to try something new, but if not new, something delicious."
And he says these jerk burgers check all those boxes: well-balanced, flavorful and unique.
---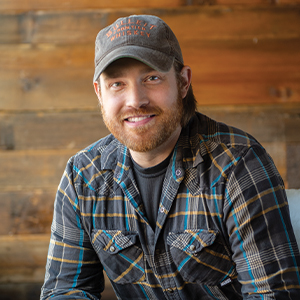 Nic Gonwa
Motley School Tavern
For Nic Gonwa, preparing meals for his family is an expression of love.
"We show we care for … our families by preparing them meals," says the executive chef of Motley School Tavern in Beaverdale. "Food is how we come together to celebrate or just to catch up with one another. It's even how we find comfort in hard times."
During the most stressful times last year, Gonwa would step into his home kitchen to prepare a date-night dinner for his wife, Hillary Courtney, to enjoy after they put their 1-year-old daughter, Luna, to bed.
"Days off are pretty special for our family. Being in this industry demands nights and weekends, so the time off we have to spend together is at a premium," Gonwa says. "When the day is done, we typically find ourselves sitting down to a meal and talking over an 'Office' marathon in the background."
Courtney is a vegetarian, and that influences a lot of what the family enjoys at home. Pasta dishes, including this roasted cauliflower bucatini, are among the ones they look forward to sharing with Luna when she's older. "It's very simple, but that's the beauty of it," Gonwa says.
---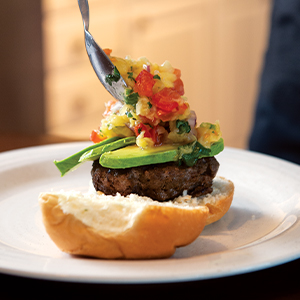 Grilled Jamaican Jerk Burger with Pineapple Salsa
Serves 4
Burger
1 pound 80% ground beef
1 bunch of green onions, chopped (about 2 1/2 cups)
2 tablespoons avocado or olive oil
1/4 cup low-sodium soy sauce
1 tablespoon garlic, chopped
1 tablespoon fresh ginger, chopped
1 teaspoon dried rosemary
2 teaspoons dried oregano
1 teaspoon allspice
1 teaspoon pepper
1/2 teaspoon cinnamon
1/4 cup dark brown sugar
1/2 teaspoon smoked or regular paprika
1 teaspoon fresh habanero pepper
Salt and pepper to taste
4 hamburger buns, toasted
Pineapple Salsa
1 cup pineapple, diced
1/2 cup fresh tomatoes, diced
2 tablespoons cilantro, chopped
1/4 cup red onion, chopped
1 tablespoon jalapeno pepper, chopped
1/2 teaspoon lime juice
1. Make the pineapple salsa: Combine all ingredients in a bowl and stir together and chill until ready to serve.
2. Make the burgers: Blend all ingredients (except the beef) in a blender.
3. Mix the jerk blend and beef together until thoroughly combined.
4. Form beef mixture into four 3/4- to 1-inch-thick patties, then season top and bottom of the patties with salt and pepper.
5. Grill the burgers until they reach your desired doneness (about 4 minutes per side, or until burgers reach an internal temperature of 130 degrees).
6. Place each burger on the bottom half of a toasted bun, spoon salsa on top, then finish with the top half of the bun.
---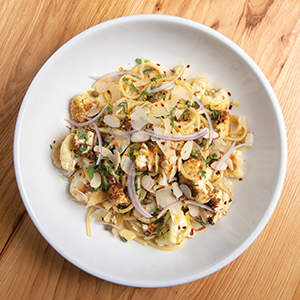 Roasted Cauliflower Bucatini with Lemon Vinaigrette
Serves 4
Roasted Cauliflower Bucatini
1 head cauliflower (about 2 pounds), cut into florets
2 tablespoons garlic, minced
1 teaspoon crushed red pepper
Zest from 2 lemons, divided
2 tablespoons olive oil
1 16-ounce package bucatini, cooked and drained
1/2 cup almonds, shaved
1/4 cup capers, plus 1 tablespoon of caper brine
1/2 cup grated fresh Parmesan cheese
Generous pinch of salt and pepper, plus more to season
1/2 cup fresh basil, cut in thin strips
Lemon Vinaigrette
6 ounces fresh lemon juice
2 ounces Champagne vinegar
1 tablespoon Dijon mustard
1 to 2 cloves garlic, minced
1/2 shallot, chopped
1 tablespoon fennel seeds
1 teaspoon red pepper flakes
8 ounces olive oil
1/4 cup parsley, chopped
Optional to garnish: chiffonade fresh basil, chopped almonds, shaved Parmesan cheese
1. Preheat oven to 425 degrees.
2. On a large sheet pan, toss cauliflower with garlic, crushed red pepper, zest from 1 lemon, olive oil, and season with salt as desired.
3. Roast in the oven until cauliflower is slightly browned and cooked through, about 20 minutes.
4. While the cauliflower is roasting, make the lemon vinaigrette: Place all ingredients except oil and parsley into a blender; blend until smooth. Slowly drizzle in the oil until the oil is evenly incorporated and an emulsified sauce forms, then pour into a medium bowl and gently fold in the chopped parsley.
5. In a large serving bowl, combine cooked bucatini with roasted cauliflower, almonds, capers and brine, Parmesan cheese, salt, pepper, fresh basil, and zest from the other lemon.
6. Toss with a drizzle of lemon vinaigrette, to taste. (Note: You will likely have extra vinaigrette. Store in the refrigerator in a jar, squeeze bottle, or lidded storage bowl and try it on salads, as a dip, or over other pasta dishes. Use within one week.)
7. Garnish with more chiffonade fresh basil, chopped salted almonds, and/or shaved Parmesan cheese, if desired.
---
Sheet Pan Herb-Roasted Pork Tenderloin and Veggies
Serves 4
4 tablespoons butter, softened
1 clove garlic, minced into a paste
1 tablespoon dried herbs of choice (such as Herbes de Provence)
Nonstick cooking spray
2 1-pound pork tenderloins
1 head of broccoli, chopped into florets
1 1/2 pounds carrots, peeled and cut into 1/2-inch pieces
1 red onion, chopped into wedges
2 pounds baby red potatoes, quartered
3 tablespoons olive oil, divided
Kosher salt and freshly ground black pepper
Barbecue sauce (optional)
1. Preheat oven to 450 degrees.
2. Combine softened butter with garlic and dried herbs. Set aside.
3. Spray a large heavy-duty baking sheet with nonstick cooking spray.
4. In a large bowl, combine cut vegetables with 2 tablespoons olive oil and season with 1 teaspoon kosher salt and 1/2 teaspoon black pepper.
5. Arrange vegetables on the prepared sheet pan, then roast for 15 minutes.
6. Remove the pan from the oven. Lay tenderloins, not touching, over vegetables in the middle of the pan. Drizzle with remaining oil and season with salt and pepper.
7. Roast for 25 to 30 minutes, or until pork reaches 140 degrees and vegetables are tender.
8. Remove pan from oven, then allow pork to rest for 10 minutes. While pork is resting, brush it with the herb butter mixture.
9. Place meat on a cutting board, then slice into 1/2-inch-thick pieces. Arrange on a platter and serve with roasted vegetables and barbecue sauce, if desired.