Iowa's rural landscape forms the dramatic backdrop to Jane Smiley's "A Thousand Acres." Des Moines Metro Opera has commissioned an opera based on the 1991 novel.
Writer: Christine Riccelli
Photographer: Amee Ellis
About four years ago, as Michael Egel started pondering Des Moines Metro Opera's 2022 50th anniversary, he knew he wanted to do something challenging and complicated. Something big and bold. Something that would move the company from "participating in the future of opera to helping create it."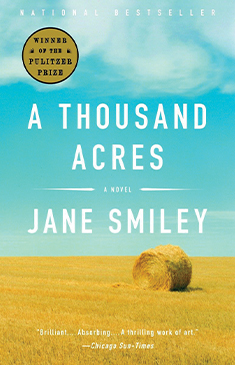 The result? DMMO has commissioned a $1 million production of "A Thousand Acres," based on the 1991 Pulitzer Prize-winning novel by Jane Smiley. The opera will premiere July 9, 2022, at Blank Performing Arts Center in Indianola.
The story is a perfect fit for an opera as it reimagines Shakespeare's "King Lear," a tragedy in which the king relinquishes his power and land to two of his three daughters and ends up destitute and insane. In Smiley's reinterpretation, the setting is rural Iowa in the 1980s, and the story is told from the perspective of the oldest daughter, Ginny.
As an Iowa-based opera company, "we wanted to find a story that felt intrinsic to Iowa and was uniquely ours to tell," says Egel, who has been DMMO's artistic and general director since 2013. "But we also wanted a novel that had achieved a profile beyond our borders. While this is an Iowa tale, it's also a universal one."
That universality, Egel believes, could draw the interest of opera companies around the world. "Our goal is to contribute something to the wider operatic world, adding our voice to the international repertory by setting a distinctly American and Iowa-based story to music," he says.
Vision and Innovation
Major commissions like this are typically undertaken only by large companies that have the resources they require (think New York City's Metropolitan Opera). But over the years, DMMO has built a reputation for punching beyond its weight, building strong patron and donor loyalty along the way. Egel has led the company with vision and innovation, developing new audiences and connecting with the community through progressive programming that defies traditional stereotypes. "A Thousand Acres" promises to draw DMMO into the international limelight.
"People like Michael have cultivated interest in local audiences for new works," says Mark Campbell, a Pulitzer Prize-winning librettist who wrote the text for "A Thousand Acres." "American culture has started to see that opera isn't what we grew up with—it's not elitist and it's not just for the rich. It's not just old European operas."
Typically, he adds, "audiences are terrified of new operas. It's up to the general director to connect with them and help them [embrace] new works. Michael has done a brilliant job doing that."
But it takes more than just an interest in new works to commission one. It also takes money. To that end, local philanthropists Tom and Linda Koehn earlier this year provided a major boost to the production's funding with a leadership gift of $1.5 million. Of that, $500,000 is being allocated to "A Thousand Acres," with the remaining going to DMMO's endowment fund.

From left: Michael Egel, Mark Campbell, Kristine McIntyre, Kristin Kuster
The "Right Story'
Once Egel knew he wanted to commission a major work for the 50th anniversary, he turned to artists and community members for ideas. Both Linda Koehn and acclaimed stage director Kristine McIntyre suggested "A Thousand Acres," almost simultaneously, Egel says. The Portland, Oregon-based McIntyre has directed more than 100 operas across the United States, including numerous ones for DMMO, such as "Billy Budd" and "Dead Man Walking." She'll also direct "A Thousand Acres."
"I immediately knew it was the right story," Egel says. The book "is perfectly placed in history; it's modern enough that we know these characters and their stories, but enough time has passed since its publication that we have some perspective on its impact.
"The retelling of 'King Lear' against an Iowa backdrop is the perfect meld of subject matter and location," he adds, as the story deals with the perils of property ownership, gender roles, patriarchy, legacy and "the family forces at play in rural society. … It's a family drama writ large."
To capture that drama in an operatic form, librettist Campbell had to turn a dense 400-page novel into a singable text. Based in New York City, Campbell has written 28 librettos as well as the lyrics for seven musicals; his works have been performed in more than 60 venues around the world. He won the 2012 Pulitzer Prize in music for the opera "Silent Night."
In creating the libretto for "A Thousand Acres," he says he started by "looking for the heart of the story. And to me, the heart is Ginny," the book's narrator.
Campbell says it was critical to honor Smiley's vision of the story and was pleased when she approved the libretto. Still, given the novel's dark theme, "I asked myself where I could find some hope in the story. What's a positive message I can give the audience?" he says. "I think that's an important part of telling a story: leaving an audience with some sense of a way out of the situation."
So he injected "some hope and some humor. If it's all despair and dystopia, the audience turns away. I want them to care about the characters and stay with the story."
Music Composition
Once Campbell finished the libretto, he sent it to the composer, Kristin Kuster, chair of composition at the University of Michigan School of Music, who's currently writing the music. Although female composers have made strides in the opera world in recent years, men still dominate the field. Asking a woman to compose "A Thousand Acres" was "a no-brainer," Egel says, as the story is told from a female point of view and the book was written by a woman. Another goal was to hire a composer who understood the Midwestern landscape.
As she writes the music, Kuster says she is "parsing through the complexities of the story [in which] people are very connected in some ways but also very disconnected." She adds that she's navigating how to balance the story's dark and brooding aspects with some lightness and levity.
Kuster says she hopes audiences "hear the music as both the foundation of and the wallpaper around the story. Part of my job is to support and enhance all of the emotions that are happening."
Those emotions are also at the center of how director McIntyre plans to stage the opera, including the choreography, set design and costumes. "The story is less about cornfields and soybeans and more about the psychological landscape of the characters, especially Ginny," she says. "I love the challenge of indicating a really big setting—the landscape—but focusing intently on the emotional lives of the characters."
McIntyre, Kuster and Campbell all say they love collaborating and creating an opera for the modern era, based on a blockbuster novel by a living writer. (Smiley, who now lives in California, was a professor of English at Iowa State for 15 years and received an M.A., an M.F.A. and a Ph.D. from the University of Iowa.)
Egel also loves imagining what it will be like to look back on the project, once it has been performed not only by DMMO but by opera companies throughout the U.S. and abroad.
"With any luck, we will have created the next 'Carmen' or 'Magic Flute,' " he says. "One day we'll look back and say, 'We did that. We made that here.' "
---
Photo Project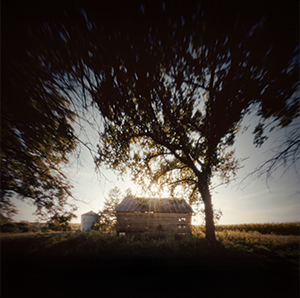 As part of the "A Thousand Acres" project, Des Moines Metro Opera asked Des Moines-based photographer Amee Ellis to shoot rural Iowa landscapes in all four seasons. Ellis specializes in landscapes, seeking to explore the interconnectedness of spirit and place.
"Landscape is more than a pastoral scene," she says in her artist's statement. "It is an expression, a way of contemplating the relationship between what has come before us and the fraction of time that is the present moment."
Ellis shoots with film and manual cameras, then processes the images by hand in her darkroom. She studied fine art photography at Columbia College Chicago and has displayed her work in a number of juried exhibitions, including the Des Moines Arts Festival.
---
2021 Summer Season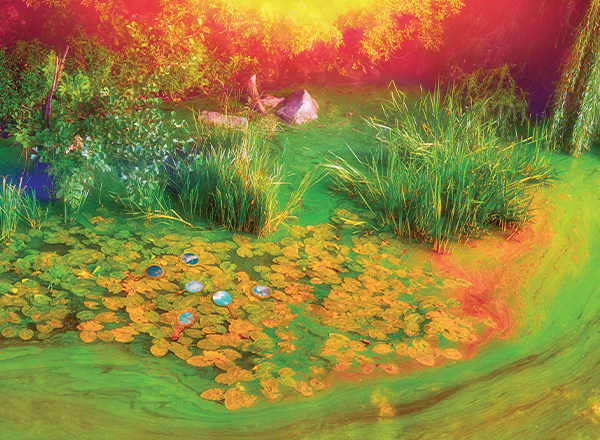 Platée by Jean-Phillippe Rameau is a comic opera centering on a water nymph who believes the king of gods is in love with her. The opera was first performed at a royal wedding at Versailles.
Des Moines Metro Opera will return to in-person performances for its 2021 Summer Festival season.
DMMO will present the four shows it had planned to stage in 2020, before the pandemic forced the company to pivot to a virtual season, which consisted of online and televised presentations of some the company's most well-received recent productions, including "Billy Budd" and "Rusalka." The shows reached audiences around the world, Egel says, garnering 270,000 interactions on social media and YouTube.
DMMO is implementing three major health and safety initiatives for the season. First, all 225 company members will have completed their COVID-19 vaccination series prior to arriving in Indianola. In addition to a distanced, reduced-capacity theater, DMMO will also require all audience members to present either a record of a negative COVID test within 72 hours of the performance or a record of vaccination. Plus, DMMO is installing supplemental air exchange systems that will provide increased ventilation air into the theater at more than 3 times industry minimum requirements.
The 2021 season's mainstage shows will be performed on a rotating basis July 2–25 at Blank Performing Arts Center in Indianola. Tickets go on sale June 1.
"Sweeney Todd: The Demon of Barber Street" by Stephen Sondheim, a musical thriller exploring the dangers of revenge that, DMMO promises, "will leave spines tingling long after its dramatic conclusion." July 2, 4, 9, 17, 22, 25.
"The Queen of Spades" by Tchaikovsky, a Russian ghost story about obsession and psychosis set in the late 18th century. July 3, 11, 13, 16, 24.
"Platée," a fable written in 1745 that involves an assortment of curious characters, including the titular character who is a marsh-nymph, a Greek king, and Greek gods such as Thalie (the god of comedy). July 10, 18, 23.
DMMO also will present "Fellow Travelers" July 17 at 8 p.m. at Hoyt Sherman Place as part of its 2nd Stages Series. The story focuses on the little-known "lavender scare" of the 1950s, which resulted in mass firings of gay people, and those believed to be gay, from the U.S. government.
That series will also include a concert, "The John Holiday Experience" starring countertenor John Holiday, July 11 at 7:30 p.m. at Drake University's Sheslow Auditorium.
For more information, visit the company's website, dmmo.org.