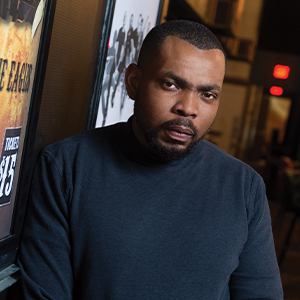 Writer: Luke Manderfeld
Photographers: Cody Osen and Duane Tinkey
Kuuku Saah, president of the Des Moines Music Coalition, can't wait to enjoy live music with large groups again. In the meantime, Saah, who loves blues, jazz, R&B and hip-hop, has been attending local shows with safety protocols in place. Here are some of his favorite spots to listen to live music.
1. Wooly's (pictured above)
One of the few Des Moines venues where you can see national touring acts on weeknights. (504 E. Locust St.; woolysdm.com)
2. Carl's Place
The house band, Fat Tuesday, plays on Tuesday nights. After the first hour or so, the show is an open jam. (1620 Woodland Ave.; facebook.com/CarlsPlaceDSM)
3. Noce
"This jazz venue is near and close to my heart," Saah says. "Co-owner and operator Max Wellman has done an incredible job keeping the doors open throughout the pandemic." (1326 Walnut St.; nocedsm.com)
4. The Lift
An intimate setting for new artists to play acoustic sets. There are also great martini, cocktail and beer options. (222 Fourth St.; @dmlift)
5. 80/35
This two-day music festival (July 9–10 this year) brings big names to Des Moines while also promoting local acts. Some performers who appear go on to do amazing things, such as Lizzo in 2016, Saah notes. (80-35.com)