Pat Millin's oil painting "Home" is part of her "Finding Refuge" series and depicts an asylum-seeker peering out of a makeshift tent at the Tijuana, Mexico, border as she waits to enter the United States.
Writer: Lisa Rossi
When Pat Millin saw a photograph of Somalian children fleeing into Ethiopia because of famine, "I immediately knew I wanted to paint this scene," she says of her work "On Their Own" (pictured below). "I could almost feel the heat and wind in the desert. I could see the children struggling with their possessions against the blowing sand."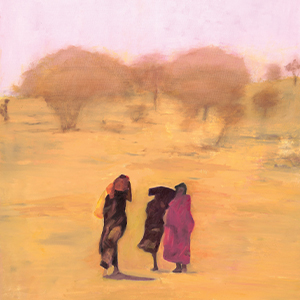 The oil painting "On Their Own" is part of Pat Millin's "Finding Refuge" series. You can see the works at HoQ restaurant in the East Village through March.
Millin spotted the photo that inspired the oil painting in a publication from Jesuit Refugee Service, a nonprofit organization that "believes that journeying with refugees is the most important way for us to express our solidarity with them," Millin says. "Painting is my way to journey with them … to capture their beauty and struggle as they leave their homes in search of basic needs and an opportunity for a better life."
"On Their Own" is part of a series called "Finding Refuge," nine oil paintings of refugees around the globe, ranging from children at a camp in Bangladesh to a young woman peering out of a makeshift tent at the Tijuana, Mexico, border (see image, page 8). Many of the works are inspired by photos taken by journalists (she gets permission before she paints).
Millin recently collaborated with writer Michaela Mullin and designer Connie Wilson to publish an eight-page booklet of the paintings, which are on display at HoQ restaurant in the East Village through March.
The 74-year-old artist started painting as a form of her own therapy when she was a staff psychologist at the Iowa Correctional Institute for Women in Mitchellville. She retired in 2010 to pursue art from her home in Des Moines, where she lives with her husband, Michael, and their English cream golden retriever, Luke.
Her journey as a painter took her to Washington, D.C., in 2016, where she saw an exhibit by painter Jacob Lawrence (1917–2020), who was acclaimed for his portrayals of the Black experience. He was especially well known for his depiction of the Great Migration from the 1910s to the 1970s.
The exhibit spurred a realization, Millin says: "I thought, 'We haven't learned anything. We've always migrated as human beings, because of the wars, genocide. People don't leave their homes for no reason.' So I decided I wanted to paint. … Paintings have permanence. We scroll on our phone all the time. We see all this other news, but then you are on to the next crisis. Paintings record a place in time."
Millin spoke with dsm about the project and her journey as an artist.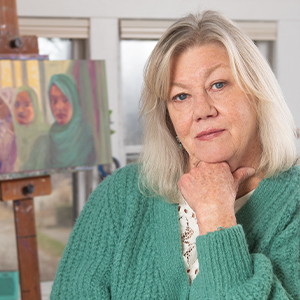 What was it like discovering painting later in life?
Oh, it was so fun, because it was a release. I just fell in love with it. And my mother was an artist when I was little. When I started painting, I started remembering the smell of the oil and the brushes and the pencils. She was also a nurse. There were nine kids in our family; she taught [us that] women can do anything.
Tell us more about your goals for the "Finding Refuge" series.
When I saw the Jacob Lawrence exhibit, I was so frustrated. The more you get into [the subject] and start reading and researching about all these people all over the world, it's endless. There are 100 million people displaced worldwide, the most since the aftermath of World War II. … When I researched it, it was so unending. It was so deep.
I want to bring awareness to our community that there's a global [refugee] crisis. I want to … elicit the viewer to stop and think about this mass migration and what causes people to leave their homes and families. The Western world is now witnessing in real time the Ukrainian war and migration. Through [this] series of paintings, I want to show that [migration] has been happening worldwide and [should] not be forgotten.
How do you think your past work as a psychologist has helped inform this project?
Painting is like a puzzle to me. You have to put the pieces together, and that's the same thing when you are working with people and dealing with their problems.
Are you going to keep working on this issue, or do you have something you are looking at next?
Well, I'm still painting to add to this [series].
A lot of your work depicts children. Can you speak more about your decision to focus on that?
They're the innocents. Imagine the trauma they go through. … We try to give our children everything, and most of these [refugee] children have lost everything—their home, their security. And they are so resilient. I mean [there is the] struggle with migration and leaving their homes, and then there is resilience and beauty, too. [That's] how the human spirit rises above everything.
To learn more about Millin and "Finding Refuge," visit pmillin.com.