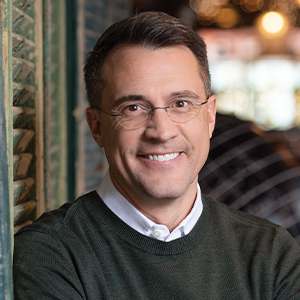 The race cars that the Iowan brothers Fred and Augie Duesenberg built a century ago were pretty speedy—so fast, in fact, that they won the Indy 500 in 1924, 1925 and 1927.
I'm not much of a car guy—I live and work downtown—but as I jump into my new role editing this magazine, I feel like I've been handed the keys to a deluxe Duesenberg, a real "doozy." It's a top-of-the-line machine, fueled by creativity and maintained by an expert team of writers, editors, photographers, designers and, of course, the incomparable Christine Riccelli, who edited dsm for 14 successful years. (As a victory lap, she guided many of the stories in this issue.) These days, a thriving printed magazine is a rare luxury.
It's also a vehicle to explore the city we call home. The pages ahead offer a joyride through architectural photography and profiles of a pastry chef, a drag queen, and an artist inspired by resilient refugees. There's a local guide to global noodles and a story on community fridges for anybody who could use a free meal. There are quick notes, too, about an inaugural poetry festival and the 100th anniversary of the Hoyt Sherman Place theater, where artists and musicians have performed since the days of the first horseless carriages.
So you see why I feel lucky, right? There are so many great stories to tell.
I covered arts and culture fora decade at the Des Moines Register before a seven-year stint with the Iowa Department of Cultural Affairs, headquartered at the State Historical Building of Iowa. That job often gave me "the long view" back in time, especially during March, which is Iowa History Month. I learned about Iowans who achieved extraordinary things right here in our own backyard.
But the long view looks forward, too: What will endure? Who will we remember in the future?
I don't know. But it's an exciting time to live on this particular dot on the map in the middle of Iowa, where movers are moving and shakers are shaking. Here at dsm, we'll explore together, so thank you for reading. Hop in and hang on tight.