Jason and Emma Walsmith took their music careers on the road in 2020 with dogs Potter (bottom) and Pepper in tow. They continue to travel and live part-time in their van. Photographer: Duane Tinkey.
Writer: Missy Keenan
When COVID-19 hit, Jason and Emma Walsmith's income nosedived within a few days.
The Nadas, the popular band Jason co-founded in 1995, play at venues and events across the country. But in March 2020, the performances the band had booked were canceled. Jason and Emma's other income sources at the time—his photography business and her ticketing company, Tikly—also relied on live events for income.
The Walsmiths weren't alone in the challenges they faced. In fact, the World Economic Forum estimates the music industry lost more than $10 billion in just the first six months of the pandemic.
For Jason, losing the ability to play music for a live audience affected more than just his wallet. "COVID quarantine was the longest I'd been home in my adult life, and I started getting restless," he says. "I wanted to play music for people again, so I decided to offer outdoor solo shows to fans all over the country in what we called the 'I'll Play Anywhere, Man' tour."
The Walsmiths wanted to avoid planes, hotels and restaurants during their travels, so they shopped for a vehicle in which they could travel, sleep and prepare food, plus have enough space for Jason's guitars and the couple's dogs, Gordon setter Pepper and English setter Potter.
They fell in love with Storyteller Overland camper vans, but one cost as much as the couple's mortgage. To help pay for the van, they sold a car—and took a leap of faith that it would be a good long-term investment.
Jason, 47, and Emma, 32, hit the road in July 2020 for a series of concerts stretching from Des Moines to the West Coast, performing in outdoor venues including backyards and beaches, ranches and rooftops. All summer they'd head out for a few weeks, then come back home to Windsor Heights for a week or two to spend time with Jason's teenage sons—sometimes taking the boys out in the van for weekend getaways.
New Lifestyle
The van soon became more than just a way to travel from home to Jason's shows; it became a symbol for a new lifestyle. The Walsmiths found they loved traveling, exploring and living half time in their van. So they kept doing it even as the first wave of the pandemic waned. They named the van Falkor after the dragon in "The NeverEnding Story," a favorite movie of Emma's, and embraced Falkor's motto: "Never give up, and good luck will find you."
They created an Instagram account (@TheRacontourists) and a YouTube channel (The Racontourists) to share stories from their travels, becoming part of an online "van-life" community. That drew them to a camper van expo in Wyoming, where they were surprised to learn that the Storyteller Overland team knew their names. They were even more surprised when a woman who's well-known in the van-life community greeted their dogs by name.
"It turns out these people had been paying attention to us on Instagram," Emma says. "We never expected anyone at the expo to know who we were."
Storyteller Overland CEO Jeffrey Hunter was also at the expo. Jason had written a song, "Camper Van," about their travels, and Hunter asked Jason to play it. Within a few months, the Walsmiths had tour support agreements with Storyteller and two of the company's vendors. That money now provides the bulk of the Walsmiths' income so they can focus on Jason's music career, both as a solo artist and with the Nadas. The Walsmiths post on social media about their sponsors, but the companies don't mandate what or when they post.
"They want us to just keep doing what we've been doing—play music, tell stories," says Emma, who in March 2021 made the bittersweet decision to close Tikly. "We've never felt pressured to post anything specific."
Through Storyteller contacts, Jason recorded the solo album "Overlander" in 2021 at Fame Studios in Alabama, where a long list of music royalty—Aretha Franklin, the Rolling Stones, Wilson Pickett—have recorded. Storyteller employees played instruments on some of the tracks, and Emma sang background vocals on "Camper Van."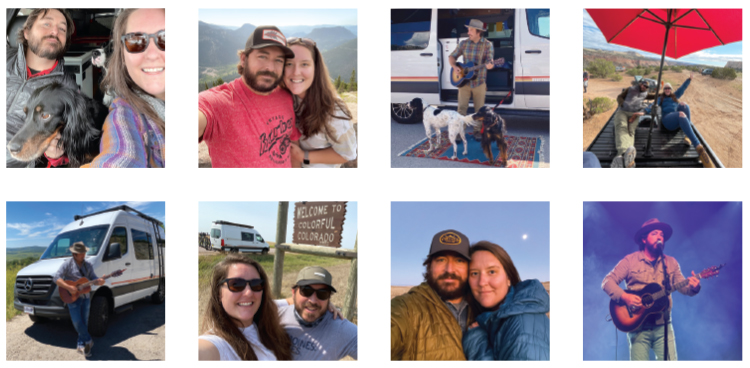 The Walsmiths document their travels to some 12,000 Instagram followers (@TheRacontourists).
Traveling and Telling Stories
Since starting their pandemic travels, the Walsmiths have driven more than 75,000 miles to about 150 socially distanced shows in 37 states. Their Instagram account has more than 12,000 followers.
"I'm grateful to everyone who saw what we were doing and offered support," Emma says. "But at the same time, we've been successful … because Jason has 28 years' experience playing music, telling stories and traveling. We tapped into those key things and found a way to accomplish them safely during a pandemic."
At press time, musicians everywhere were largely back to performing at indoor venues, although the omicron variant remained a threat. But whatever form the virus takes in the future, the Walsmiths plan to keep traveling as permanent members of the van-life community.
"We bought the van just so Jason could play a few shows safely," Emma says. "Now we live in the van half time and travel all over. We're constantly exploring and experiencing new things. It's incredibly rewarding."