Producer: Beth Eslinger
Photographer: Duane Tinkey
Whether you're gearing up for grilling season or a spring reboot in the kitchen, a new apron sets the tone that it's time to get serious. These affordable options from local makers and retailers step it up from the ordinary.
Function Plus Fashion
Made by Des Moines-based Maria Garcia, creator of the Kiomi brand, this graphic-pattern apron (pictured above) might just want to stay on as a fashion statement when your guests arrive. Find the heavy-duty aprons by emailing Garcia at kiomi.dsm@gmail.com or by checking out her Instagram at @kiomi-dsm. Retailers Des Moines Mercantile and Porch Light also carry her products.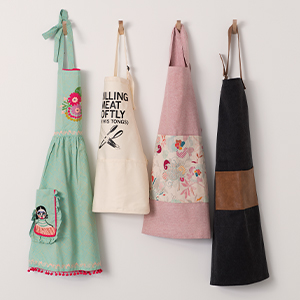 Pick Your Pleasure
Feel great cooking, grilling or gardening with an apron that matches your style. Pictured from left: This whimsical embroidered piece from Kitchen Collage is perfect for shaking up spring cocktails. Step aside Roberta Flack. Raygun kills it with their witty grilling slogans. Another Kiomi original, this lightweight cross-back apron features deep pockets; we think it would make a great artist smock. Heavy-duty canvas and leather accents help create a sophisticated look for this apron from Give DSM.