Six-year-old Shiver Pandey explores Star Playground at Riverview Park, one of the city's newest accessible play areas. Bright and colorful, the playground was modeled after the old amusement park.
Writer: Andrea Cooley
Photographer: Duane Tinkey
Inclusive parks invite children of all abilities to play and engage with their peers. Where once a child in a wheelchair or with sensory issues could only watch others play, today's accessible structures encourage them to explore and create experiences of their own. These five parks include features such as swings with additional harnesses and supports, musical elements for kids to play and make sounds, and equipment designed at heights someone in a wheelchair can access. 
1. Ashley Okland Star Playground, Ewing Park
Des Moines' first inclusive playground (1895 E. McKinley Ave.) has 50 play elements for kids of all abilities to enjoy, plus a short nature trail.
2. Eric's Place
Located at Valley Community Center in West Des Moines (4444 Fuller Road), this playground has a wheelchair-accessible merry-go-round and swing, as well as double-wide ramps.
3. Miracle Park
The largest park in Ankeny (310 N.W. School St.) includes an accessible baseball field and an inclusive park with a roller slide, ramps, and sensory panels with mirrors and doors. Wheelchairs move easily throughout the play areas. Both young and older kids will find age-specific play zones.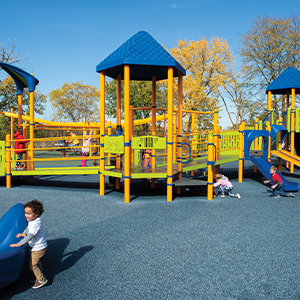 4. Northview Park
This Urbandale facility (4871 78th St.) features a flat rubberized surface to eliminate barriers for wheelchair users or someone with vision impairment. 
5. Star Playground, Riverview Park
One of the newest accessible spots in Des Moines, this playground by North High School (710 Corning Ave.) is modeled after the old Riverview Amusement Park, and it feels like you're visiting a carnival. Rubber footing cushions the ground around the equipment and provides a smooth surface, and swings with adaptive seats and supports ensure all kids can take a fun ride. There are also two zip lines (one accessible), a ticket booth, Ferris wheel-inspired climbing bars, and even a roller coaster track to climb. Ramps provide access throughout. 
Adaptive Parks in the Works
Soon Easter Lake Park on the city's southeast side will join the list of inclusive parks in the metro area with its North Shore Revitalization project. Plans include an adaptive fishing/boat dock, accessible canoe/kayak launch, a natural playscape and more. Construction is set to begin in September with completion scheduled for summer 2023.
In Waukee, construction of that town's first inclusive playground, Triumph Park, is in progress, with plans to open in June. It will include the Greater Iowa Credit Union Miracle League Field, an all-inclusive playground with sensory features and educational STEM panels, and an accessible fishing pier.