Writer: Brianne Sanchez
Photographer: Duane Tinkey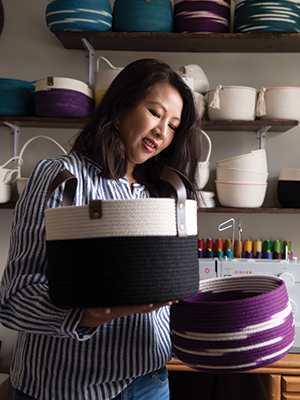 Within a few months of teaching herself the craft, Ibe Leishangthem launched her business, Dew Drops Decor, to sell her handmade, minimalist baskets. We stopped by her home studio in Grimes where she's turned tens of thousands of feet of cotton rope into stylish and trendy home accents.
What inspired you to start creating?
We bought our house in October of 2020, and as I was designing the rooms I was looking for storage baskets and [couldn't find] what I wanted. Everything was too brightly colored; I prefer neutral shades. I found a handcrafted rope basket on Pinterest and had an instinct that I could make one. 
I'm going to guess you didn't stop at one?
I bought a clothesline and started following a tutorial using just a basic sewing machine. I broke so many needles. I remember thinking, "Wow, this is so good." But then I started to check out other makers on Instagram, and their products were so nice. I was greedy to know more, so I started exploring and researching. I kept on practicing. Every time, it made it a little better, a little better.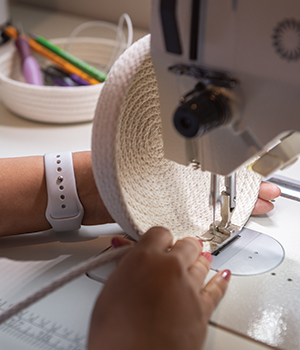 It sounds like you jumped pretty quickly from making a basket for yourself to launching Dew Drops Decor as a business. How did you make that leap?
One of my friends suggested I put my products on Etsy. I'd never bought anything from Etsy and didn't know what it was. At the time I was beginning to look for a job after a seven-year break to be home with our kids. My husband thought about my baskets as a side hobby, but inside I was thinking, "I'm going to do this. I'm having more and more interest in this." 
Can you share a little bit about the materials you use?
I love to support other makers, so 90% of my materials are from local businesses. I discovered there are many rope suppliers in America, and I contacted them for samples until I found what I was looking for. My big spools of 100% cotton rope and the leather tags I use are from Illinois. Even the rivets are from a local maker. I like to use cotton rope because it holds shape but doesn't need the strength of a polyester core rope, and it's more sustainable. I did switch to Gutermann polyester thread, though, because it is much stronger than the cotton and I want the baskets to last. 
I love that thread is one of the ways you bring color into the more neutral pieces, with the zigzag stitch.
I like things to be simple, modern and elegant. These [rope] colors are hand-dyed in the vat, and then I have to dry them. Hand-dyeing is a tough job, and I don't get the same color every time. People say "Bring more color!" But as a maker I like to stay more neutral.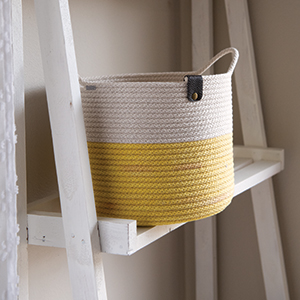 It sounds like in addition to online sales, you've started selling at local markets, too. How do you hope people use your pieces?
I did 16 markets last year, my first year in business. They're mostly home accents. In some, I have a cork or wood base and they make nice planters. People use them as gift baskets. I've found that medium baskets, 8- to 12-inch circumference, sell best. I try to focus my booth on what's in people's budget range. 
Now that you've learned the ropes in your first year of business, what's next?
I wish to expand. I'm so glad that there are so many repeat customers and that, when I ask why, they say that when they give a present to friends, they want to proudly say, "This is made in Iowa." And then you know, it's a useful product.
---
Where to Shop
Dew Drops Decor cotton rope baskets and home goods are priced $8-$50.
In Iowa: Honeynut Home in Ogden (about 50 miles northwest of Des Moines).
Shop online: etsy.com/shop/dewdropsdecor; instagram.com/dewdropsdecor.