Writer: Hailey Allen
Photographer: Joelle Blanchard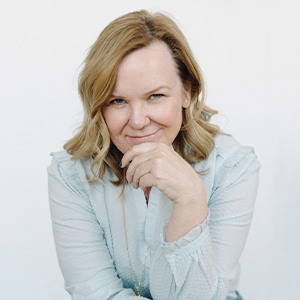 Natalie Morrow is the owner and creator of Stansberry, a virtual boutique featuring a wide array of scarves and hair accessories. The name pays tribute to her mother and grandmother, Doris and Edna Stansberry, respectively. Based in Des Moines, Morrow designs and makes the accessories in-house on her own sewing machine, and her Etsy shop has generated more than 3,000 sales from around the world. 
When did you start Stansberry?
I've always had a desire to have my own business, and I've had [Stansberry] for about 10 years. I started out in marketing and advertising, and had worked for a few agencies around Des Moines, but I wanted to take the chance and open a clothing boutique. That was unfortunately right around the 2008 recession, so I had to come up with another business idea after the boutique didn't work out.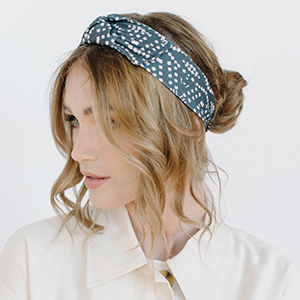 I knew I wanted to stay in Des Moines and keep working in fashion, so I started playing around on my sewing machine. That's when I began making handbags, selling them at parties and having customers select their own fabrics. After a few years of doing that, [the business] evolved into [making] scarves and hair accessories.
How did you learn to sew?
I was actually in 4-H growing up. My mother and my sister helped me learn, and I did a lot of sewing projects for the club.
What are your most popular products right now?
Especially [for] summer, the cotton floral skinny scarves are the best-sellers. These scarves can be worn as a soft headband, knotted around the neck, tied around a bun, as a bow, on a handbag, you name it. I want to make each of my pieces as versatile as possible, and I think that's what makes [the scarves] so popular.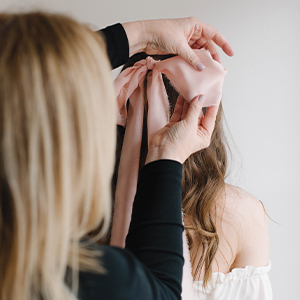 What are your personal favorites?
I really enjoy working with silk charmeuse. I use high-quality 100% silk fabrics, and this one has some more weight to it but still retains that nice flowy quality. I designed some larger scarves with it that can be transformed into silk bows as a wedding accessory.
How did you decide on wedding bows?
Late last year I discovered this trend of brides looking for an alternative to a traditional veil—something more casual but still elegant. I'm always looking for new ideas to expand the business, and I decided it would be a nice addition. I've had a good response to this collection so far, so I hope to continue having them in my future collections.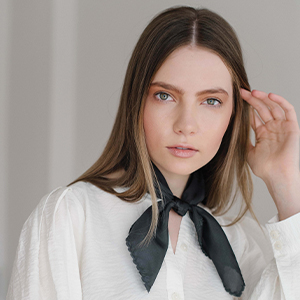 Are you available in any boutiques around Des Moines?
I used to sell in boutiques, but … prefer the "direct to consumer" model. I sell through my website (stansberrydesign.com) and through my Etsy shop (etsy.com/shop/stansberry).
Any plans to open a brick-and-mortar location?
Never say never, but at the moment I like being able to sell solely online. I've been able to sell to all over the world this way. My products have made it to Italy, Sweden, the U.K [and] Australia.
What do you love most about your job?
I find it really rewarding to see the customer reviews saying how happy they are, or how happy a scarf that they bought as a gift made their friend or family member. I love the feedback; it really keeps me going.