Aposto makes all their pasta by hand. Photographer: Somos Studios.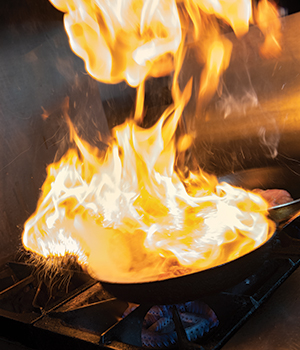 Writers: Beth Eslinger and Hailey Allen
Photographer: Duane Tinkey
Celebrate the 15th year of Restaurant Week by scoring some epic deals and exclusive dishes at 33 of our city's top restaurants. With two full weekends of dining and a variety of meal deals, there's no reason not to check out a hot new spot or revisit one of your faves. 
The Restaurant Week dinner specials are $40 to $80, and lunches are $15 to $25 (it's still summer—grab your besties or colleagues and enjoy a long midday break). You can still order menu regulars at most of the eateries. When you're there, ask if there's a signature drink for an extra charge and if there are incentives for repeat visits. 
Be sure to bookmark DSMRestaurantWeek.com for all the dining options. Menus will be posted in early August.
---
East Village
The dining destination has options to explore for every palate—fine dining, farm-to-table, pizza, plus to-go options. 
Alba
Upscale and Reliable
If you think American food means burgers and fries, you'd be … technically right. But this East Village restaurant has been conjuring imaginative takes on the classics for nearly 15 years. They offer a house burger, beefed up with truffle aioli and Prairie Breeze fondue, and chorizo fries with pickled jalapeños. The chefs use seasonal ingredients, so the malleable menu changes often to let the ingredients shine. Other innovative takes include crawfish beignets as well as chicken with saffron risotto. The gnocchi and New York strip stroganoff are consistent surefire hits. 
Editor's tip: The corner restaurant hosts happy hour every day from 4 to 6 p.m., so come early for $6 cocktails before your main meal; reservations recommended. 
Restaurant Week Price: $50–$60
Address: 524 E. Sixth St.
Website: albadsm.com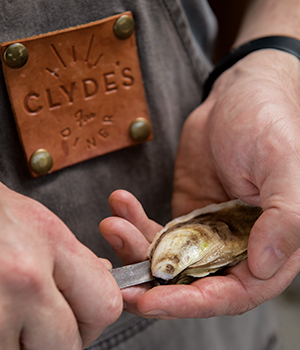 Clyde's Fine Diner
A Modern Take
Behind the U-shaped bar, a record player serenades guests, but that's about where the old-school stops at this 3-year-old spot. The bartenders offer reimagined cocktails and bold bottles of imported wine. The chef, Chris Hoffmann, mixes up the ever-changing menu to suit the season or his mood. His creativity lets loose in the entrees, but their tried-and-true sandwiches, salads and starters are equally tasty. Their Caesar Sprouts (fried Brussels with house Caesar, lemon, breadcrumbs, sunflower seeds) are a crowd favorite. 
Editor's tip: Swing by on Wednesdays for oysters and half-price bottles of wine. The wine list changes even more often than the food menu so there's always a new variety to try.
Restaurant Week Price: $50–$60
Address: 111 E. Grand Ave.
Website: clydesfinediner.com
Franka Pizzeria
Italian Goodness
Opened in late 2020 by Alexander and Whitney Hall of St. Kilda fame, this corner eatery serves Neopolitan pies as well as salads and sandwiches. See "Fresh Fare in a Modern Setting" on page 77 for more information about the restaurant group. 
Restaurant Week Price: $40–$50
Address: 111 E. Grand Ave., Suite 100
Website: frankapizzeria.com/east-village 
HOQ 
Sourcing 20+ Area Growers
Focusing on farm-to-table since its inception in 2012, the eatery run by Suman Hoque prides itself on quality ingredients, a varied wine list and excellent service. Veggies star on the menu in the Mediterranean and Momtaz Vegan bowls, while pescatarians and meat-eaters can order salmon, lamb and duck eggs. Signature cocktails change with the season; many showcase house-made ingredients like peppercorn cherry bitters. 
Restaurant Week Price: $40–$50
Address: 303 E. Fifth St.
Website: hoqtable.com 
The Purveyor
Take It To Go
An extensive, innovative wine list (including wine on tap), charcuterie and fine desserts by Doré Bakery are all hallmarks of this shop. Other local partners include Maytag Dairy, La Quercia, Milton Creamery and Berkshire Farms. Choose from a variety of charcuterie boards, gourmet sandwiches (the Purveyor is a favorite) and baked goods. Look for lunch and brunch specials as well as signature drinks. 
Restaurant Week Price: $40–$50
Address: 505 E. Grand Ave.
Website: purveyordsm.com 
Trellis Cafe 
Goodness from the Garden
Fitting of its home inside the Greater Des Moines Botanical Garden, this lunch favorite focuses on a plant-based menu that changes monthly. Sit outside and enjoy the gardens or grab a table overlooking the water garden. Soups, pastas and salads are strong suits at chef Lisa Lavelle's restaurant, but you can also find sandwiches loaded with seasonal ingredients. Look for local heirloom tomatoes as menu stars. Sunday brunch is available from 11 a.m. to 2 p.m. 
Restaurant Week Price: $40–$50
Address: 909 Robert D. Ray Drive
Website: trelliscafedsm.com 
---
Downtown
Park it in the city center for an evening of fine dining or come early for a fun start to the weekend. 
Allora Cafe 
Table with a View
New on the scene in May in the glassy Krause building (Kum & Go headquarters), the Italian eatery specializes in coffee, lunch and aperitivos—a pre-meal drink. Chef Michael LaValle of the Des Moines Embassy Club is focusing on local, seasonal ingredients and scratch-made pasta in this first-floor cafe. Plus, there's a patio overlooking downtown. 
Restaurant Week Price: $40–$50
Address: 1459 Grand Ave.
Website: alloradsm.com 
Bubba 
A Taste of the South
As soon as you walk through the historic entryway of the Clemens building, you'll feel transported to the comforting home of a Southern belle. And she's ready to serve all the feel-good standards, such as chicken and waffles and shrimp and grits. Or try something new like the bowtie burger (which includes pimento cheese and pecan-smoked bacon). New menu additions include lighter fare. And it wouldn't be Southern-inspired without whiskey. Luckily Bubba boasts one of the largest selections in the city. Learn more about executive chef Jess Kruzslicz at bottom. 
Restaurant Week Price: $50–$60
Address: 200 10th St.
Website: bubbadsm.com 
Centro
Italian for the Urbanite
Crisp white tablecloths adorn the tables, and vintage-style Italian posters advertising colorful wares line the walls. For 20 years, Des Moines residents have gathered here to enjoy an upscale Italian experience. Savor steamed mussels in a buttery white wine sauce, try artisanal pizzas on the patio, or feel like a Wall Street wolf while feasting on the Centro- Cut NY Strip. 
Restaurant Week Price: $50–$60
Address: 1003 Locust St.
Website: centrodesmoines.com
Django
French Hits
During the afternoon happy hour, this airy dining room is bathed in sunset glow shining through the floor-to-ceiling windows facing the Pappajohn Sculpture Park. This ambience and elegant French cuisine by chef-owner Derek Eidson make date night (or a regular Tuesday) seem all the more romantic. Cozy up in a booth to savor warm beef bourguignon (short rib braised with red wine) or sit at the bar for classic cocktails alongside charcuterie and oysters shucked right in front of you. 
Editor's tip: Ask about their rotating specialty cocktail; a new one is created each week from scratch by the ace bartenders. They'll be serving a signature cocktail for an additional price during Restaurant Week. 
Restaurant Week Price: $50–$60
Address: 1420 Locust St.
Website: djangodesmoines.com 
Malo 
Contemporary Latin
Malo's breezy patio and Latin-inspired menu is ready anytime you're in the mood for a getaway without leaving home. Iowa meets Latin America with the Lobster Corn Queso, with sweet corn, lobster and jalapeño giving the classic dip a new life. Find the Midwest treatment in other dishes, with Iowa pork carnitas in the Posole Colorado Soup, buns from local South Union Bakery for the Cuban sandwiches, and more Iowa sweet corn in the enchiladas. 
Restaurant Week Price: $40–$50
Address: 900 Mulberry St.
Website: malodesmoines.com 
Mash + Marrow Cocktail Lounge
A Modern Twist
Located in the downtown Marriott, this street-level restaurant serves classic American standards like burgers, beef strip steak, and Caesar salad. For a taste of Texas, try chef Derek Breitbach's pork belly tacos; he developed the recipe while working in the Lone Star State. Other signature dishes include bacon jalapeño corn dip, Graziano flatbread, and their top cocktail, the Marrow Manhattan, made with Cedar Ridge bourbon. End the meal with a sweet bite of berry shortcake or white chocolate cranberry bread pudding. 
Restaurant Week Price: $40–$50
Address: 700 Grand Ave.
Website: marriott.com/en-us/hotels/dsmia-des-moines-marriott-downtown/dining/
Mulberry Street Tavern 
Timeless and Approachable
Located inside the upscale Surety Hotel downtown, this chic 2020 restaurant dishes reliable favorites like half chicken, seasonal pot pies, Scotch eggs and the chef's board topped with tasty cheese and meats; there are vegetarian options, too. Amid the space's rich wood tones and clubby furniture, a classic cocktail such as a DSM Highball made with Cedar Ridge bourbon seems completely appropriate. Find Iowa beers on tap and wines by the glass. New chef Rateb Aburas is adding items to the menu, including wood-fired whole trout with salsa Veracruz and a smoked pork chop with a Middle Eastern flair. 
Restaurant Week Price: $40–$50
Address: 206 Sixth Ave.
Website: suretyhotel.com/food-and-drink/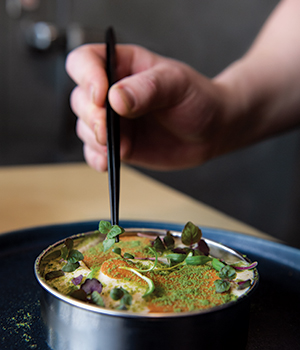 Proof
Diverse Flavor Profiles
In business for a decade, the modern, intimate restaurant overlooking the Pappajohn Sculpture Park promises creative dishes plated simply and beautifully. Menu favorites include Wagyu Steak Tartare, roasted chicken, citrus-cured fluke filled with acid and spice, and tarts to end the night on a bright note. Learn more about the recent menu updates in "Chat with Chef Diego Rodriguez," at left. 
Restaurant Week Price: $50–$60
Address: 1301 Locust St., Suite C
Website: proofdsm.com 
Proudfoot & Bird 
High-style Glamour
The corner bistro in the newly renovated Hotel Fort Des Moines stars executive chef Andrew Wilson's creations like Alaskan salmon served with rye berries and beets, and black cod with miso. Wilson recently worked at Charlie Palmer's Dry Creek Kitchen in Healdsburg, California, and earned a Best Chefs America website nod during his time at the Hu Hotel in Memphis, Tennessee. Order lighter vegetarian sides such as the charred carrots or roast cauliflower with spiced pepitas. 
Restaurant Week Price: $60–$70
Address: 1000 Walnut St.
Facebook: facebook.com/ProudfootBirdIA/ 
Splash Seafood Bar & Grill 
Signature Fish
Since 1998, the Locust Street hot spot has been dishing fish, tasty lobster and Alaskan King Crab, plus oysters on the half-shell. Seafood is flown in from both coasts daily, but you can also order filet mignon or New York strip if beef is your thing. Chef Dominic Iannarelli recommends the Chilean Seabass Meuniere, which is dredged in flour and sauteed in butter. Grab a seat at the raw bar for a casual date night with a glass of wine, or go formal in the dining room decked in crisp white tablecloths. 
Restaurant Week Price: $70–$80
Address: 303 Locust St., Suite 100
Website: splash-seafood.com 
St. Kilda Cafe & Bakery
Contemporary and Casual
The original restaurant just south of downtown has been serving breakfast favorites like avocado toast and espresso since 2017. Learn more about the restaurant group at "Fresh Fare in a Modern Setting" below. 
Restaurant Week Price: $40–$50
Address: 300 S.W. Fifth St.
Website: stkildadsm.com/cafe-bakery 
Tupelo Honey
Homemade Southern 
Sitting under the greenery lining the ceiling, surrounded by floor-to-ceiling windows and Southern hospitality, you'll feel like you just landed in the Carolina mountains. Tupelo Honey features a scratch menu and ingredients sourced from local farmers and other sustainably farmed or wild-caught sources. The ingredients upgrade classic dishes like their famous fried green tomatoes and honey-dusted fried chicken. And what's better for brunch than chicken and waffles (try their Siracha honey version) or a Southwest scramble? 
Editor's tip: For a real vacation vibe, unwind on their open patio with a cold Tupeloma, their take on a classic paloma. 
Restaurant Week Price: $40–$50
Address: 665 Grand Ave.
Website: tupelohoneycafe.com 
---
Beyond Downtown

 
Take a short drive to experience several James Beard-nominated restaurants plus unique South American flavors. 
Aposto
Classy and Intimate
Ensconced by glittering chandeliers and deep wood finishes, with chefs handmaking each pasta noodle by hand, it's easy to feel like royalty in the refurbished Victorian-mansion-turned-restaurant. The enchanting atmosphere is the perfect backdrop for the curated menu that changes seasonally. During Restaurant Week, expect to be treated to Lemmo's Cavatelli, named after Aposto's founder Tony Lemmo. The famous dish consists of perfectly cooked pasta tossed with a marinara sauce, homemade Calabrian sausage, Romano cheese and ground fennel. Grab a table on the wraparound porch if the weather abides. 
Restaurant Week Price: $50–$60
Address: 644 18th St.
Website: apostodm.com 
Harbinger
Inspired Dining
This cozy spot on Ingersoll Avenue and 28th Street has the air of a hidden gem and the reputation of a classic cornerstone. The small-plate-focused menu is an ode to chef Joe Tripp's travels around Asia. Find Far East influences in imaginative American cuisine like pork tonkatsu served with yuzu dressing, potato pave with wagarashi mustard, tempura-fried asparagus and more. Tripp was named a James Beard semifinalist for Best Chef: Midwest in 2018 and 2019. 
Editor's tip: If you're a matcha fan like this editor, try the caramelized coconut tart (it's made with matcha curd). 
Restaurant Week Price: $50-$60
Address: 2724 Ingersoll Ave.
Website: harbingerdsm.com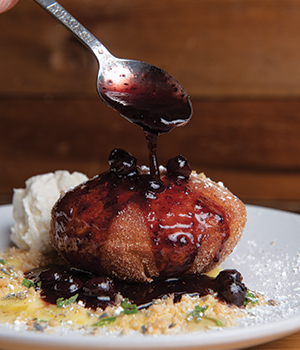 Motley School Tavern
Eat, Drink, Talk
That's the tag line at the Beaver Avenue hangout. It's a top spot for happy hour, with half-price wines by the glass or bottle, plus two-for-one snacks like their signature fried bologna sandwich or house-made pimento cheese. Entrees are reliably delicious—chef Nic Gonwa (nominated for a James Beard when he was at Eatery A) recommends the buttermilk pancakes, gnocchi and smoked pastrami. For drinks, order a refreshing mule or a spicy bloody mary. 
Editor's tip: The daily-made pies are not to be missed. On our scouting trip we sampled Dutch apple with buttermilk ice cream that tasted like salted caramel. The shrimp and grits are also perfection. 
Restaurant Week Price: $40–$50
Address: 1903 Beaver Ave.
Website: mstdsm.com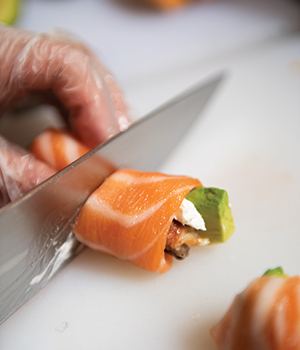 Panka Peruvian Restaurant
Upscale South American 
Sandwiched between two fast-casual spots, Panka offers a surprise inside, with a sophisticated, open dining area and exposed kitchen. Come for happy hour Tuesday through Saturday from 5 to 7 p.m., when you can snag $5 wine and apps such a crunchy pork belly and marinated mussels. Seafood abounds on the menu—there are 10 types of ceviche with various toppings, including corn and sweet potato. For a main, try the Lomo Saltado, savory and filling stir-fried beef with tomatoes and onions. 
Editor's tip: Catch a table at the bar to watch the flames fly in the exposed open kitchen. 
Restaurant Week price: $40–$50
Address: 2708 Ingersoll Ave., Suite 200
Website: pankadsm.com 
---
Suburbs
Find stellar wine selections, date-night cuisine, and fun and games outside Des Moines proper. 
Aura
Inviting Vibes 
With tapas such as pot stickers spiced with ginger, Korean fried cauliflower and Drunken Garlic Mussels, you'll likely be tempted to snack on a variety of small plates. After sampling some of these tasty bites, order the Butcher's Board for the table. It's 16 ounces of tri-tip with wild mushrooms, red wine glaze and whole-roasted garlic. Not to miss are the smoked cocktails. New on the menu is the Judy, made with smoked vodka and Revelton honey whiskey. 
Restaurant Week Price: $40–$50
Address: 12851 University Ave., Suite 400
Website: auradsm.com 
District 36 Wine Bar 
Relax Post-shopping 
Plan on dinner with wine after checking out boutiques in Prairie Trail. Learn more about the restaurant group in "Keeping With Tradition," at right. 
Restaurant Week Price: $40–$50
Address: 1375 S.W. Vintage Parkway, Ankeny
Website: district36winebar.com 
Firebirds Wood Fired Grill
Options for Every Palate
Whether you're looking for a healthy salad (try the Superfoods with sushi-grade tuna, avocado and organic ancient grains) or something heartier like wood-grilled salmon or aged rib-eye, the Jordan Creek restaurant has plenty of options. Enhance your steak with herb butter or perhaps a lobster tail. Try one of their fancy cocktails and mocktails or a bite of layered lemon cake with fresh blueberries. There's brunch on the weekend, too, with drink specials. 
Restaurant Week Price: $40–$50
Address: 440 S. 68th St., West Des Moines
Website: west-des-moines.firebirdsrestaurants.com 
Fleming's Prime Steakhouse & Wine Bar
Perfect for a Formal Date
This Jordan Creek restaurant is the place to go for a steak dinner. Prepared to perfection, mains like the filet mignon, certified Angus beef rib-eye, and prime New York strip are the true stars here, as is the top-notch wine list. The sides are equally inspiring, especially the crispy Brussels sprouts and bacon, panko-crusted onion rings and to-die-for potatoes au gratin. Don't feel like having a steak? No problem; beyond the beef, Fleming's also excels at dishes like lobster tails and miso-glazed Chilean sea bass. Try to save a little room for the decadent chocolate lava cake or vanilla bean crème brûlée. 
Editor's tip: The service here is stellar, with pros who are knowledgeable and attentive. Describe how you want your cut of choice prepared and your wish will be granted. 
Restaurant Week Price: $70–$80
Address: 150 S. Jordan Creek Parkway, West Des Moines
Website: flemingssteakhouse.com 
Franka Pizzeria 
Seriously Fast, Seriously Good 
Watch the pizza chef prepare your Neopolitan pie in the open kitchen. Learn more about the restaurant group in "Fresh Fare in a Modern Setting," below. 
Restaurant Week Price: $40–$50
Address: 12695 University Ave., Suite 100, Clive
Website: frankapizzeria.com/clive
Range Restaurant + Cocktail Bar
Take a Swing
It might sound like a novelty combining fine dining and golf, but this Urbandale experience is legit even for nongolfers. With a high-end sports bar vibe, the menu includes steaks, flatbreads and burgers; you'll want to start your meal with one of the signature cocktails or bourbon-based drinks (try the Old-Fashioned). The Wagyu Beef Flat Iron, finished with a shallot-garlic reduction and served with house-made lobster risotto, is always on par. Golfers can book a tee-time in one of the bays to swing amid perfect conditions. 
Restaurant Week Price: $40-$50
Address: 11865 Hickman Road, Urbandale
Website: rangedesmoines.com 
St. Kilda Cafe & Bakery 
Euro Ambience 
The newest restaurant in the St. Kilda group, which opened in March, will serve lunch and brunch for this year's event in their modern Clive space (formerly Table 128). Read about the group in "Fresh Fare in a Modern Setting" below. 
Restaurant Week Price: $40–$50
Address: 12695 University Ave., Suite 140, Clive
Website: stkildadsm.com/clive 
St. Kilda Collective 
Open and Bright 
Baking bread, croissants and other pastries for the St. Kilda restaurants, this Valley Junction cafe is a perfect way to start a weekend or escape from the crowds during the Thursday farmers market. Read about the group in "Fresh Fare in a Modern Setting" on page 77. 
Restaurant Week Price: $40–$50
Address: 333 Fifth St., West Des Moines
Website: stkildadsm.com/collective 
Trostel's Greenbriar Restaurant & Bar
A Classic for 35 Years
The green awning at this Merle Hay Road institution has been greeting generations of families since 1987. Savor the Des Moines creation steak de Burgo (topped with butter, garlic and herbs) or a Gunpowder Ribeye, which was developed by founder Paul Trostel. Find lighter options such as salads and seafood as well as pizza and seasonal specialties from chef Matthew Schmeisser. Have a seat in the elegant dining room or grab a table on the inviting and expansive patio.
Restaurant Week Price: $40–$50
Address: 5810 Merle Hay Road, Johnson
Website: greenbriartrostels.com
Urban Cellar
Great Wine Selection
Shop for wine to take home after a meal of comfort cuisine. The scallops are crispy on the outside and flaky inside. Learn more about the restaurant group in "Keeping Sith Tradition," below. 
Restaurant Week Price: $40–$50
Address: 640 S. 50th St., West Des Moines
Website: urbancellarwdm.com
Urban Grill
Come Early to Snag a Table 
The cozy spot on 86th Street in Urbandale is known for signature pastas and prime rib, which is full of flavor and fork-tender. Learn more about the restaurant group in "Keeping With Tradition," below. 
Restaurant Week Price:
Address: 3651 86th St, Urbandale
Website: theurbangrilldm.com 
---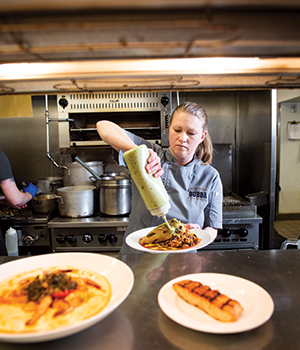 Chat with Chef Jess Kruzslicz
Writer: Karla Walsh
Who: Jess Kruzslicz was named Bubba's executive chef in April 2021. She chats with dsm about her background and this year's Restaurant Week menu. 
dsm: Can you tell us more about your career prior to Bubba? 
Kruzslicz: I went to culinary school at Western Culinary Institute in Portland, Oregon, which allowed me to explore other countries like New Zealand, Hungary and Greece. By cooking around the globe, I gained experience in multiple cuisines and in different settings—restaurants, hotels, resorts and country clubs. 
dsm: What's your plan for 2022 Restaurant Week? 
Kruzslicz: For the vegetarians, we'll have okra and sweet corn hush puppies and crispy cauliflower tacos with kale slaw. And for seafood and meat fans, a sliced brisket sandwich with peach-bourbon glaze as well as Old Bay seared scallops with bacon-apple chutney and grit cakes. And since every Restaurant Week meal comes with dessert, we've dialed in our snickerdoodle doughnut hole muffins with citrus glaze and peach custard pie with streusel topping.
---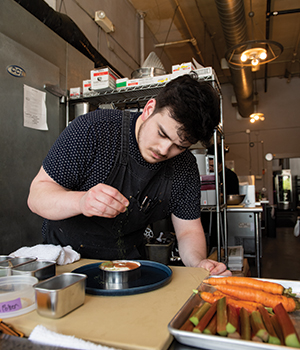 Chat with Chef Diego Rodriguez
Writer: Karla Walsh
Who: Diego Rodriguez has been the executive chef at Proof downtown since 2019. Here he shares news about the revised menu and what to expect during Restaurant Week. 
dsm: Proof switched to a mainly tasting menu format in early 2022. Why did you decide now was the time to make a la carte ordering the exception rather than the rule? 
Rodriguez: We used to offer tasting menus every night upon request and would change the menu almost daily. Now, we launch our new tasting menu every second Saturday of the month and run it for a full 30 days before changing it again. Since Proof is such a small business and team, this decision seemed to be the best fit for us. For guests looking for more casual fare, we still offer a "For the Table" menu that they can choose from. 
dsm: Can you give us any sneak peeks into your Restaurant Week plans? 
Rodriguez: As a chef I have to ensure we are not only cooking for our guests but also for ourselves. We must cook food we enjoy and love to eat—without that component, there is no personal connection to the menu we serve. Each dish on our four-course menu will be something we're excited about making and food we think our guests will enjoy. Definitely save room for some high-quality fish and Iowa's best proteins presented with respect and seasonality. 
---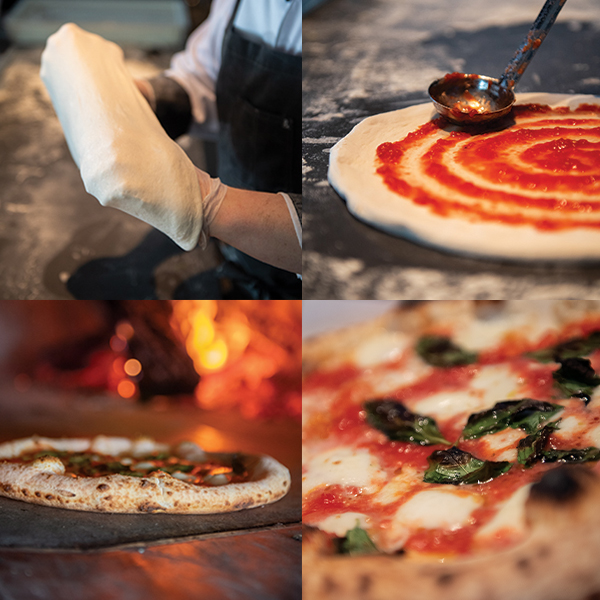 Behind the scenes at Franka Pizzeria, part of the St. Kilda Group.
St. Kilda Group
Fresh Fare in a Modern Setting
London-born, Australia-raised Alexander Hall, who owns the St. Kilda and Franka Pizzeria group with his wife, Urbandale native Whitney Hall, previously owned five cafes in New York City before opening their first St. Kilda south of downtown in 2017. And now they've repeated with another five in Greater Des Moines. 
All their restaurants—two downtown, one in West Des Moines and two next-door neighbors in Clive—exude a clean, open aesthetic, with midcentury tables, sleek wallpapers and brickwork. 
All three of the St. Kilda restaurants offer light, healthy, colorfully plated options to start the day. Order house-made granola and chia yogurt or their famous avocado toast. Coffee drinks and fresh-squeezed juices are a must-try, as are cocktails. For dinner at the Collective in Valley Junction, order the salmon with cauliflower risotto or Roman gnocchi crafted with butternut squash, San Marzano tomatoes, basil and parm. All three restaurants are serving brunch and lunch for Restaurant Week this year. 
Fans of thin-crust pizza find both red and white sauce options at Franka Pizzeria; creative toppings vary from asparagus to roasted corn, but there are traditional options for those who love a classic pepperoni or Margherita. You'll find small plates, salads and sandwiches at both the East Village and Clive locations. 
---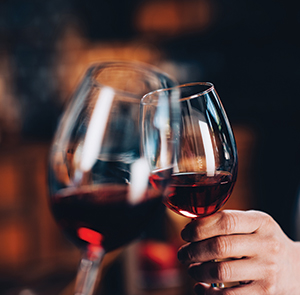 The Urban Restaurant Group
Keeping with Tradition
The Urban Grill and its partner restaurants Urban Cellar and District 36 Wine Bar consistently deliver with elevated American cuisine amid cozy environs.
The family-run businesses owned by Jean and Dave Thompson, who purchased the Urban Grill from longtime friend and former neighbor Skip Bachman in 2005, is known for tasty upgrades on favorite entrees like steak de Burgo (they serve a chicken option) and beef tenderloin rolled with Italian sausage and herbs. At all three locations you'll find signature pastas, steaks and seafood as well as sandwiches and pizzas.
To experience the original location, Urban Grill on 86th Street in Urbandale, grab a table outside on the patio or a booth by the fireplace if the weather's chilly. Get here early, as the place fills up fast. In West Des Moines, Urban Cellar has a casual date-night vibe; try the tomahawk pork chop or perfectly cooked scallops for something decadent. After dining, shop the market counter with charcuterie fixings and wine to go. In Ankeny's Prairie Trail, District 36 Wine Bar also exudes a casual yet intimate ambiance. The restaurant offers wines by the glass as well as whiskey and signature drinks. Try the steak Delmonico, an 18-ounce marinated ribeye.
---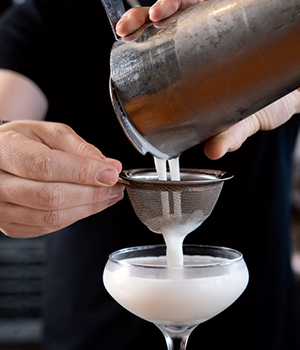 Share your favorite Restaurant Week meals and influencer-worthy food photos with us! Tag us in your posts and stories @dsmrestaurantweek or use #dsmrw22 for a chance to be featured on our page.
Restaurant Week Presented By: dsm Magazine, Business Record, Society Insurance
Sponsored By: Iowa Beef, Sazerac, Southern Glazers