The Cathedral of St. Paul was built from 1906 to 1915 and features a distinctive copper-clad dome. Guided one-hour tours are offered Tuesdays through Fridays.
Writer: Kathy Berdan
Photography courtesy of Visit Saint Paul
Minneapolis and St. Paul might be called the Twin Cities, but they're anything but twins. St. Paul is smaller, with a population of about 315,000 (the total metro is just shy of 3.7 million), and the city has more old-world charm than shiny Minneapolis. If you scooped up St. Paul and dropped it in the middle of Iowa cornfields, it would be a lot like Des Moines. Both capital cities have minor league baseball teams, museums for history and science, great dining and Wild hockey. 
Des Moines visitors are bound to feel comfortable in St. Paul, and it's worth a visit, especially if your trips north on I-35 have been limited to pro sports games in Minneapolis or the Mall of America in Bloomington. It's time to cross the river. There's so much to see and do—and eat—in St. Paul. 
Here are the top reasons to spend some time in Minnesota's capital city.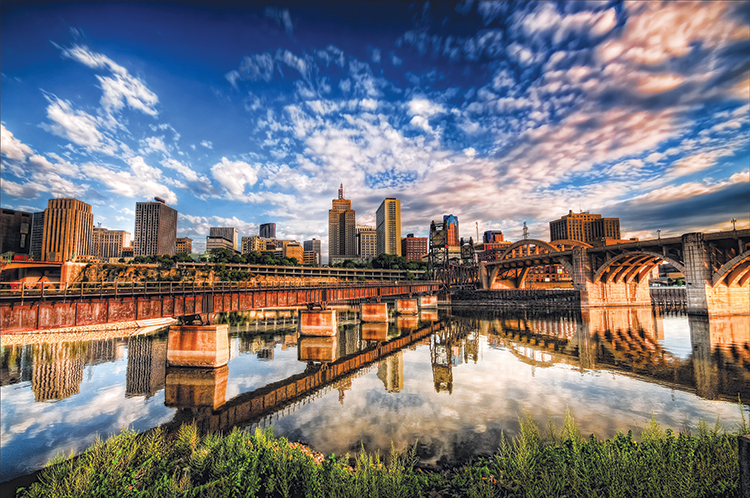 The Mississippi River courses through downtown St. Paul. You can explore both sides of the river on foot or via bike. 
Lowertown District (at the northeast edge of downtown): The St. Paul Saints baseball team hits it out of the park at CHS Field in Lowertown with wacky costumed characters interacting with the crowd, silly games between innings and—in a tradition that started in 1993—a live pig that waddles up to the home plate umpire anytime the ump needs fresh baseballs or bottled water.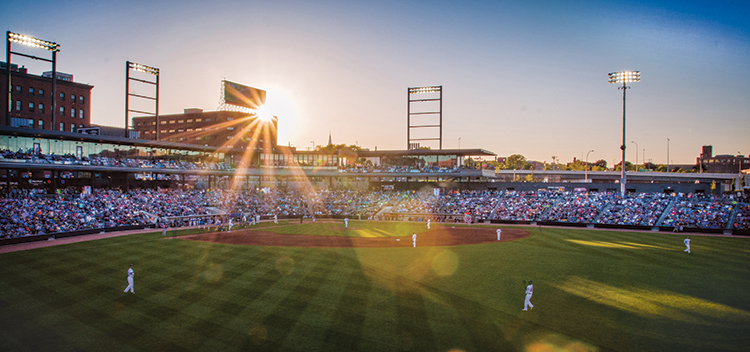 St. Paul Saints
Across the street from the ballpark, the St. Paul Farmers' Market is open mornings on Saturdays and Sundays. The cozy-but-bustling market, which isn't as sprawling as the Des Moines Downtown Farmers' Market, features only locally grown produce. 
Mears Park, a cool oasis nearby amid Lowertown's old warehouses, frequently hosts free concerts. Pop into the restored Union Depot near the Mississippi River to feel like you've stepped back in time to welcome your soldier home from war. And don't miss the world's largest Lite Brite mural in the depot. 
Nearby eats: Big River Pizza serves wood-fired pizzas with organic tomato sauce; Buttered Tin has breakfast, lunch and brunch with a fine bakery (including a gourmet Twinkie, called the Lowertown "Twinkey"); Saint Dinette is fine dining with excellent cocktails and a homemade bologna sandwich you won't believe. (Seriously.) The new MetroNOME Brewery gives its proceeds to fund musical instruments and education for underprivileged youths in the Twin Cities.
---
The Mississippi River downtown: Miles of bike and walking trails stretch along each side of the river. Across from downtown, Harriet Island has a paved trail that leads to a new stretch through Lilydale Regional Park with a lake and a fossil ground. Choose your trail distance; there are connecting paths that can take you along both sides of the river. Harriet Island is also the spot to catch a sightseeing cruise on a paddlewheel riverboat on weekends through Padelford Riverboats (riverrides.com). 
The trail along the downtown side of the river goes right past City House, an airy, charming lunch spot in an old grain elevator. There might even be a few barges parked next to the riverside patio as you dine on sandwiches (try the Cuban) or street tacos. 
CynCity Tours offers historic walking tours in downtown St. Paul, including a Gangster Tour on weekends. St. Paul was known for a "relaxed" attitude toward Dillinger and the like, which made it a "crooks' haven" in the 1920s and 1930s (cyncitytours.com).
---
Como Park Zoo and Conservatory: This 384-acre park in the heart of St. Paul has plenty going on, with an 18-hole golf course and a lake featuring kayak and paddleboard rentals and a 1.7-mile paved path around the water that's perfect for a stroll or a bike ride. Plus, there's a conservatory with 2 acres under glass, kiddie rides, picnic areas, a Japanese garden and a beautiful restored antique carousel. The extensive zoo has a new seal and sea lion exhibit featuring shows by Sparky the Sea Lion. The zoo, gardens and conservatory are all free, though donations are requested; you pay for golf course green fees and tickets for kiddie rides and the carousel. 
Nearby eats: Bole Ethiopian Cuisine moved to the area recently. Gabe's Bar & Kitchen is a neighborhood eatery and Half Time Rec is a dive bar with good burgers. (Trivia: The door at Half Time was featured in the 1993 Minnesota-set movie "Grumpy Old Men.")
---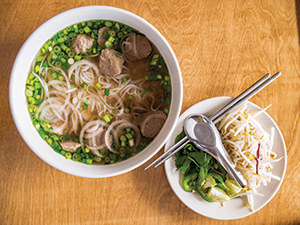 Ethnic eats on University Avenue: Busy, eclectic University Avenue in St. Paul is a roadway paved with ethnic restaurants. The metro is home to the largest concentration of Hmong in the United States, so you'll find plenty of Southeast Asian-influenced eateries here. 
Favorites are iPho by Saigon (with a bahn mi sandwich takeout area just inside the door), Ngon Vietnamese Bistro, On's Kitchen (Thai), Cheng Heng (Cambodian) and Marc Heu Patisserie Paris (amazing croissants). If you don't feel like driving, hop on and off the Green Line Light Rail that travels the street; start at the state Capitol and take a tour of the building. 
Work that food off with a stroll among the historic homes on Summit Avenue, just about a dozen blocks south of University Avenue. Of the street's original 440 homes, 373 remain; you'll see a variety of architectural styles, including the nation's longest preserved stretch of Victorian-era homes.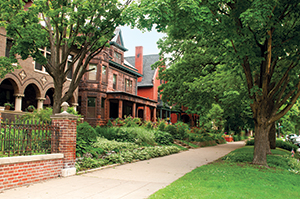 The James J. Hill House is a historic mansion to tour, with a definite "Downton Abbey" vibe. It's a 4.5-mile-long street, so a recommended start is the Hill House at 240 Summit Ave. Nearby Cathedral of St. Paul is an impressive place to visit, as well. 
For updates, events and more info, go to visitsaintpaul.com.
---
Still Hungry?
The classics: St. Paul has many longtime restaurants. Check out Mancini's Char House (don't overload on the tasty garlic bread, which is irresistible), DeGidio's (the red sauce has many fans), the Lexington (with a fine rooftop patio), and St. Paul Grill (located in the historic St. Paul Hotel—the chicken pot pie is a favorite).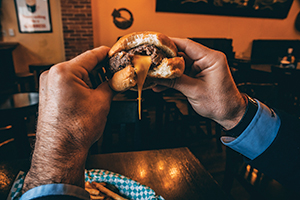 Juicy Lucys: The Twin Cities are known for the "Juicy Lucy," a hamburger with molten cheese inside. Though Matt's Bar in Minneapolis is commonly considered the home of the burger, you can sample the cheese-oozing delicacy in St. Paul; top spots include Groveland Tap, Bennett's Chop and Railhouse, Shamrocks and the Nook (which is attached to a bowling alley, just because).
Fair fare: And if you didn't get enough cheese curds at the Iowa State Fair, come on back in late August (just after the Iowa State Fair) for the Minnesota State Fair, Aug. 25-Sept. 5
---
If It's Raining: Museums, Museums, Museums
Like Des Moines, St. Paul's science and history museums are worth a visit.
For something you can't get in Central Iowa, check out the Bell Museum of Natural History. Part of the University of Minnesota, the Bell is celebrating 150 years in 2022. It features plenty of hands-on activities for kids and a planetarium. The Bell is known for its terrific nature dioramas, which show animals—wolves, moose, cranes, elk—in natural settings in habitats from across the state. The centerpiece is a life-size woolly mammoth in an Ice Age setting (bellmuseum.umn.edu).
Here's what you'll find at some of the other St. Paul museums:
Science Museum of Minnesota: Downtown along the Mississippi River, this museum features a giant astronaut floating above a stairwell, dinosaurs and fossils, experiments to try, and an amazing omnitheater (smm.org).
Minnesota History Center: Current exhibits include a look at Minnesota's Native communities, the 1930s with Minnesota's Greatest Generation, and a weather exhibit that lets visitors experience what it feels like to ride out a tornado in a basement (mnhs.org).
Minnesota Children's Museum: Three floors of activities and exhibits let kids play in a pretend town; climb up a mesh structure and take a giant slide down; and build, create and experiment in different areas. There are also special exhibits throughout the year (mcm.org).
Kathy Berdan is a former Des Moines Register reporter and St. Paul Pioneer Press arts and entertainment editor who lives in St. Paul.