Summer-blooming zinnias in carnival colors attract beneficial insects like this Eastern Tiger Swallowtail pausing for a sip of nectar.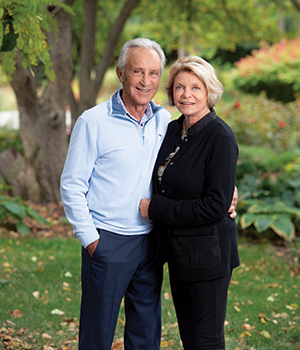 Writer: James Augustus Baggett
Photographer: Duane Tinkey
Margo and Don Blumenthal know how to have a good time. The prominent philanthropists have spent the past 52 years turning an old cornfield on a dirt road in what is now West Des Moines into a magical 7-acre whimsical landscape custom-made for casual get-togethers as well as lavish fundraising parties for local charities. 
Their eclectic five-bedroom house (complete with a full gym, an indoor swimming pool, and an attached greenhouse rescued from the Rusty Scupper on Grand Avenue) is set a quarter-mile from the road, surrounded by generous containers of blooming color, easy-care perennials and large drifts of ornamental grasses. Well-appointed terraces provide sweeping views of a pond that features fountains illuminated with colored lights at night, as well as their very own Loch Ness monster, an amusing water sculpture of a dolphin-tailed serpent. 
The entire 23-acre property is encircled by 8-foot-tall steel fencing pierced with foot-round circles, which was repurposed from sheets of industrial steel once used by Don's steel company to cut cultivator discs for John Deere tractors. 
"There is nothing better after a long day than to sit on the deck with a cocktail or glass of wine, enjoy the view and admire the wildlife that come to drink at the pond in the early evening," says Margo, a master gardener who fashions exquisite bouquets from the garden for her parties. "We use the entire house for entertaining; however, the deck is our favorite party space. The view is spectacular and lends itself to beautiful evenings that last sometimes too long into the night."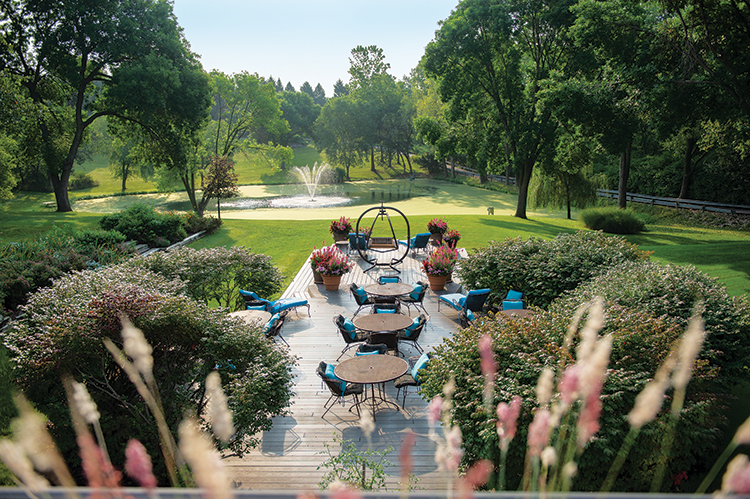 The well-appointed 31-by-60-foot deck can accommodate more than a dozen sit-down dinner guests and includes a quartet of comfy chaise lounge chairs and a freestanding porch swing, the perfect perch for taking in the surrounding vista.
Besides the deck, the property includes additional outdoor entertaining spaces with expansive vistas, a separate office building with a five-car garage, and a tennis court. The Blumenthals even have their own soda pop vending machine (a gift from local friends Art and Carol Wittern, who own a vending machine manufacturing business). 
The landscaped areas grew as they expanded their house. "Because we were in the steel business, we had access to large steel beams that span the structure of the house, allowing us to build out the lower level from a basement into a walk-out lower level," Margo explains. "We've continually adjusted our landscape to fit our house expansions. This led us to create different focal landscaped areas." 
The Blumenthals collaborate with landscape designers Joel and Marcia Sheldon to design the plantings around the property and Mary Maltby to compose the containers and hanging baskets. "They have mastered the art of keeping deer from topping off the flowers, and they plant appropriate flowers that deer don't relish," Margo says. 
Their original landscape architect, Yale Moeller, filled in a ravine and shaped the depression into the 1-acre pond. The fountains in the pond help aerate it to keep it healthy and also provide a colorful light show on command. But the Loch Ness monster sculpture is pure whimsy.
"We thought the pond needed a fun character to entertain us as well as our guests," Margo says. "If you come to our pond in the evening, it's dark and you don't know it's there. It can create a frightening reaction."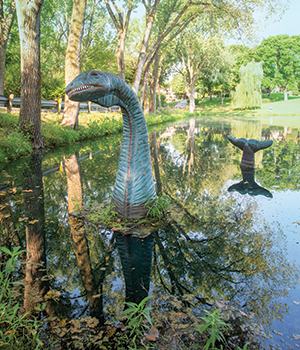 Unsuspecting guests are enchanted to discover a sculpture of a serpent with a dolphin tail emerging from the pond like a resident Loch Ness monster.
The repurposed steel fencing was Don's inspiration and lends a distinctively contemporary feel to the periphery, providing polka-dot glimpses into the verdant landscape inside. "It's a great way to recycle," Margo says. "Plus, it's a unique and useful fence." 
Their garden was an especially delightful place to spend time during the COVID lockdown, Margo says, where the couple enjoyed "the beauty of our property and … the many critters that roam and fly around us."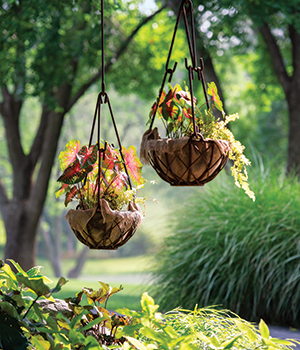 Hanging baskets of shade-loving ferns and caladiums are suspended from mature trees in Don and Margo Blumenthal's 7-acre West Des Moines garden, bringing the foliage up to eye level.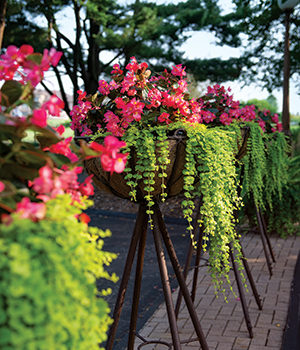 A chorus line of plant stands spills over with golden creeping Jenny and are crowned with cheerful pink wax begonias. This display adds privacy and defines one side of a brick patio off Don's home office.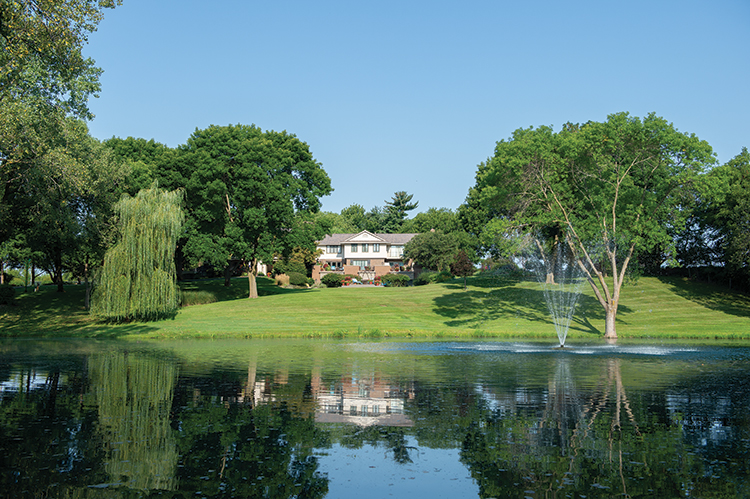 The Blumenthals have stocked the pond with fish, including grass carp, bluegill and smallmouth bass; the fountain aerates the water and provides an evening light show for special occasions.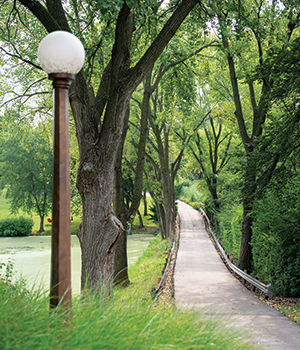 The quarter-mile-long driveway leads past the pond and is lined with mature shade trees.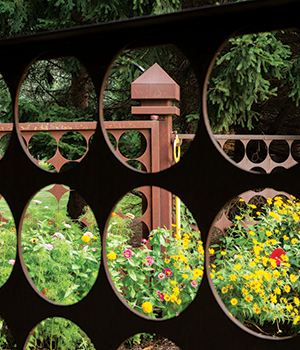 The polka dot-pierced fencing is constructed from sheets of industrial steel repurposed from Don's steel company and allows for glimpses into the verdant landscape beyond. Don has donated additional pieces of the steel to be installed at the Greater Des Moines Botanical Garden.