It's no surprise that inflation is taking a toll on everyone in 2022. According to the U.S. Bureau of Labor Statistics, inflation is up 8.5% since March of 2021 — a 40-year high. Prices are zooming, from gas to rent to electricity, but most importantly food. 
A good indicator of this increase is the consumer price index. The CPI measures the change in prices paid by consumers for goods and services. According to the CPI's most recent data, grocery prices were 7.9% higher year-over-year in February of 2022. The U.S. Department of Agriculture also reported that prices associated with eating at home (instead of going out to eat), are set to increase between 3% and 4% by the end of 2022. 
Rising food prices are not our only concern; inflation is affecting certain foods more than others. Healthier food options, which already tend to cost more, are becoming harder to afford. The Department of Agriculture is reporting that the following will increase in cost by the end of the year: 
Beef/veal: 6-7%
Pork: 4-5%
Poultry: 7.5-8.5%
Eggs: 6-7%
Fresh fruit: 6-7%
Fresh vegetables: 4-5%

 
The increased costs of these foods will limit the options available to Iowans. People with limited resources will now need to choose between more expensive but healthier food options or stretching their dollars to accommodate additional needs. 
Food assistance programs are also diminishing as COVID disaster declarations come to an end. As reported by the Iowa Department of Human Services, the Supplemental Nutrition Assistance Program (SNAP) has returned to pre-COVID benefit levels. The pandemic shined a light on the overarching problem that is food insecurity, but with life beginning to return to normal, the focus on food insecurity is falling while the overall need remains. Feeding America reports that donations have dwindled while demand for assistance has risen. 
---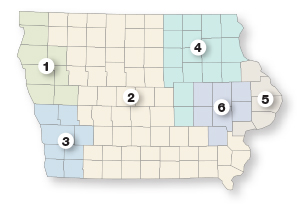 Iowa Food Banks
Affiliated with Feeding America 
1. Food Bank of Siouxland
1313 11th St.
Sioux City, IA 51105
712.255.9741
siouxlandfoodbank.org 
2. Food Bank of Iowa
2220 E. 17th St.
Des Moines, IA 50316
515.564.0330
foodbankiowa.org 
3. Food Bank for the Heartland
10525 J St.
Omaha, NE 68127
402.331.1213
foodbankheartland.org 
4. Northeast Iowa Food Bank
1605 Lafayette St.
Waterloo, IA, 50703
319.235.0507
northeastiowafoodbank.org 
5. River Bend Food Bank
4010 Kimmel Dr.
Davenport, IA 52802
563.345.6490
riverbendfoodbank.org 
6. HACAP Food Reservoir
1515 Hawkeye Dr.
Hiawatha, IA 52233
319.393.7811
hacap.org/our-initiatives/health-nutrition 
---
National Price Increases
Comparisons are the national average from April 2021 to April 2022
Gasoline Up 80.5%
2021 $3.04/gallon
2022 $4.60/gallon 
New Vehicles Up 13.2%
2021 $40,768
2022 $46,085 
Electricity Up 11%
2021 $0.11/kilowatt hour
2022 $0.12/kilowatt hour
Rent Up 16%
National Average $1,628
Ames $1,287
Waukee $1,268
Johnston $1,235
Ankeny $1,143
Grimes $1,139
West Des Moines $1,085
Altoona $1,039
Norwalk $1,027
Windsor Heights $1,021
Council Bluffs $996
Des Moines $968
Clive $995
Urbandale $919
Pleasant Hill $836
Indianola $825