Eat Greater Des Moines driver Dave Sanders places prepared sandwiches into a community fridge located at the Budget Inn & Suites in Ankeny.
Writer and Photographer: Emily Kestel
Hundreds of thousands of Iowans don't have access to enough nutritious food. At the same time, more than half a million tons of food ends up in Iowa landfills each year. 
Consider this: If all of that wasted food was instead diverted from the landfill and given to food-insecure Iowans, they'd each have access to more than eight meals a day. 
"Food scarcity is not why we have food insecurity," said Aubrey Alvarez, executive director of Eat Greater Des Moines. "It's a logistics issue." 
Food rescue organizations like Eat Greater Des Moines and Table to Table in Iowa City work to keep excess, edible food from going to waste by collecting it from donors and safely distributing it directly to recipient organizations that serve those in need of food. 
Donors include grocery stores, convenience stores, restaurants, warehouses, farms, corporate cafeterias and general merchandise retailers. Recipients include local food pantries, churches, homeless shelters, child care programs and community fridges.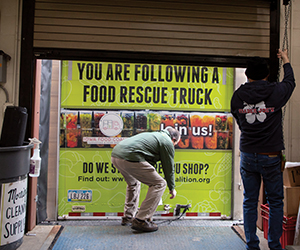 Eat Greater Des Moines driver Dave Sanders closes the truck before departing from the Trader Joe's loading dock. Sanders started driving part time for the organization in 2021. 
How It Works
Alvarez sums up food rescue through three guiding questions: Where is the food? Where is it available to be donated? How can we efficiently and equitably get that food collected and out to the groups that can use it? 
Food rescue work is done through small, grassroots organizations. Table to Table has seven paid employees and more than 100 volunteers. Eat Greater Des Moines has a team of three full-time staff members, three part-time drivers and regularly works with 20 volunteers. 
Dispatchers work with donors and recipients each week in determining how much and where food will be donated and needed. They also coordinate daily pickup and drop-off routes with the drivers. 
The drivers use refrigerated trucks or vans to pick up food from donors. At the beginning of the route they pick up the food, and at the end of the route they drop off the food. 
Most donor locations arrange for drivers to go to the loading dock behind the store and already have pallets of food or other products ready to be taken. 
Foods that qualify for donation include those that are nearing or have just passed the manufacturer's sell-by date, packaged goods that are missing an item (like a 40-pack of single-use water bottles that's missing a bottle or two), produce that's misshapen or slightly bruised, containers that are dented, or items that were deemed defective in the manufacturing process, like a pack of yogurt whose lids don't match the containers. 
After picking up all of the scheduled donations on their route, drivers head to the recipient organizations. Those organizations are able to say what kinds of food off the truck they'll take. For example, a church may say they'll accept the potatoes, cereal, apples and a pie or two, but won't take the lemongrass or jicama sticks. 
The whole process, from picking up the food to dropping it off, takes a few hours. 
"Food rescue is such a simple idea, and it's a really easy thing to get behind," said Nicki Ross, executive director of Table to Table. "It's taking excess food and finding a place for it."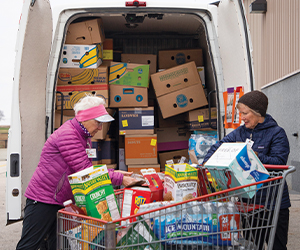 Mary Palmberg and Nancy Weber load a cart full of donations from Costco into the Table to Table van. The most common types of food rescued by Table to Table are dairy products, bakery items, produce and grocery items like cans of soup or boxes of pasta.
The Role Food Rescue Organizations Play 
Alvarez said the work that food rescue organizations do benefits the community because it fills the gaps of what other organizations aren't always able to do. It's not fair for food pantries to solve food insecurity in the community on their own, she said. 
"Part of the issue is trying to lump all of these food insecurity solutions into one bucket. I think here, the Feeding America food bank model is really what people think of as the only solution – food banks and food pantries. They've been around for a long time, they've done a lot of work, but they can't do it by themselves," Alvarez said. 
The benefits of food rescue are plentiful, both Ross and Alvarez said. It's environmentally friendly, it saves organizations money, it's convenient, it's efficient, and it increases access to perishable, fresh food. 
One study found that the food that Table to Table rescues feeds roughly 13% of Johnson County's population. 
"We play a big role in food sourcing," Ross said. "Pantry partners report they typically give away the food that we deliver within 6 1/2 hours, and 60% of the food they give away comes from Table to Table." 
Since its founding in 1996, Table to Table has rescued more than 25 million pounds of food, and it averages about 2.5 million pounds per year. In 2020, the value of food rescued from more than 100 donors was equivalent to $6.2 million. 
Since 2015, Eat Greater Des Moines has rescued more than 16 million pounds of food. 
The HACAP Head Start location in Iowa City is a recipient partner with Table to Table. The program offers child care to roughly 80 kids who come from low-income families. Many of them are also learning English. 
Jennifer Kindon, the program's classroom supervisor, said the food they get from Table to Table is often fresh produce that the kids wouldn't be exposed to otherwise, like clementines, spaghetti squash or asparagus. 
It's food their parents won't buy when they go to the grocery store, especially with the way food prices are right now, Kindon said, giving an example of a situation where a parent may choose to spend what little money they have to begin with on a 50-cent can of corn instead of a bunch of asparagus for $5.99. 
Table to Table is "a tremendous asset," Kindon said. "We're thankful for everything they do." 
Another Table to Table recipient partner is the North Liberty Community Pantry, which serves 200 families every week. 
Kaila Rome, the pantry's executive director, said Table to Table provides between one-third and one-half of the pantry's overall food offerings, and is the only source of their fresh, perishable food. 
Beyond the additional access to foods they wouldn't otherwise have, Rome said working with Table to Table saves time, avoids logistical headaches and saves money. 
"We're super grateful to be a partner with them," Rome said. "We would not be able to do what we're doing today if it weren't for Table to Table." 
In addition to dropping off food at brick-and-mortar recipient organizations, Eat Greater Des Moines donates food five days a week to several community refrigerators in the metro area, including the Sweet Tooth Community Fridge on Sixth Avenue. 
Hundreds of people use the fridge every day, and about 60% of the food in the fridge comes from food rescue, Sweet Tooth organizer Monika Owczarski said. 
The fridge is emptied "multiple times every day. Sometimes instantly," Owczarski said. Sometimes the food doesn't even make it into the fridge because there are 30-plus cars waiting for the Eat Greater Des Moines delivery, she added. 
"I think [food rescue] is a tremendously underutilized tool. Not only are we on the verge of a serious climate crisis, people are going hungry. Food rescue combats both of those things," she said. "I think it would absolutely blow people away if they knew how much perfectly good food is thrown away every day, not just in this city but in the state and more broadly in the U.S. If we got everyone participating, I think that food rescue could potentially make a huge dent in food insecurity in Iowa."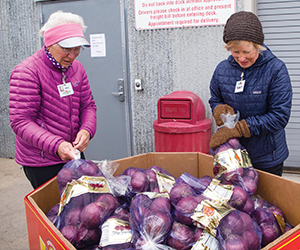 Mary Palmberg and Nancy Weber examine a pallet of purple onions from Costco.
An 'Invisible' Operation
Current consumer behavior leaves stores no choice but to always have fresh products in stock and available for purchase. When someone goes to the grocery store, they expect to see full shelves and have the ability to buy salad mix or a gallon of milk that's good for another week. 
To keep up with those demands, stores are constantly restocking shelves with the freshest offerings, which naturally means all of the food that's not purchased will be wasted. 
But given that wasting food is shameful, food rescue operations are often invisible. Even if a company donates food through a food rescue organization, they won't always publicly advertise it, Ross said. 
"Nobody wants to acknowledge that food goes to waste," she said. "In a country where people are food-insecure and don't have enough to eat, we throw away 40% of it. That's a huge gap and it's something that we should feel ashamed about." 
Ross wants to see that narrative shift. Instead of shoving food waste under the rug, accept that it's inevitable in the way the current system works, and work to reclaim that food for the community, she said. 
Some stores, like Trader Joe's and Kum & Go, have food rescue donations built into their business models. 
Through Trader Joe's Neighborhood Shares program, every store across the country donates all unsold products that are still fit to be enjoyed to local food rescue programs. Last year, the company donated $349 million worth of products to its rescue partners. 
When reached for an interview about Trader Joe's efforts in Iowa, a spokesperson declined to comment in detail but said, "We want the work to speak for itself, as we care deeply about this everyday effort and our goal to nourish our neighbors in meaningful and intentional ways."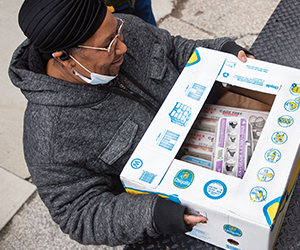 Marsha Spears of Mount Hebron Baptist Church in Des Moines examines a donation of eggs from Eat Greater Des Moines. Spears said the church is grateful for the donations, as "everybody is in need right now."
Iowa-based convenience store chain Kum & Go began partnering with food rescue organizations four years ago in an effort to help reduce the amount of food that was going to waste in their stores, Meg Kayko, waste reduction specialist at Kum & Go, said. 
"The way our kitchen works, we've always wanted to have at least 15% to 20% waste. That might seem kind of weird, but we wanted to make sure our customers are being fed, so if somebody comes in at 10:59 and we're getting ready to swap over to lunch at 11, but they still want that breakfast burrito, they have it." 
Kum & Go is ServSafe-certified, which means it must adhere to strict standards of how long food can sit out and what temperature it needs to be kept at. Kum & Go only leaves a prepared, packaged food item out and available for purchase for three hours. 
But, Kayko said, the company found store associates hated throwing perfectly good food away, especially because some of them have experienced food insecurity themselves. 
Types of food that Kum & Go donates include anything that's been pre-wrapped or prepackaged — like cold sandwiches, salads and fruit cups — or items like milk, bread or seasonal candy. Food that's on the roller grills — or "anything that's out in the public that can be directly sneezed on" — is not donated. 
Kum & Go in 2021 donated 407,000 pounds of food from 44 stores through Eat Greater Des Moines alone. The convenience store company is currently undergoing a shift in how it sells food, going from majority pre-made offerings to made-to-order food. Kayko expects the shift will decrease the amount of rescued food the store will be able to donate by as much as 70%, but said Kum & Go will still donate as much as it can. She wants other stores to get on board, too. 
"There's a need out there in the community, and there's a need for more than just bread and bakery. If you have things like fruit, vegetables and proteins that you can donate, work with these great experts like Eat Greater Des Moines or the Food Bank of Iowa and figure out how you can do it. It's just the right thing to do." 
Alvarez wants to see food rescue emerge from the shadows. 
"If we can provide more transparency and let people know where the food is in their community, who's participating in food recovery and who isn't, I think once people know, they'll say, 'We should do something about it.' 
"We need to do a better job of making sure that the food we have … is not getting thrown in the garbage, especially when we have high and growing food insecurity numbers." 
---
Ways You Can Reduce Food Waste
Each year, 40% of the food produced in the U.S. is thrown away. Excessive food waste is expensive and harmful to the environment. But it is preventable. Here are seven ways you can help reduce food waste. 
Make a shopping list. Before you head to the grocery store, take a quick peek into your pantry and refrigerator to see what's in stock and what you're running low on. 
Eat leftovers. Unless you have a large family, chances are you have some food left over from the meal you just ate. This is a great opportunity to get creative. If you prepared a roasted chicken, use the leftover meat to make enchiladas, quesadillas or chicken fried rice — the possibilities are endless! Bonus: You can also use the leftover bony pieces to make your own chicken broth. 
Make vegetable stock. Speaking of chicken broth, you can do the same with vegetable scraps. Instead of throwing away those onion skins, celery leaves, green onion ends, carrot peels and bell pepper tops, save them in a zip-lock bag in your freezer. Then, when you've got a full bag, add some spices and simmer them in a pot of water. Voilà — your own vegetable stock! Just make sure you're not using scraps that are moldy or dirty.
Learn how to store your food properly. Think of foods as having their own personalities — some prefer to live in the refrigerator, while others thrive in a bowl on your counter. Some foods don't get along with others — for example, potatoes should be kept separate from ethylene-producing foods, like onions and bananas.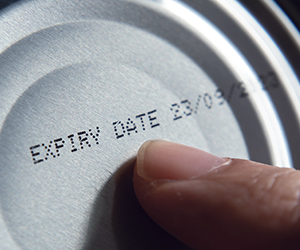 Understand the difference between use-by dates, sell-by dates and best-by dates. If the can of green beans in your pantry has a date of July 2022 on it and it's September, it's very likely still perfectly safe. In fact, infant formula is the only product that cannot be consumed after the date on the label. That being said, always trust your nose. If you take a whiff of a gallon of milk or a can of peaches and it smells bad, don't eat it. 
The following are common product dates, according to the U.S. Department of Agriculture: 
A "best if used by/before" date indicates when a product will be of best flavor or quality. It is not a purchase or safety date, but rather a suggestion.

 

A "sell-by" date tells a store how long to display the product for sale with regard

 

to inventory management. It is not a safety date. In fact, according to the Institute for Food Safety, "one-third of a food's shelf-life remains after the sell-by date for the consumer to use at home."
A "use-by" date is the last date recommended for the use of the product while at peak quality. It is not a safety date, except when used on infant formula. This is a suggestion, but you should still evaluate the quality by looking at its contents or smelling it.
So how long are foods generally good for after the expiration dates? As long as they're refrigerated, eggs are good for another three to five weeks. Rice and dried pasta are good for another year or two after their expiration date. 
Take inventory of your pantry every few months. If you have a can of cream of mushroom soup that's about to expire but you have no plans to make green bean casserole anytime soon, or a bag of fettuccine that was buried behind a cereal box that you won't use, donate it to your local food pantry or community refrigerator. 
Download food rescue apps. There are several smartphone apps available for food rescue. The ChowBank app, Food Rescue Hero app and Eat Greater Des Moines app all connect users who have food to donate with organizations that need it and make it easy for donors, recipients and volunteers to engage with food rescue.