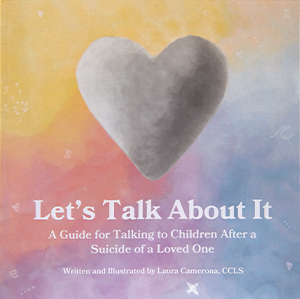 Laura Camerona is a local author and child life specialist who wishes no one would ever need her books, which discuss dealing with difficult topics such as sudden infant death syndrome, miscarriage and the death of a loved one. Her latest book, "Let's Talk About It," offers a guide for caregivers on how to talk with children who have lost a friend or family member to suicide. 
"I want to let people know it's not only OK to talk about; it's also very important to talk about," she says. 
Commissioned by Mindspring Mental Health Alliance, a Des Moines-based nonprofit organization that offers mental health education, support and advocacy programs, the book uses language geared toward children ages 6 to 12. It acknowledges that suicide wasn't caused by their loved one being a bad person, but because their brain was so sick they couldn't feel hope. The book also emphasizes that a loved one's suicide is not the child's fault, and that it's OK to feel confused, angry and sad. 
"People feel very uneasy about making a child sad," Camerona says. "But kids can use the conversation about their person's suicide to find ways to deal with the sadness in a healthy way. And that lets the child know they can talk to you and ask you questions, rather than their 8-year-old cousin." 
Available through Mindspring, Amazon and Camerona's company, Words Worth Repeating, the book opens with tips for adults. Read through the book first, without children present. Understand that children may process the conversation in different ways. Answer questions as honestly as possible. And know it's OK for the child to see you being sad. If the child shares that they have suicidal thoughts, take him or her seriously and connect the child with a mental health professional as soon as possible. 
The book also offers ideas for remembering a loved one, such as creating a book of drawings or stories and attending a walk dedicated to remembrance. 
Kristi Kerner, Mindspring's director of special initiatives and a contributor to the book who, like Camerona, is a certified child life specialist, says the book is "written and illustrated in a beautiful way for any race, gender or relationship." It's also designed to help caregivers who likely are working through their own "gut-wrenching experience" of losing a loved one to suicide. 
"They can't discredit their own grief. The book can take pressure off them to have the right words when they need them," she says. 
In addition to helping children and caregivers during a difficult time, Kerner and Camerona hope the book will counter the stigma surrounding suicide. 
"People often feel like they should hide it and not talk about it. This is in the heads of many adults, but it is not, yet, in the heads of children," states the book's introduction. "You can help break the stigma by having open conversations about it with your child. Open honest conversations with children build trust and a foundation for appropriate grieving as a family."
—Barbara Boose