Photographer: Lauren Pelesky
Writer: Rachel Vogel Quinn
Depression, Interrupted
Mental health struggles and pandemic pressure pushed a teenager into heavy drinking. She's learned to love life without alcohol.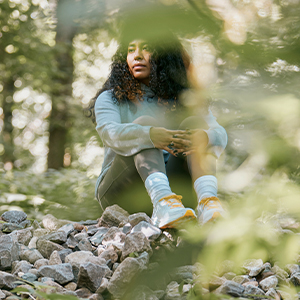 "I have so much to be grateful for," says 19-year-old Jaz, who overcame addiction through treatment at YSS. She is currently studying to be a nurse and plans to join the Air Force as a nurse anesthetist. Here, she spends a quiet moment of reflection at Greenwood Park in Des Moines. Photographer: Joe Crimmings.
In the depths of the 2020 pandemic year, then 17-year-old Jaz woke up in Iowa Lutheran Hospital with no idea how she had gotten there. Her mother explained: Jaz had been blackout drunk and screaming that she was going to kill herself. 
Formerly a star student, Jaz was failing all her classes and drinking herself into oblivion every night to cope with depression. 
"I thought all my dreams were thrown away," Jaz says of that low point in her life. 
Now 19, Jaz (whose full name is being withheld for confidentiality) is studying to be a nurse and working at Clive Behavioral Health. Her dreams have been resurrected, thanks to treatment, hard work and her mother's support.
Bound to Break
Jaz was born and raised in Des Moines by parents who emigrated from Mexico. She watched her parents struggle financially and work long hours as they tried to get their footing in a new country. Determined to excel in school, Jaz quickly distinguished herself as a gifted student. 
"I wanted my parents' sacrifices to be worth something," Jaz says. "I put a lot of stress on myself." 
At age 11, Jaz attempted suicide for the first time. She was diagnosed with major depressive disorder and anxiety. But she couldn't explain her sadness to herself or her parents. A therapist said she didn't need counseling, so life continued as usual, even as Jaz struggled with panic attacks throughout middle school. 
Coming from a culture that didn't discuss mental health, Jaz's parents believed their daughter's depression would go away on its own. Jaz thought the same. Thus began a yearslong cycle of ups and downs. 
"I thought that my life was going to be like this forever and that I had to learn how to live with it," she says. 
In high school, Jaz signed up for a slew of Advanced Placement classes. Looking back now, she says she was bound to break at some point. Her depression and anxiety took a turn for the worse, and her grades started slipping. At 16, she attempted suicide again. 
Addiction Struggles
When COVID-19 shut schools in March 2020, Jaz was failing most of her classes. To keep an eye on her daughter, Jaz's mother got her a job working beside her at Red Lobster. Jaz started working full time—filling to-go orders in the kitchen during 13-hour shifts. 
Jaz had started drinking and smoking weed with her friends earlier in the year. But as her anxiety and depression deepened, her substance use progressed. Even after her mom found her passed out in the car, Jaz thought she was just being a normal teenager. 
Her friends introduced Jaz to acid and cough medicine, which she combined with the liquor. Every night after her mom went to bed, Jaz snuck out to grab the bottles stashed in her car. Soon, she couldn't even sleep without alcohol. 
"It's really sad to look back on all the things I was doing," Jaz says now. "At that point, I just didn't care about anything else. I thought that as long as I had alcohol, I'd live." 
After celebrating her younger sister's 13th birthday, high on acid, Jaz finished a bottle of liquor left in her sister's car. That was the night she ended up in psychiatric care at Iowa Lutheran Hospital. The staff referred her to YSS, one of Iowa's oldest and largest nonprofits serving youths. 
Jaz was worried that, without her paycheck, her mom couldn't afford the mortgage payment on their new house. But her mom was adamant that Jaz get the help she needed. 
"She wanted to keep helping me at home," says Jaz's mom, Laura, with Jaz interpreting from Spanish. "But I told her that didn't matter. The most important thing was her." 
Getting Help
A few days after she turned 18, Jaz moved into YSS' Residential Addiction Treatment Program in Ames. The first few weeks of withdrawal were tough. She often couldn't sleep, and when she did, she would wake up in her own vomit. She didn't participate much in group therapy, biding her time until she could go home and drink again. 
One day, the staff took the girls at YSS to a nearby lake. Without school to worry about, and with no access to alcohol, Jaz felt the weight lift off her chest. 
"That was like the first time I was able to breathe, without any other pressure," she says. "It was just the most relaxing feeling I had ever felt in all my years." 
At the gender-responsive program, all the girls lived and learned together. Through group therapy, anger management class and drug education, the program taught coping and relationship-building skills. Jaz became good friends with the other girls, and the staff took them on hikes and outings around Ames. They carved jack-o'-lanterns for Halloween and greeted winter with a snowball fight.
As Jaz's mental health improved, so did her grades in her online courses. A few months into her senior year, she had enough credits to graduate a semester early. 
"I had started to love my life sober," Jaz recalls. "I didn't want to go back to that life of guilt and blankness, where I wouldn't remember half of what I did."
Sober and Grateful
After four months of treatment, Jaz returned home to her mom and younger sister. She became the first-ever recipient of the YSS Collegiate Recovery Scholarship. Looking back, Jaz knows how lucky she was to get a spot in the YSS program. 
"If I hadn't gone, I probably wouldn't have finished high school or gone to college," she says. "I have so much to be grateful for. All of this, my life now, is because of them." 
Working toward a nursing degree at Mercy College of Health Sciences, Jaz had fallen in love with the medical field. She plans to join the U.S. Air Force and become nurse anesthetist. Someday, she would like to retire to her parents' home state of Guerrero in southern Mexico and establish a nonprofit to help homeless children there. 
Jaz says her perspective on life has changed; rather than focusing on money, she is attending to what she loves—the medical field and her family. 
At one point, Jaz thought that drinking alcohol was the best life could get. That was her depression talking. Her time at YSS showed her what true joy feels like. 
"You saw how nice your life could be without those substances," Jaz says. "I realized that life like this is much more fun. It's beautiful to see."
---
The Boy Who Expected to Die
A transgender teen from small-town Iowa predicated he would die young from suicide or violence. Mental health treatment proved him wrong.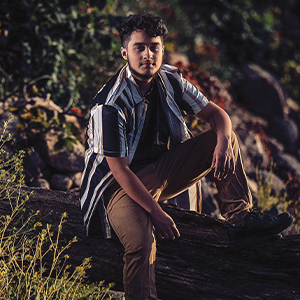 Peytin Eral's mental health struggles convinced him he wouldn't live past 25. But after treatment at Orchard Place in Des Moines and with the support of family and friends, he says his confidence skyrocketed and he now looks forward to "every new day." The 19-year-old Albert City resident attends Iowa Central Community College and intends to eventually earn a doctorate degree in adolescent psychology. Photographer: TFC Photography.
As a child, every night before bed, Peytin Eral would pray to wake up as a boy. 
Now 19, Eral is living the life he asked for. But the journey there almost killed him. 
Assigned female at birth, Eral grew up in Albert City, a town of not quite 600 in northwest Iowa. By first grade, he started feeling uncomfortable in his body. In sixth grade, he watched a YouTube video about a transgender individual, which gave him a name and an explanation for the way he had felt his entire life. That summer, terrified to tell them in person, he came out to his parents in a letter. They greeted his confession with love and support. 
With his parents' approval, Eral began to transition from female to male that same summer. Many people at his new middle school in Sioux Rapids reacted with confusion and disgust. Teachers didn't use his male name and got his pronouns wrong. The popular kids tormented him with insults and transphobic slurs. 
"Being transgender in small-town Iowa is not fun," Eral says with a bitter laugh. 
The school wouldn't allow him in the male restroom, so he had to use the nurse's private bathroom. He started getting anonymous death threats online. One morning, Eral walked into his classroom to find his peers convulsed in laughter. A classmate ordered him into the closet and shut the door. Afterward, a friend told Eral that the class had been discussing his genitals. 
Eral's mother, whom he describes as a "big mama bear" and his "No. 1 supporter," was devastated by the bullying. She met with school leadership about her concerns, but they refused to take action—implying that Eral's transgender identity was the problem, not the students' behavior. 
Sadness and Confusion
As the harassment intensified in eighth grade, Eral sunk into a deep depression, falling into self-harm and substance use. Overwhelmed by sadness, anger and confusion, he began to loathe both himself and his community. 
"People were saying, 'You're not truly being who you are,' even though I was doing my best to truly be who I am," Eral says. "I just wanted to live a regular life without being hated so much." 
Cutting school more and more often, Eral holed himself up in his basement—watching TV in the dark, crying and contemplating suicide. 
By age 14, Eral had landed in the crisis unit of a behavioral health center four separate times. They recommended residential treatment at Orchard Place in Des Moines. 
While waiting for a spot to open up, Eral and his mother visited the LGBTQ Clinic at the University of Iowa Hospitals and Clinics. At the time, health guidelines recommended that transgender adolescents delay hormone treatment until 16, though some organizations have recently lowered the minimum age. Concerned by Eral's suicidal ideations, his parents, therapist and doctor all approved his request to start taking testosterone earlier. 
"It was a life-or-death situation," says Eral. "When you don't have hormones that line up with the way your brain is, it causes a really big chemical imbalance." 
Residential Treatment
Soon after, Eral moved into Orchard Place's residential treatment center for 10- to 17-year-olds. His days were filled with school, substance abuse counseling, group therapy, individual therapy and pet therapy. The staff was kind and caring, Eral says, and he became close friends with the other kids. 
By that point, Eral had completely given up on academics, but his teacher at the campus school reignited his passion for learning. During his downtime, Eral worked on processing his thoughts and emotions—some of which he didn't even know he had. 
"I learned that it's OK to feel the things you feel and not keep them bottled up," Eral says. "It's OK to talk about it, and it's OK to reach out for help." 
Eral spent four months at Orchard Place, departing just in time to start high school in a new district. By the halfway point of his freshman year, he realized how much his mental health had improved. He was going to class regularly, socializing and earning better grades. 
"I could just tell by the way I was carrying myself, the way I was thinking of myself and thinking of others," says Eral. "My confidence had skyrocketed." 
Eral was quick to make friends at his new school, and bullying was never a problem. The teachers always got his name and pronouns right, and he joined the art club and theater. 
Mandy Mahler, the Success Center coordinator at Newell-Fonda School, worked closely with Eral. She says he grew tremendously as a student and as a person over his four years there. "Peytin is one of the most genuine people you will ever meet," she says. "He has a heart of gold. He looks for the best in people and pushes them to be the best they can be."
Looking Forward
Back in middle school, Eral didn't think he would live past age 25. He was certain he would die by suicide or transphobic violence before then. He planned to drop out of school as soon as he could. 
In May 2022, Eral graduated from high school. Now he's looking forward to college, career and even retirement. 
Eral currently lives with his parents, two brothers and girlfriend of three years in Albert City. He attends classes at Iowa Central Community College. Eventually, he intends to earn a Ph.D. in adolescent psychology and work at Orchard Place—which sparked his transformation from a suicidal boy to a confident young man who dreams of marriage, kids and a home on a big patch of land. 
"I feel completely in love with myself," Eral says. "I don't want to die anymore. I'm happy as much as I can be, and I look forward to every new day."