Des Moines mom Emily Lawson and her daughter Izzy love creating art in a studio tucked into a corner of their garage. Both mother and daughter have learned to express their emotions through art. Photographer: Joe Crimmings.
Writer: Rachel Vogel Quinn
Emily Lawson's tears sometimes sprinkle the surface of her artwork. 
Dealing with her son's medical complexities, her daughter's autism diagnosis, an active 3-year-old, and her own mental health issues makes for some hard days. When the demands of life overwhelm her, Lawson, 33, takes her kids outside to make art in the fresh air. If teardrops occasionally dampen the paper, the mother of three and burgeoning professional artist just incorporates the marks into her final piece. 
"There's something powerful about transforming those really hard, ordinary moments into beauty," Lawson says.
Early Anxiety
Growing up in Des Moines, Lawson found it hard to fit in and connect with other kids. She now recognizes the symptoms of anxiety in her early life, but she wasn't diagnosed until her early 20s. Unable to find treatment that helped, she rode out the up-and-down cycles on her own. 
Then, five years ago, her newborn twins were whisked off to the neonatal intensive care unit. Her son, Asher, ended up needing two brain surgeries, and her daughter, Izzy, struggled developmentally. 
"We were just thrown into parenting at 150 miles per hour," Lawson says of herself and her husband, Jordan, "and it doesn't feel like it's let up since then." 
While seeking out specialists and caring for her twins, Lawson suffered from severe postpartum depression and anxiety. This time she found medication and therapy that made a difference. But she was still stuck in survival mode as the twins grew and another daughter, Wren, was born in 2019.
In February 2020, in the last days before the pandemic, her daughter Izzy was diagnosed with autism, attention-deficit/hyperactivity disorder, and anxiety.
At The Kitchen Table
As Izzy's struggles intensified, Lawson and Jordan traveled to specialists around the country. They discovered that Izzy has pathological demand avoidance, a distinct profile of autism. Lawson explains that Izzy sees any demand or expectation, whether explicit or implied, as a threat—sending her into fight-or-flight mode and causing panic attacks. 
From the time she was a toddler, Izzy connected with crafts and coloring. Mother and daughter started making art together at the kitchen table right after the diagnosis. It helped Izzy focus and even sparked small conversations, a rare occurrence. Now, Lawson leaves art supplies out all the time so Izzy can create whenever she wants. 
"Our walls have suffered a bit," Lawson says with a laugh. "But I had to surrender to the mess because she loved it." 
Lawson noticed that the art sessions left her feeling calmer too. She had never been artistic before, but she found herself reluctant to leave the art supplies. 
"When Izzy would go to bed, I'd go back to the table," Lawson says. "It woke up something in me that I didn't know was there."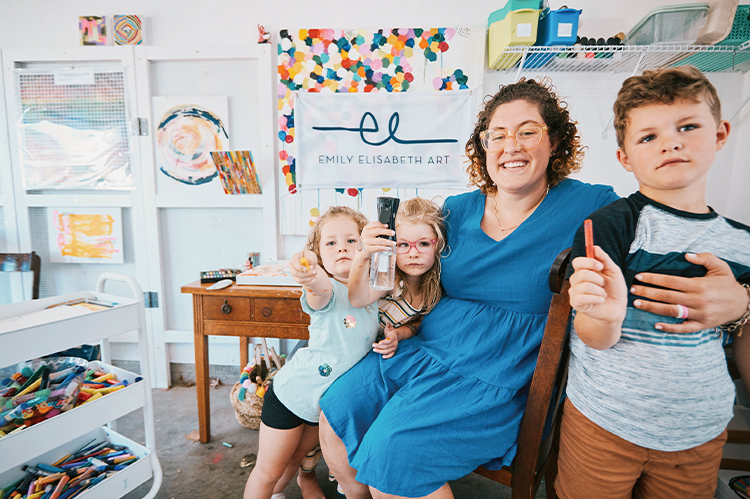 There's "so much energy in her three children," says photographer Joe Crimmings of his shoot with the Lawson family. "They all had things they wanted to show me when I arrived and were so excited to create art with their mom." From left, Wren, Izzy, mom Emily and Asher show off their creative instruments. 
Meticulous Lines
Since those first days at the kitchen table, Lawson hasn't stopped creating. While on hold with insurance companies or doctors' offices, she paints big splashes of color. Some days, she'll channel her nervous energy into making meticulous lines. 
"I could carry those hard feelings and turn them into something else," Lawson says.
As she explored the world of neurodivergence on her daughter's behalf, she began reflecting on her own behavior. Ever since Lawson was a child, she had been counting letters and numbers on her hands. She sought her therapist's advice and was diagnosed with obsessive-compulsive disorder. 
Medication and coping strategies have made a big difference. So has making art. "Art is a tool to help me process my own internal world when I don't really know what's going on in there, which is often," Lawson says with a laugh. 
Over time, she started sharing her artwork with Jordan and close friends. They were perplexed by her newfound passion but encouraged her to post pieces on Instagram. Soon people were asking to buy them. She began selling and displaying her work in public. 
"I'm living a dream that I didn't even know I had," Lawson says.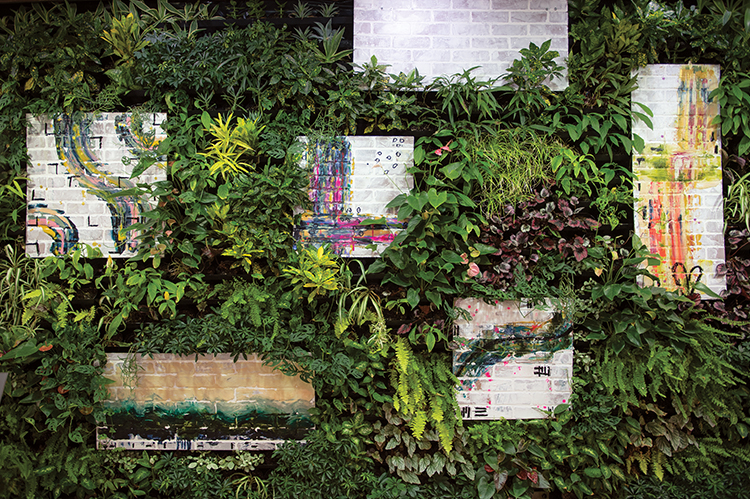 Lawson's work accents the Living Wall inside the entrance to the Greater Des Moines Botanical Garden. Photographer: Duane Tinkey.
60,480 Minutes
In the garage of her Des Moines townhome, Lawson set up a studio to create abstract expressionist artwork full of movement and color. Her pieces are intended to express abstract emotions, like peace, hope, joy and strength. For a temporary art exhibit at the University of Iowa Hospitals & Clinics this year, she reflected on the pain of waiting for her son to come out of surgery. One of her pieces had exactly 60,480 marks—one for every minute her family spent in the NICU. 
Aaron Harpold, director of horticulture at the Greater Des Moines Botanical Garden, saw Lawson's art on display at Slow Down Coffee Co. in Highland Park. "The color palette, playfulness and energy of the pieces drew me in and invited me to look closer," Harpold says. 
Earlier this year, he invited her to collaborate with the staff horticulturalist to create artwork for their Living Wall. The result was eight pieces inspired by the art of living, breathing and being. Harpold says the response from visitors was "nothing short of wow." 
Lawson's artwork has allowed her to express herself to others in a way she never could before. When she explains the connection between her own mental health, her daughter's autism and her artwork, people tell her they feel inspired to "lean into the harder things in their own lives," she says. 
Lawson isn't professionally trained in art, but she wants to keep growing and improving. In addition to making and selling more art, Lawson plans to do more community-based advocacy work. She has started facilitating classes for kids and adults that explore the nexus between art and mental health.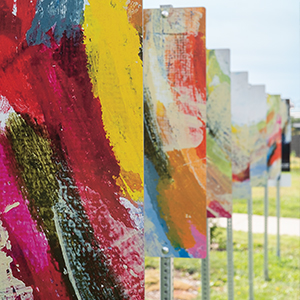 Lawson's art edges the Pat Dorrian Bike Trail just north of the Greater Des Moines Botanical Garden. Photographer: Duane Tinkey.
Journey With Daughter
Making art, especially with her daughter, has changed both her lifestyle and her mindset, Lawson says. "My journey with Izzy has totally blown out my perspective of the world." 
She has learned that life is "wonderfully complex," just like her daughter, Lawson says. She now finds beauty in the mundane moments of daily life. She no longer takes small joys for granted, like the ability to walk, talk or ride a bike. 
After two years of artmaking, Izzy's emotional intelligence has grown, and she can better express her needs. Lawson says she feels more emotionally healthy herself. Rather than pushing away negative feelings like grief or frustration, she takes the time to process them. She has learned that life's most difficult moments—like when the tears are flowing onto her artwork—won't last forever. 
"Tomorrow could be different. The next five minutes could be different," Lawson says. "There is beauty and hope to be found even in the hardest of days." 
View Lawson's artwork on Instagram (@emilyelisabethart) or at emilyelisabethart.com.