Jeid Studio transformed this Beaverdale primary bath and adjacent closet into a bright, airy and modern space that's loaded with function. Luxurious touches include the free-standing soaking tub and wall-mount television. The design firm won bronze in the bath category. Photographer: Austin Day.
---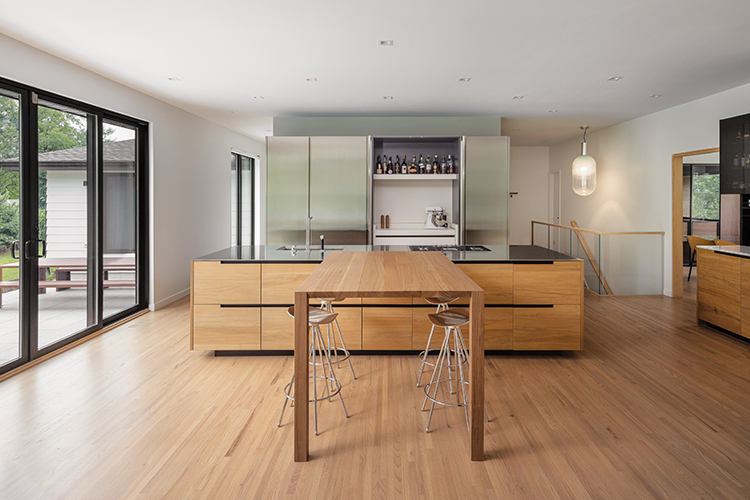 Modern Large Kitchen
Midcentury Modernized
Gold: Projects Contemporary Furniture
Using natural materials like wood and stone, designer Hannah Weiland with Projects Contemporary Furniture created a sleek, open living space for the young family calling this 1950s ranch home. "The finishes we chose were a nod to its midcentury roots with natural walnut cabinetry and narrow plank floors," says Kelli Linnemeyer with Projects. The innovative pocket door on the back wall opens up to reveal extra work space or storage for small appliances, then simply closes off for a streamlined look. Poliform cabinetry in walnut creates the modern look and complements the narrow plank floors. Photographer: Daniel Muller.
Silver (tie): Compelling Homes; Remodeling Contractors
Bronze: Black Birch Homes and Design
---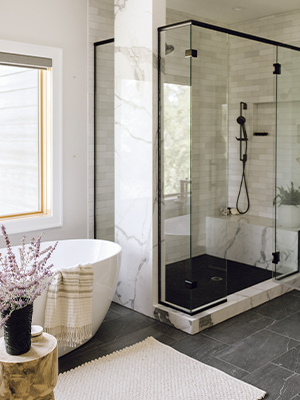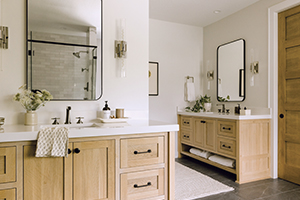 Bath
Hotel Luxe at Home
Gold: Morris Lare
Designed for a young family in Norwalk, this new bath starts off every day with a wow. A benefit of the new construction is separate spaces for both partners. "Split vanities are a great way to give a couple their personal zone in a primary bath," says designer Jillian Lare. "The effect can often be achieved through carefully spacing sinks, lighting and mirrors on a double vanity." Natural-looking white oak cabinetry and durable porcelain and quartz create drama, texture and pattern, plus they're easy to keep clean. The design leans midcentury with a touch of Montana, a favorite family vacation spot. Photographer: Lauren Konrad.
Silver: Compelling Homes
Bronze (tie): Jeid Studio; Zenith Design + Build
---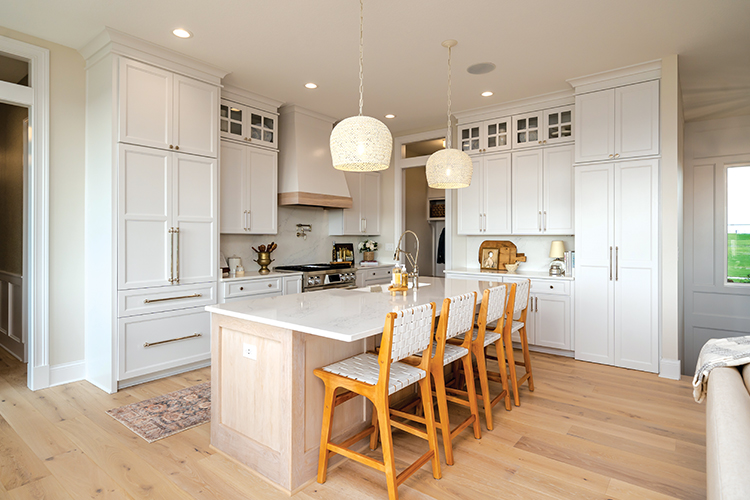 Traditional Large Kitchen
Artful Details, Sneaky Storage
Gold: Sage Homes
Featuring furniture-like cabinetry in white oak in both white and sand-color finishes, this 15-by-14-foot open kitchen exudes a warm, comfortable feel. "Light and bright is always our favorite style," says Chris Pickard with Sage Homes. The design takes storage solutions to new heights, with a walk-in pantry accessible through cabinetry doors. Inside the uber-functional 5-by-8-foot pantry, there's bonus countertop space, open shelving and a microwave. In the main kitchen, the range hood was constructed on-site and creates a focal point. This project was part of Sage Homes' 2022 Home Show Expo in Kimberley Estates in Ankeny. Photographer: Golden Photos DSM.
Silver: MainBuilt
Bronze: Eden & Gray Design Build
---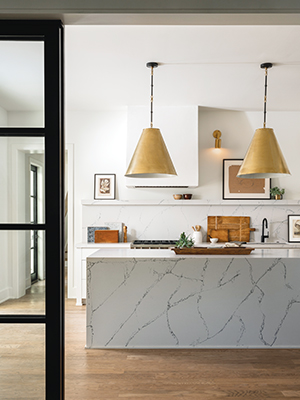 Small Kitchen
A Serene Experience
Gold: R. Cartwright Design
This small space keeps its cool with an island wrapped in Cambria quartz, which is durable and maintenance-free. "We wanted to encase the island with stone so it functions more like a serving surface," says designer Rebecca Cartwright. The material is also used as a backsplash with a ledge for convenient display. Gold lighting above the island and sink adds warmth and complements the natural wood tones used to style the space. "Vintage sketches and decor created a soulful, inviting space," Cartwright says. "Incorporate a mix of interesting elements in a small space and it will feel really special." Photographer: Ali Harper Photography.
Silver: Kimberley Development Corp.
Bronze: Design2Build

See images of the silver and bronze winners here.