Heather Brown founded the Iowa-based company Night Dive to make swimsuits and activewear for all shapes and sizes, including her own. Photo: Night Dive
Writer: Rachel Vogel Quinn
Human beings share 99.9% of our DNA. We are much more alike than we are different. Yet many of us are still dissatisfied by the way we look, by that 0.1% that makes us individuals instead of clones.
Celebrating those differences is the goal of the body positivity movement, which grew out of the fat acceptance movement of the 1960s and '70s. Many of those early activists were Black and queer women who challenged society's beauty standards and promoted acceptance of all body types.
A recent study by the Mental Health Foundation in the United Kingdom found that more than a third of adults felt anxious or depressed because of their body image, and 1 in 8 experienced suicidal thoughts because of it. Research has shown that negative perceptions of one's body can lead to a poorer quality of life and contribute to eating disorders, cutting and relationship violence. On the flip side, satisfaction with one's body has been shown to improve mood and contribute to emotional well-being.
As the body positivity movement has grown, so has the criticism that it leaves out people of color, LGBTQ+ individuals, and those with disabilities. Advocates who believe in the beauty of every single body are amping up their inclusion efforts.
Here in Iowa, many businesses and service providers work hard to welcome all kinds of bodies. Here, we share the story of one trans woman's journey to build confidence, as well as the work of a few entrepreneurs and health care professionals who strive to help their patients, clients and customers feel comfortable in their own skin.
---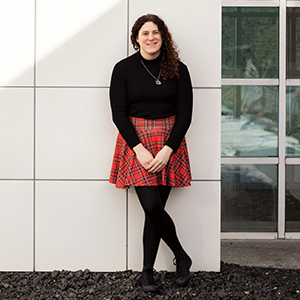 The Woman in the Mirror
Verity Austin, 29, had to psych herself up for her first bra fitting at the mall. As a transgender individual in the midst of her transition — "a new budding woman," as she calls herself — the idea of shopping for women's clothing was terrifying. Because she's no longer close to her parents, she couldn't ask her mom the questions about things most girls figure out during puberty.
Fortunately, the salesperson helping Austin determine her size and fit was polite, respectful and upbeat. So were the staff members at other clothing and beauty stores she visited. They helped her find items that were comfortable and flattering and gave her tips to take care of herself. Austin felt like the younger women were taking her under their wing.
"Having experiences like that gives you encouragement on rough days that the future will be better and that all folks will feel free to be themselves," Austin said.
A NASCAR fan and member of the Des Moines Gay Men's Chorus, Austin works in insurance. She has always struggled with her self-esteem and tries to find things about her body that bring her joy. Since starting her transition about two years ago, she's found that these acts of body positivity are more important than ever.
"It can be really easy to get lost in a rabbit hole of depression and self-doubt and self-deprecation," Austin said. "I've found that body positivity can go a long way toward helping you feel comfortable and confident."
Since depression can be a risk during the transition process, Austin's therapist recommended that she take photos to document her progress over time. On good days, she feels like the person in the mirror reflects how she has always felt on the inside.
"Those are the days when I really feel good about myself," Austin said. "I go out with a different air. I feel confident, keep my head up and just really feel at home."
Austin visits the Unity Point LGBTQ clinic in Des Moines for hormone replacement therapy and has felt welcomed and respected by the doctors, nurses and other staff members there. She has found support from her company and even from the benefits help line of her health insurance.
She can't believe how much more welcoming Iowans are to queer and transgender individuals now, compared with when she graduated from high school in Newton a decade ago. The attitudes in her hometown were a big reason she stayed in the closet for so long.
"I was convinced that wanting to be my true, authentic self was wrong, that I was messed up," she said.
Now, she feels exactly the opposite when she's welcomed into businesses and served with respect. Health care providers, service providers and retail staff members tell her she looks comfortable, happy and at home in her own skin. Compliments like these help keep the negative voices out, she said, alleviating her depression and averting suicidal thoughts.
"If I didn't have places where I felt OK to be the way I am, I might not even be here today," she said. "Those low points were hard enough. If I didn't feel like I had support, it would have made it really hard to keep going day to day."
---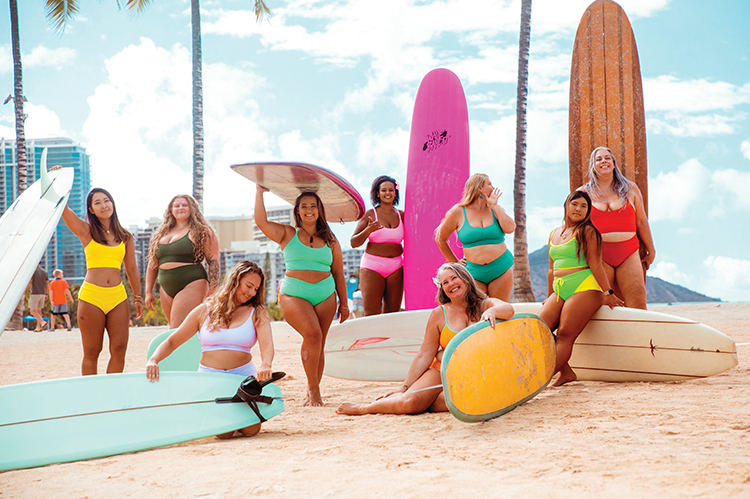 Surf's up: Night Dive sells colorful swimwear in a broader range of sizes than most retailers. Photo: Night Dive
All Bodies are Good Bodies
Night Dive, Oelwein
For 17 years, Heather Brown designed clothes for large corporate retailers that she could barely fit into. When she asked her bosses to expand sizing or showcase more diversity in photo shoots, she said it was like talking to a brick wall. In frustration, she quit her job, left Los Angeles and moved back to her hometown of Oelwein in northeast Iowa to start her own brand for women of all shapes and sizes.
Launched in 2019, Night Dive sells inclusive and sustainable swimwear and activewear online — in sizes small through 6X. Brown, who designs the clothes and runs the business by herself, says the brand is focused on spreading self-confidence among women of all shapes and sizes.
"It's all about feeling comfortable in your skin," Brown said. "The swimwear is made to make you feel amazing, just as you are."
As a woman who wears plus sizes, Brown is trying to disrupt the culture's strict beauty standards, partly by refusing to use retouched photos on the website. Instead, she includes models of varying sizes and ages, including plus-sized influencers.
"All bodies are good bodies," Brown said. "No matter your body shape or size or your age, everybody deserves to be joyful and live their best life."
More brands are starting to expand their sizing for the 67% of American women who wear size 14 or larger. But Brown takes it a step further by using an extra-large prototype, rather than the typical small or medium, as the basis of a new style. She then sizes the item up or down from there, focusing on shaping and including more fabric in certain areas. She uses wider straps to improve durability for customers with larger busts. Even though she has to pay the factory more to produce the plus-size products, she doesn't charge more for the larger sizes.
"Larger-size women want premium quality items, too," Brown said. "Everybody deserves high quality, no matter what size you are."
Brown is on a personal mission to spread self-confidence and end body shaming. She politely redirects friends when they compliment each other's bodies, rather than praising personality traits.
Seeing customers show off their swimwear on social media makes her proud. Some have told her that it was the first bikini they've worn in decades.
"When you get that feedback, it just makes every bit of hard work you've put in 100% worth it," Brown said. "It makes me so happy when I see customers feel more free."
---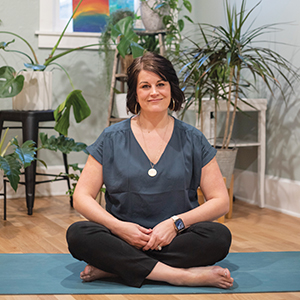 Imperfect Yoga
Ananda Mental Wellness & Yoga, Des Moines
After two years as a social worker on Des Moines' north side, Amber Crosby vowed she would make it back to that community one day. In June 2022, she got the opportunity to move her business, Ananda Mental Wellness & Yoga, to 3523 Sixth Ave. in the Highland Park neighborhood.
"I wanted to be on the ground floor of something exciting," she said. "With the energy in the neighborhood, you can tell there's something special going on here."
When Crosby moved to Highland Park, there were no yoga studios or gyms and few mental health services, which was a big reason she decided to relocate there.
"It's always been my belief, as both a person and a social worker, that all of us should have access to high-quality mental health services," she said. "The part of the city where we live shouldn't matter."
To serve those with transportation barriers, she made sure the business was situated on a bus line. She accepts both Medicare and Medicaid and offers a sliding fee scale for those without insurance, sometimes charging as little as $20 a session. Rather than charging for yoga, she encourages a free-will donation from those who can afford it. Each month, those donations go to a local charity.
Crosby has been quick to get involved in the community.
Her business sponsors the North Side Swim Team and provides school-based therapy at East High School. She also runs the yoga club at Weeks Middle School.
At Ananda, Crosby offers what she calls "imperfect yoga." Rather than using notes, she teaches based on how she's feeling and how participants are responding. With a small studio space, she aims to reach people who might feel uncomfortable at a larger gym or yoga studio — due to inexperience, body image issues, or fear of fitting in with the typically young, largely white clientele.
"It doesn't matter if you can touch your toes or your knees, or if you can't even bend over," Crosby said. "The idea is to move in a way that feels good for you, in a loving and supportive space."
Over the past few decades, yoga has become associated with tall, lanky white women, Crosby said, but she aims to share the practice with people of all ages and races, including those with health issues or mobility challenges.
"It's been really lovely to see the individuals who have shown up already — different body sizes, skin colors, religious affiliations, sexual orientations," Crosby said.
Since starting Ananda, which means "joy" or "bliss" in Sanskrit, Crosby has learned to embrace individuality. She strives to stay flexible and accommodate whatever clients need.
"I am just one small part of their journey," Crosby said. "I hope they leave feeling more relaxed, more positive, more affirmed. I have to be willing to embrace whatever comes in that interaction, human to human."
---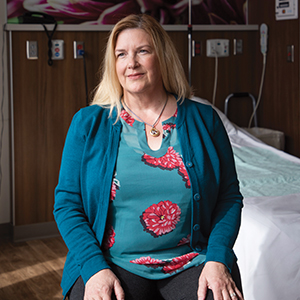 Listening First
Broadlawns Medical Center, Des Moines
Dr. Kaaren Olesen, DO, OB-GYN clinic section chief at Broadlawns Medical Center, was the first gynecologist in Des Moines to perform a transgender hysterectomy. In 2015, a retiring doctor started referring his transgender patients to her. Through continuing education and learning from peers, she has become an expert in gender-affirming surgery and been named a One Iowa Inclusive Provider.
"I can remember the first trans male who came to me, 19 years old, wanting to transition," Olesen said. "The power that I was able to give him, honoring his request and performing that surgery, was super impactful. And I feel that every time."
Olesen treats patients from many different backgrounds, including women who have experienced sexual assault or been sexually trafficked. She makes sure patients know they are in control of the appointment. Especially with LGBTQ+ patients, she tries to ask open-ended questions and listen first, rather than making assumptions. She doesn't rush into an exam, as some LGBTQ+ patients may have been traumatized by a gynecological exam in the past. If the patient just wants to talk on that first visit, Olesen is all ears.
In surgery, even when the patient is unconscious, she corrects nurses or other staff members who inadvertently use the wrong name or pronouns for the patient.
"I stop and make sure that the patient, who can't advocate for themselves in that moment, is being honored the way they want to be," Olesen said.
Broadlawns has created a culture of inclusivity that helps patients feel more comfortable from the moment they arrive, Oleson said. But the medical field isn't always so welcoming. She often hears stories from her LGBTQ+ patients about their experiences with other doctors: times they weren't listened to, times when their needs and opinions were ignored. These stories break her heart.
"I want to make sure everybody that I take care of feels listened to, acknowledged and valued," she said.
---
Every Body Welcome
East Village Spa, Des Moines
Cassie Sampson, licensed massage therapist and owner of East Village Spa at 300 E. Locust St., admits she still hasn't completely overcome the negative body image she developed growing up in the '80s among aerobics videos and fad diets. In fact, she's not sure anyone can ever feel 100% positive about their body.
"The goal," she said, "is to care for the body you have."
East Village Spa offers skin care, natural nail care, waxing and massage therapy in a space designed to feel like visiting a friend's home. The spa's motto, "Every Body Welcome," has helped both staff and clients feel more comfortable showing their true selves, Sampson says.
Many businesses make customers feel like they need to change their bodies, Sampson explained, but not her business. The website uses real photos of customers and providers, not models. And they don't offer the slimming or weight loss services other salons and spas do.
"Whatever body you have, you deserve to take care of yourself," Sampson said. "You don't have to change your body to take care of yourself."
Recently, Sampson has expanded her inclusion efforts to a group that the body positivity movement has largely ignored: people with disabilities, both visible and invisible. She's working with the Iowa Center for Independent Living, the Easter Seals Adaptive Technology Center, and a group of stakeholders dubbed Inclusive Beauty.
To better serve clients with disabilities, the spa instituted an array of changes to their environment: providing a transport wheelchair, keeping passageways clear, adding more flexible manicure tables and chairs, and using electric massage tables that can lower all the way to the ground. Clients with sensory issues can check out via an app rather than at a physical desk.
A majority of the tables are wider than standard models or use arm inserts to accommodate people with mobility challenges or larger bodies. Sampson immediately noticed her clients could relax better because they weren't fighting to keep their arms on the table.
Sampson encourages other business owners to seek feedback from customers about how they can make their spaces more accessible.
"The biggest thing you can do for inclusivity is include the people in the conversation that you want to include in your business," she said.
Since its founding in 2008, East Village Spa has welcomed many LGBTQ+ clients. Staff members include their preferred pronouns on their name tags, a non-gendered restroom is available, and the marketing includes images of same-gender couples. All the estheticians have experience helping transgender clients care for their skin during hormone therapy, which can cause painful breakouts.
Most important, Sampson said, the spa employs a diverse staff. She knows that clients sometimes prefer to be served by providers who have similar lived experiences. A quarter of the staff members are people of color.
"When people walk up to the front desk, we want them to see us as real people who reflect a diverse community," Sampson said. "When you diversify your team, you diversify your customer base."
---
Stronger, Not Skinnier
Breathe Physical Therapy & Wellness, Des Moines, West Des Moines and North Liberty
It took Molly Lechtenberg 13 tries before she could tell the story of her first child's birth without crying. She had always wanted to start her own physical therapy clinic, and her traumatic delivery demonstrated how much pregnant and postpartum women needed care. She contacted a friend and former classmate from Des Moines University's physical therapy program, Libby Trausch, who was becoming an expert in the field.
Together, Lechtenberg and Trausch founded Breathe Physical Therapy & Wellness, which provides care for women and anyone else who feels comfortable in a feminine space. In addition to pregnant and postpartum individuals, the business treats patients experiencing pelvic pain and dysfunction, endometriosis, headaches and joint problems. They also provide trigger point dry needling, post-cancer rehab and breastfeeding pain relief.
"There are just so many layers of things that create unwellness in women's lives," Trausch said, "including perimenopause and menopause."
Since many scientific studies are designed around men, Trausch said, the complexities of women's cycles and hormonal changes are often neglected by researchers and health care providers.
Pregnant women, especially, are often treated as "fragile human beings," Trausch said, but many physical therapy treatments are possible during pregnancy. At Breathe, they use pillows and modified positions to make sure pregnant patients are comfortable during treatment
According to the Commonwealth Fund, maternal mortality rates in the United States are more than double those of most other high-income countries. New mothers are often left to deal with their health challenges and changing bodies alone, Trausch explains. Breathe is a place where women can talk about how their bodies feel after labor and work toward their recovery goals.
"Having a baby is one of the biggest transitions that most women make in their entire lives," Trausch said. "The questions are usually only about the baby's health. It's not very often a conversation about how the mom is doing."
Trausch and Lechtenberg are working to change the conversation about how physical therapy is delivered. Many clinics resemble gyms, where all the patients complete their exercises in one space. Breathe uses private treatment rooms so patients can talk more freely about personal issues, like urination and sex, and feel less self-conscious about their bodies.
"In our spaces, you can get vulnerable," Lechtenberg said. "That's where true healing happens."
With many patients going through physical changes that can trigger body image and self-esteem issues, the physical therapists at Breathe are careful to use neutral or positive language. Aware that all bodies can feel good, they work to get to the root cause of pain or discomfort, rather than assuming it's due to body size or pregnancy. And they encourage patients to keep track of their progress and celebrate the small wins, rather than comparing themselves with others.
"It's less about how I look than how I feel," Trausch said. "A big message for me is: stronger, not skinnier. Because the most important thing you can do for longevity is to be strong."