Naseul Son's sculpture "Their Lost Lives" was part of a powerful ArtForce Iowa exhibition at Mainframe Studios.
Writer: Lisa Rossi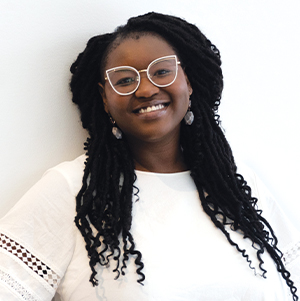 When 36 students from Ghana, Laos, Liberia, Mexico and several other countries embarked on a mural project at their school on Des Moines' northeast side, many were terrified. Claudia Kyalangalilwa, one of the project leaders, recalled the simple message she and other mentors told the students: "Yes, you can do this. Yes, you can."
And they did. The result is a colorful 19-by-8-foot mural outside the Goodrell Middle School cafeteria. The students completed the project in the spring of 2022 through a series of workshops with Artforce Iowa's Heroes program and filled the artwork with their own designs. There are flags from countries around the world, waving among images of sunshine, a fist and a message to "Stop Asian Hate."
"They were telling us what was important to them, what mattered to them," said Kyalangalilwa (pronounced kia-laanga-lee-luwa). "It allowed them to be free and be like, 'This is who I am.' "
This is precisely what the Heroes program celebrates. It offers art-based workshops for local English language learners in classrooms and other spaces where students gather. The program is for immigrant, refugee and first-generation American youths and is an initiative of ArtForce Iowa, a local nonprofit that creates opportunities for young people through art.
"I have the best job," said Kyalangalilwa, the Heroes director. "It's lovely to just go into a classroom and be able to hear about young people's cultures and share their stories. We want a space where everybody can be heard."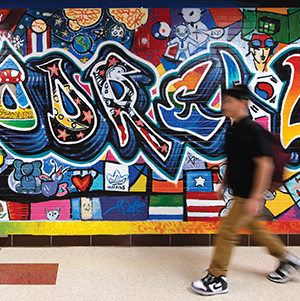 ArtForce Iowa helped Goodrell Middle School students design and paint this mural in 2022.
Origin Story
Heroes launched in 2016 with $300,000 in grant funding through the Iowa Attorney General's Office. The program initially was inspired by the office's Pathways initiative, which enlisted artist mentors to spend quality time with young people involved in the court system.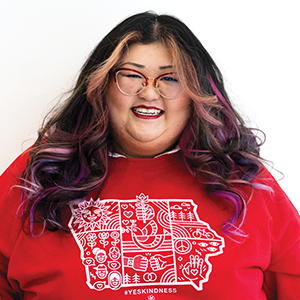 But the needs of refugee and immigrant youths are very different, ArtForce Iowa Executive Director Christine Her said. There were language barriers, and program leaders quickly noticed that some children were coming from homes that didn't meet their basic needs.
So Heroes partnered with area organizations to help young people advocate for themselves. The program teamed up with Drake University Law School, for example, to teach participants their rights as tenants.
As Heroes learned more about the youths they served, they stepped up to help arrange doctor's appointments and buy glasses. The program offered lessons in financial literacy and self-defense, and it even set up a pantry to provide foods participants recognized from back home.
"It was more than art," Her said. "A lot of people didn't know that was a part of our programming, because we didn't advertise it. When people think of ArtForce Iowa, they think, 'Oh, they do art programming. They do annual exhibits where young people can submit their own works, and have the community come out and experience that art work.' But as an organization, we do a lot more."
The grant also funds artist mentors to work with young immigrants and refugees, "so we have artists who look like our members, who really mentor our young people," Her said.
Current Impact
ArtForce Iowa is eligible to reapply for the grant next year, and Her is hopeful for continued support, particularly since statistics point to the program's success. The number of participants who show up at least eight times a year is close to 100%. On average, young people stay with the Heroes program for up to four years.
"It doesn't have an end point," Her said. "Our programs work like a cycle. If you came as a youth artist, you could come back as an artist mentor."
In the most recent fall semester, the Heroes program served 80 participants. Since 2016, the program has served almost 1,500 youths from more than 20 countries.
In the Community
Since the pandemic, Heroes has evolved from an after-school program to one that meets kids where they are, in their classrooms, churches and community activities.
Workshops in schools focus on art and healing. The activities nudge participants not only to identify their past trauma but to become "agents in their own healing," Her said.
Using this approach, leaders coach students to create meaningful art that reflects who they are. It could be a self-portrait, a collage or an artwork that reflects their community.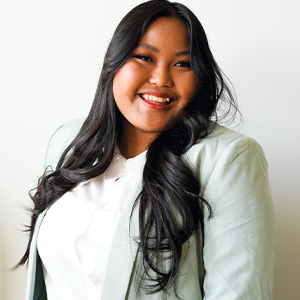 December Paw, a Drake student in management and international business, started participating in the Heroes program when she was in eighth grade. She'd come to the United States from a refugee camp in Thailand, fleeing a civil war.
"It was really hard for me throughout elementary school," she said. "I was bullied because I didn't know any English. People said I dressed weird. It was difficult."
She became more creative and confident through making art and interacting with her Heroes mentors. One project she recalls is a replica she made of her home at the refugee camp, which was made of wood and topped with leaves. She re-created it from memory at least a dozen years after she had left it behind.
"It was emotional," she said. "It was fun to see what your old home looked like versus what you are in now."
Paw currently facilitates art workshops and offers support to youths in the Heroes program through her role with RISE AmeriCorps, which connects refugees with jobs and other opportunities.
Kyalangalilwa, the program leader, immigrated to Iowa from Kenya in 2001 and speaks both Swahili and English. She draws from her own immigrant experience to relate to students.
"I speak a different language, too. I look different, too," she said. "There's nothing wrong with being different and unique."
One thing she wishes people understood about being a refugee or immigrant in Iowa is that just because a young person has pride in where they're from, that doesn't negate the pride they have in the United States.
It's important to "remember that they are more than where they came from," she said. "They are coming in with their own experiences, and even though they are different from ours, it doesn't mean they are less meaningful."
As she put it, "Refugees and immigrants have abilities to learn from us but also to teach us."
---
A former ArtForce Iowa mentor shares stories of Korea's complex history.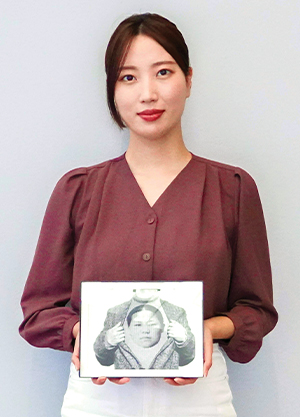 Naseul Son moved people to tears with her first art exhibit at Mainframe Studios.
Son, 28, lives in Ames with her husband, Kyungsoo Kim, and created sculptures, collages and photos for her project "The Unforgettable Memories of Koreans," which focuses on the Japanese occupation of Korea during the early 20th century. She displayed it in one of ArtForce Iowa's frequent exhibitions at Mainframe.
Son immigrated to the United States in 2010, when she attended Des Moines Christian School in Urbandale as a freshman, following her brother who had been an exchange student. Her entire family eventually came to Iowa; her parents now live in Clive, while her older brother and sister-in-law are in West Des Moines.
Son graduated from Iowa State University in 2021 with an integrated studio art major. Until last fall, she worked as a RISE AmeriCorps member with ArtForce Iowa, which organizes art experiences to support economic self-sufficiency and educational opportunities for underserved youths.
Chronicling History
"In 1910, Korea was oppressively annexed by the Empire of Japan by force, intimidation and political intrigue," Son said. "The entire Korean peninsula became a colony of the Japanese Empire and it was under colonial rule for 35 years until 1945."
Son's artwork in the exhibition told stories of Korean independence activists, as well as sexual slavery victims of the Japanese military. Some Korean women were forced to get tattoos and syphilis vaccinations.
"I wanted to tell how difficult it was for the people at that time and how badly the Japanese government did," Son said. "As a human being with dignity, I don't think it's right to be treated so cruelly. Because the victims are my great-grandmothers or my grandmother's generation, I think they are directly related to me."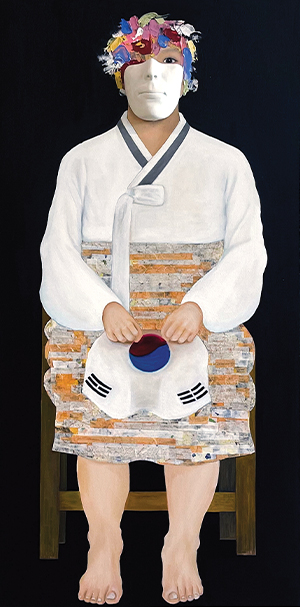 Naseul Son's mixed-media work reinterprets a well-known Korean statue that was installed in protest outside the Japanese embassy in Seoul.
Inspiration & Impact
Son's father told her about this dark chapter of Korean history when she was growing up. She thought of those stories often during the three months she created artwork for the show.
"There's a lot of fake history in Korea and Japan. It's not the right history," she said. "My dad, he wanted to tell me the truth."
The truth in Son's artwork hit the mark.
"Many Korean people came to see my art. They cried because they know about the story," she said. "In Iowa, not many people are telling about Korean history. It's the first time to hear the Korean history. They can see it through art."
---
About the Program
ArtForce Iowa's Heroes program leads in-school workshops during the school year at Des Moines Public Schools. The program is currently in Hiatt Middle School, Goodrell Middle School and Hoover High School, with plans in the works to expand to East High School. Outside of DMPS, the program works in the summer with Crestview Elementary School in West Des Moines, as well as teachers in Norwalk.