Writer: Brianne Sanchez
Photographer: Madison Kim-Poppen
To stay at Foxcroft Estate is to travel back to a time of postwar optimism filled with pool parties, hula hoops and pattern-on-pattern perfection. Guests can easily imagine themselves as the marvelous Mrs. Maisel or Betty Draper dropping in on Midwestern relatives at this sunny, ranch-style home at 101 N.E. 72nd Place on Ankeny's south side.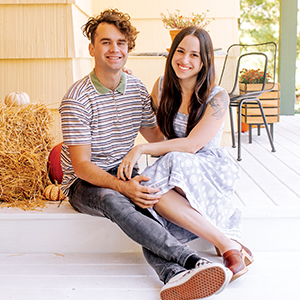 Emily and Brandon Pertzborn opened Foxcroft Estate as a short-term rental property and event space in the fall of 2022 after a year of DIY renovations. The Los Angeles-based couple wanted to restore its midcentury charm and preserve the legacy of Brandon's grandparents Dick and Maryann Pertzborn, who built the home as newlyweds in 1948 and raised nine children there.
"To me, it was the greatest place in the world," said Brandon, who grew up in Dallas but spent childhood summers here. "It might as well have been Disney World or Hawaii. I wanted to go nowhere else rather than four acres in Iowa. It just felt like a giant party with so many cousins."
With help from their parents and advice from local tile expert Bert Pitman of Tile Rx, the Pertzborns embarked on an ambitious creative collaboration. Brandon, a professional drummer, channeled his knack for recognizing patterns into re-creating the look of art deco bathrooms. Emily poured her skills as an interior and set designer into each room. She worked her professional connections with national brands like Apt2B Furniture and Fireclay Tile and Des Moines businesses such as The Picker Knows and Many Hands Thrift Shop to furnish and style the space.
"I approach things from a 'How is it going to look in photos and videos?' perspective," Emily said. "In almost every square inch of the house, I tried to make a photo moment."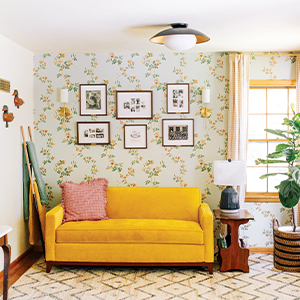 At Ankeny's Foxcroft Estate, vintage knickknacks and framed photos pay homage to the owners' grandparents, who built the house in 1948.
Each corner of Foxcroft Estate feels like it could be the backdrop for a pivotal scene where guests play starring roles. Emily's attention to detail is apparent everywhere, from each beautifully wallpapered room right down to the butter-yellow kitchen appliances. The bridal suite, basement tiki bar and backyard pool are all primed for parties. The home's history is also a through-line within the updated space. Framed photos pay homage to the original owners.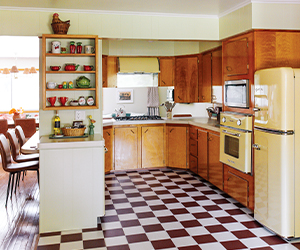 Yellow appliances and a checkerboard floor make the Foxcroft Estate kitchen feel like the set for an old sitcom.
The Pertzborns hope their beloved family property sets the scene for many more years of memories, and their vision continues to expand. They began planting a rose garden this spring and plan to start rehabbing a vintage RV.
The well-traveled couple says they're constantly convincing people that Iowa is cool. Now, they have a personality-packed place where they can encourage people to stay and experience the metro. "We're so proud we're able to share it," Brandon said.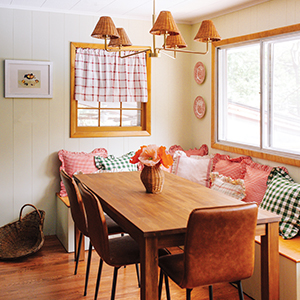 Homey touches make it easy for guests to settle right in.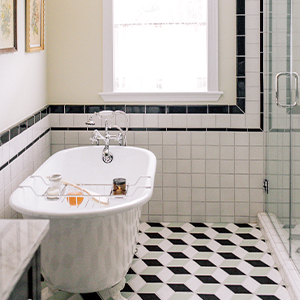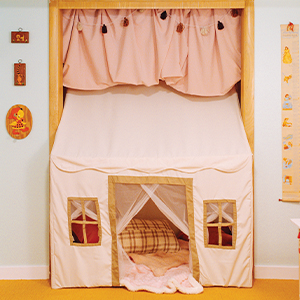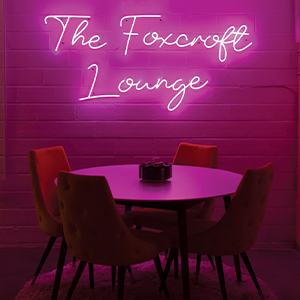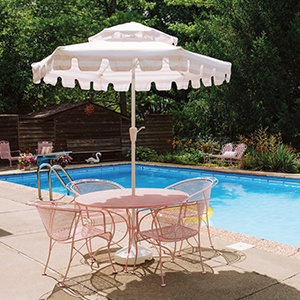 Foxcroft Estate's nostalgic style extends to every corner of the property, including an inviting bathtub, an adorable nook for kids, a basement lounge for a round of poker or canasta, and a pool decked out with throwback patio furniture.
Foxcroft Estate
Details: Accommodates 10 guests with four bedrooms, six beds, four baths, a pool and a hot tub.
Nightly rate: $350.
Website: foxcroftestate.com
Check in if: Hello, Marjorie is your go-to spot for a girls' night out.
---
More Options
Let rentals in your dream neighborhood or a rural retreat inspire your next staycation. We found a few highly rated local Airbnb options that would make a nice romantic retreat or weekend with friends. (Rates and availability are subject to change.)
Gardens on Grand
This home's location near the Des Moines Art Center and outdoor spaces stand out. Relax in the sunroom or outside on the patio or one of the decks.
Details: Accommodates 10 guests with three bedrooms, five beds, two baths and a hot tub.
Nightly rate: $199.
Website: airbnb.com
Check in if: Your hobby is painting al fresco with wine and nibbling on provisions from Gateway Market.
Iris Aisle 'Botanist Cabin'
Located on a hemp farm near Winterset, this whimsical woodsy cabin and conservatory features an intimate, lofted sleeping space with views into a cedar forest. Other events may be happening on the property, so check to see if other spaces are booked if privacy is a priority.
Details: Accommodates two guests. Features a single bedroom and one bed, with one-and-a-half baths and a fire pit.
Nightly rate: $135.
Website: irisaisle.com
Check in if: Your weekend plans involve feeding alpacas at Rusty Stars Alpaca Farm in Madison County.
Spacious Mid-Mod Home
Channel Don Draper at this dog-friendly remodeled midcentury property. Host a cocktail party indoors or out with an open floor plan, pool table, piano and outdoor area for yard games, grilling or an evening bonfire.
Details: Accommodates eight guests with four bedrooms, four beds, two-and-a-half baths and — why not? — a dog shower.
Nightly rate: $290.
Website: airbnb.com
Check in if: Your two- and four-legged crew all have memberships at Paws & Pints.
Rustic-Industrial Farmhouse & Venue
No need to road-trip to Waco to Chip and Joanna Gaines' famous Magnolia Market at the Silos. Find farmhouse chic in Norwalk in living quarters attached to a small event space that can host up to 100 guests. Bonus: You can hang out with the property's horses and ponies, too.
Details: Accommodates six overnight guests with two bedrooms, four beds and two baths.
Nightly rate: $249.
Website: thefarmhouse-venue.com
Check in if: You live for apple picking at Center Grove Orchard and your TV never strays from HGTV.