Berry pickers fill their baskets during a trip to the farm near Indianola.
Writer: James Augustus Baggett
Photographers: Joe Crimmings and Duane Tinkey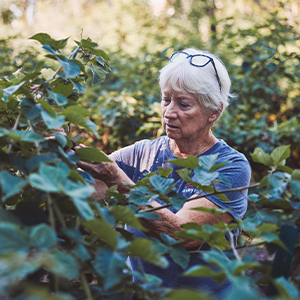 It all started with a personal patch of raspberries.
"I had a small bed of red raspberries close to the house and enjoyed going out early mornings to pick them for cereal," Beth McGeough said. A year later, in 2005, she and her husband, Rick, carved out space for 40 more raspberry bushes along a hayfield on their rural 65-acre property in Indianola, never imagining their horticultural hobby would grow into a 5-acre berry farm bursting with red and black raspberries as well as blueberries, tart cherries, currants and even gooseberries.
Folks took notice. Before long, a friend who sold produce at a local farmers market encouraged Beth to do the same with her berries. "The following year," Beth said, "I added 140 more plants, and the next year I added blueberries and more varieties." Soon after, they implemented the you-pick process, where customers harvest the produce themselves, and dubbed their new destination Edge of the Woods Berry Farm. They continued to add more plants each year and eventually built the Berry Building, an on-site store where customers shop for farm jams, jellies, fresh-baked fruit pies and products from other local vendors.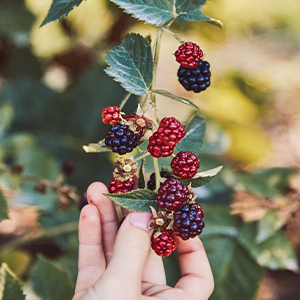 When the McGeoughs bought the farm more than three decades ago, it had been heavily grazed, so they spent three years planting more than 700 trees, including oak, pine and walnut. They've since added hazelnut, chokecherry, tart cherry and plum, as well as other plants that support diverse wildlife. They planted native wildflowers to help pollinators, which in turn help the berries.
The farm's harvest season starts in May with rhubarb — a vegetable that folks enjoy like a fruit — followed in early June by gooseberries and currants. The end of June offers the first red raspberries and blueberries, before the black raspberries and tart cherries. Fall blackberries round out the season in August, but more beauty follows. Beth said the blueberry leaves "turn a spectacular burning red color and stand out as the fall trees display their colors."
Beth fell in love with the outdoors as a girl in Colorado. Rick grew up in Waterloo and used to lead the Iowa Department of Natural Resources bureau of fish and game enforcement. These days, they honor their passion for the land by using sustainable gardening methods to protect it. They enrich the soil with compost, conserve water with wood chips, and even remove Japanese beetles from berry plants by hand rather than treating them with chemicals. They also registered with the state as a no-spray farm — "from the very beginning," Beth said — and participate in programs and training sessions that Iowa State University and the Iowa Department of Agriculture and Land Stewardship offer for specialty farmers and farmers market vendors.
"It wasn't easy to become a specialty-crops farmer," Beth said. "We learned the hard way. Every year we learned more about growing berries, soil analysis and being true to our priority on healthy living. I truly found my passion in the challenges and rewards brought by each new season."
She said that welcoming repeat customers and watching them fill their baskets with fat, juicy berries is especially satisfying. "I want every aspect of their time here to be enjoyable," she added, "whether they're a serious picker getting fruit for that batch of jam or bringing the kids out to discover how food grows and how fascinating dandelions are to pick."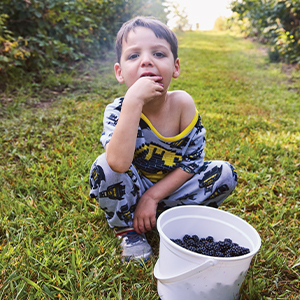 Holy bounty, Batman! A taste tester samples a few blackberries, as fresh as they get from the farm.
This way to flavor: All kinds of berries abound on the hilltop farm.
---
Beth McGeough's Berry Crisp
For this recipe, you can use any fresh or frozen berries you like. Beth prefers a mix of strawberries and blueberries.
Filling
3 or 4 pints of berries
2 tablespoons lemon juice
2 tablespoons sugar
1 1/2 tablespoons arrowroot or cornstarch
1 teaspoon cinnamon
Preheat the oven to 350 degrees. Spray a 9-inch pie plate with cooking spray. If you're using strawberries, cut them in half. Combine all the above ingredients and spoon them into the pie plate.
Topping
1 cup organic rolled oats
3 tablespoons brown sugar
1 tablespoon sugar
1/2 or 3/4 cup chopped pecans or walnuts
4 tablespoons unsalted butter, cut into small cubes
Using your hands, mix the topping ingredients until small crumbs form. Sprinkle the mixture over the berries and bake 55-60 minutes until the top is golden brown and the fruit bubbles around the edges.
Another option: You can make a crumble-topped pie. Roll out 1 pie crust and set it in the freezer 10-15 minutes before adding the berry mixture. Sprinkle the topping over the berries and bake at 350 degrees for one hour, checking the crust frequently.
Edge of the Woods Berry Farm is open seasonally and by appointment at 15285 Fairfax St. on the rural northeast edge of Indianola. edgeofthewoodsberryfarm.com