Tamara Empty reaches new heights. She serves as the nonprofit's treasurer.
Writer: Kelly Roberson
Photographer: Ryan Parsons: RPMedia
Project Onyx's premise, and promise, is straightforward: Black and brown teens and young adults need affordable, accessible options for health and fitness, as well as mentorship.
The nonprofit's activity, however, is anything but a straight line. Take a recent weeknight: Co-founder Elijah Muhammad was driving a car full of fed, exhausted teens home. One teen asked if the car could detour to the Popeye's drive-through. "Why now, and why Popeye's?" Muhammad queried. The answer: There was no food at home for his siblings. So the group detoured to a grocery store, stocking up on basics for the teen's hungry siblings.
Muhammad, a competitive CrossFit athlete, owns Unorthodox Fitness in Grimes. Project Onyx's other co-founder, Pat Ford, has a doctorate in physical therapy and conducts workshops on anti-racism and diversity, equity and inclusion. They lived around the corner from each other but had never met until a summer night three years ago, when both were fiercely moved by the upheaval in the wake of George Floyd's death and the activism of Black Lives Matter. The two came up with an idea to use fitness to connect with Black and brown kids.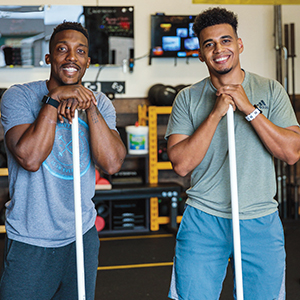 Elijah Muhammad (left) and Pat Ford co-founded Project Onyx to open up new possibilities for local teens.
"It was perfect timing and this idea had been in my heart for a long time," Muhammad said. "We started talking about life, about a nonprofit. We were just two Black men who had an idea and a vision. We decided to figure things out as we go. We didn't want to wait."
Their initial idea: Gather young adults at Muhammad's gym two or three times a week. Open each session with some conversation, then lead workouts in a safe space. "We get the kids to open up, laugh a little, maybe talk about what's happening in the community, and interact with each other and us," Ford said. "These kids don't see a lot of people who look like them. We love our professions, and we've each succeeded despite there not being great representation."
In three short years, Project Onyx has morphed into so much more than workouts and conversation. Active kids need energy, so Ford and Muhammad make sure the teens get fed. Transportation is always an issue, so they offer as many rides as they can. Two teens are pursuing athletic training certification, and summer is busier than the school year. "We've realized we need to meet the kids where they're at," Muhammad said.
Project Onyx's growth has been largely organic — an adult hears about it, a friend shares his or her experience. Most people would feel content with what it's already accomplished. Muhammad and Ford are both married, fathers, professionals; they carve out time for this in their in-between spaces. But both are driven by what could be, in the short and long term.
They're fundraising for a van, for example, to make it easier to take kids home and on outings. They think about the good they could do with funding to fill a food pantry at the gym or sponsor teens in athletic competitions. Or what about organizing a formal mentorship program, building their own rec center, or maybe even expanding Project Onyx into other cities?
"For me, that's the goal," Muhammad said. "It's a place where they can sweat, that's safe, but where you can see opportunities and figure out the potential for your life. Black and brown kids lose their innocence a lot earlier, and we want to expose them to possibility."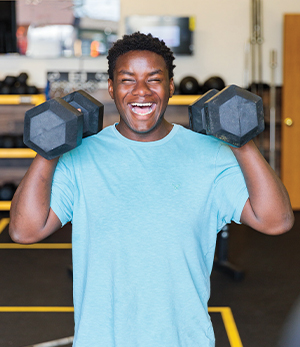 Weight a sec: Project Onyx mentor Jenvier Irambona laughs in the face of a challenge.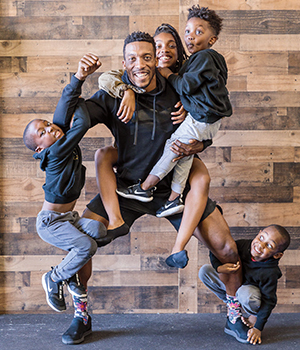 Squad goals: At Project Onyx, Elijah Muhammad focuses on the future.