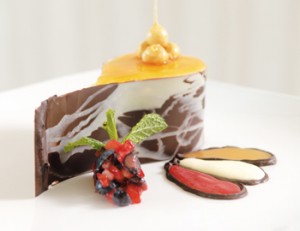 Written by Wini Moranville
Photos by Duane Tinkey
In the early 1980s, I worked in a private dining club; in the 1990s and early 2000s, I'd sometimes get a chance to dine at clubs with colleagues or friends. Though I generally appreciated the food I served (or ate) at those clubs, I rarely swooned over anything I put in my mouth. In spite of quasi-continental choices like steak Diane, fettucine Alfredo and French onion soup, steaks and predictable sides mostly ruled the menus. I sometimes felt you could do just as well at one of our good local steakhouses.
Of course, in decades past, clubs weren't really just about the food. At lunch, they were about status and power and making business deals amid a haze of cigarette smoke, three martinis and a staff that called you not just "sir," but "Mr. ——." In the evenings, the room swelled with members—men in jackets, please—celebrating special occasions as the club's beloved pianist played "Satin Doll."
Times. Have. Changed.
These days, you may still get that piano player (though Elton John is now on the playlist), but, at Embassy Club West, for example, you're just as likely to see members dressed in shorts and dining on the patio while listening to singer-songwriter Rob Lombard picking out cheeky tunes on his 12-string. Business people still make deals, though mostly over two-Perrier, smoke-free lunches. Dress codes have been, for the most part, relaxed.
But the major difference at the private clubs is this: These days, it is about the food. In recent years, I've enjoyed pleasure-filled meals in private dining rooms, where the food has proved as fresh, progressive and dynamic as today's savvy food lovers demand.
I chatted with three private-club chefs to get a sense of the forces behind the club-food renaissance.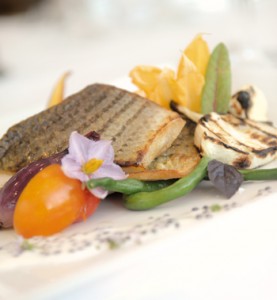 Michael Bailey
Embassy Club West
Michael Bailey readily admits he has no formal culinary training—but he says this with tongue firmly planted in cheek. His apprenticeship began at the age of 13, when he started washing dishes for a Laotian cook, John Papibourne, at a Chinese restaurant in Marshalltown. When Bailey would finish washing dishes, Papibourne would show him how to cut vegetables. Yet it was about a year and a half before Bailey's veggies made it to the restaurant's tables. "John wouldn't actually let me cut vegetables for the restaurant until I could cut them the exact same thickness with my eyes closed," Bailey explains.
Bailey worked with Papibourne for about seven years, learning everything from how to break down a chicken to how to build flavor, step by step, from the beginning of a dish to finished plate.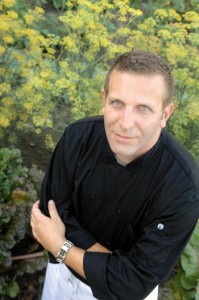 Later, he worked as a banquet chef at a number of hotels, which, he admits, took some getting used to. "We used a lot of pre-prepped food—I was used to making everything from scratch," he says. "It wasn't me."
Landing at downtown's Embassy Club as sous-chef in 2000, Bailey became chef in 2003, about the time the Embassy Club merged with the Des Moines Club. He moved west when Embassy Club West opened in West Des Moines in 2011.
Bailey not only is back to the fresh-focused, scratch-based cooking he learned as a youth, but he also tries to grow much of what he serves. Right outside the club's airy, modern rooms grows a potager—a kitchen garden—brimming with herbs and vegetables, from zucchini, tomatoes and carrots to kohlrabi. The young apple orchard has begun to bear fruit.
Though certain Embassy Club classics will always stay on the menu—the secret spinach salad and the whole Dover sole, for instance—Bailey loves the freedom (and challenge) of changing the modern, seasonal menu according to the always-rising standards of the club's nearly 2,000 members.
"Our members are well-traveled," he says. "They'll dine at our club a few days after they've dined in France or at Bouchon (one of famed chef Thomas Keller's restaurants). I continually challenge myself to keep our food to the level that they've become accustomed to."
In that way, Bailey doesn't seek to measure up to the best restaurants in town. He wants to compete with the best restaurants in the world.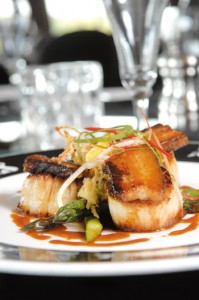 Terry Boston
Des Moines Golf and Country Club
Des Moines Golf and Country Club's Candlelight Dining Room may be the one place left in Central Iowa where gentlemen are still required to wear jackets. Dinner begins with a complimentary glass of sparkling wine and ends with warm hand towels; the piano player tickles the ivories while dining-room captains flambé signature dishes tableside.
Dark, romantic, and reassuringly formal, it's the type of place where you'd expect to find beef Wellington and chateaubriand. And you do.
Yet Executive Chef Terry Boston understands that many of the club's 1,500-plus members seek more than the classics. Hence, the butternut squash risotto, the dry pack scallops with five-spice roasted pork belly and soy caramel sauce, and other up-to-date items.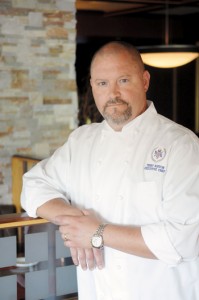 "We have to stay in tune with food trends," he says. "For many of our members, dining out is a food adventure."
Boston and the club's management team realize that today's diners want top-notch food in an informal atmosphere, too, so The Iowa Grille offers a polished-casual option in the downstairs space once occupied by a men's-only grill. Here, members dress in anything from sundresses to golf gear and enjoy quality burgers and sandwiches as well as a changing selection of small plates and fresh seafood specials.
Boston joined the club as sous-chef in 1986 and became chef in 1989. He began his career washing dishes at Vance's Chat-n-Chew in his hometown of Atlantic. From there, he graduated from the Iowa Culinary Institute at Des Moines Area Community College (DMACC) and also worked the butcher counter at Hy-Vee, where he watched and learned as meat cutters broke down sides of beef—a skill that undoubtedly helps at Des Moines Golf, where the staff hand-cuts and dry-ages their beef in-house.
Some of Boston's produce is "hyper-local"—with herbs and tomatoes grown on the golf course. The Candlelight serves prime steaks only; Boston seeks the best produce he can find locally.
Whereas public venues may need to cut corners now and then to stay afloat, Boston says the high expectations at the club give him the freedom to be "top-line," rather than "bottom-line," driven.
"If you spend the money and provide the best quality, the best experience possible, everything else falls into place," he says.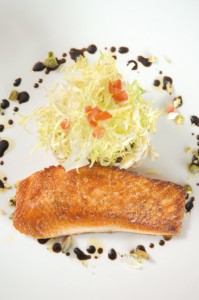 Mark Greenwood
Wakonda Club
During my 15 years as The Des Moines Register's dining critic, one problem I often remarked upon was the lack of consistency on the dining scene. Too often, a restaurant I loved one night would come up short on a follow-up visit.
Conversely, clubs pride themselves on consistency. Dues-paying members expect a great meal every visit.
How do clubs remain consistent, when it's such an issue outside the private-dining realm?
"It helps that we have cooks in our kitchen that have been with us for 10 to 12 years," says Mark Greenwood, Wakonda Club's executive chef. Greenwood, a graduate of DMACC's culinary program, has been with the club
for 15 years.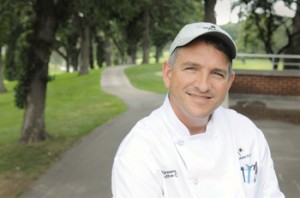 Consistency also comes through using high-quality products, including Vande Rose Farms' locally raised pork, prime steaks, and as much local produce as the short growing season allows. Fish is flown in twice weekly from a trusted Eastern Seaboard purveyor. In summer, fresh herbs grow here and there on the grounds.
"Our members expect more," Greenwood says. "They want to know where their food comes from. They're more conscious of what they put in their mouths, and they demand that restaurants they go to are equally thoughtful about what we put on the table. "
As with the other clubs, however, "consistent" doesn't mean "static." Though the Wakonda House Salad—featuring the classic Wakonda Bacon Dressing—isn't going anywhere, most of the menu changes with the season, the inspiration of the chef and the expectations of the members.
The food is more about Viking Village scallops with sweet corn risotto, shaved Parmesan and white truffle butter than it is about the shrimp cocktail and steak dinners of yesteryear. When the restaurant does serve steaks, they're likely to have touches such as sautéed leeks, Gorgonzola and fried prosciutto.
The club's main dining room—the Terrace Grill—also seeks to accommodate today's preferences for casual dining. Light, fresh-focused salads and easygoing sandwiches share the menu with the more refined entrées in the bright, airy dining room that looks out over the golf course's majestic trees and the downtown skyline beyond.
That high-low, something-for-everyone appeal doesn't always work in public restaurants (consistency often being the bugaboo), but it works at Wakonda, in part because Greenwood understands his members so well.
"Knowing who will be at our tables day in and day out helps us anticipate what they'll like and what they won't," he says. "(So) you get a kind of consistency and focus at a club that you can't always find in the real world."