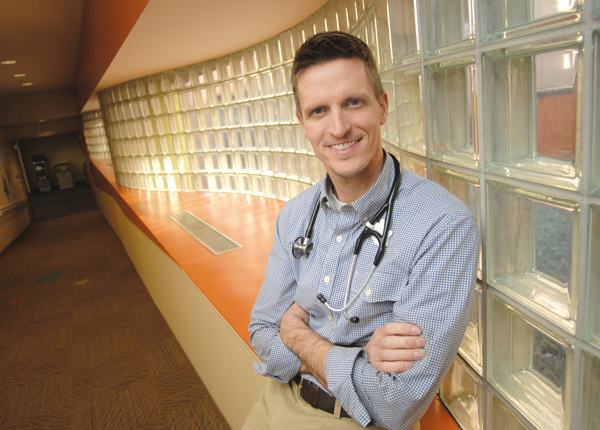 Written by Joe Gardyasz
Photos by Duane Tinkey
Dr. Nate Noble understands what it's like to be different. The 35-year-old pediatrician has dealt with Tourette syndrome, one of the conditions he treats in his young patients, since he was 7.
Having Tourette's is "not awesome," quips Noble, who has learned to largely mask the neurological condition that makes his body want to jerk and urges his mouth to make noises. "I know what it's like … when you don't fit in well. I get that when I see these kids and I talk to their families."
Noble was handpicked to develop and lead Blank Children's Hospital's new Children's Developmental Center, which opened in January 2012. Its mission is to provide early diagnosis and treatment of developmental or behavioral disabilities, such as attention deficit hyperactivity disorder, autism, spina bifida and muscular dystrophy. In his practice, Noble serves as both a developmental pediatrician in charge of diagnosing and treating these conditions, as well as a clinical geneticist responsible for figuring out what's going on genetically with the patients.
Taking on the leadership role was a comfortable fit for Noble, who believes people tend to be either builders or joiners. "I knew right away that I wasn't going to be a joiner, because if I was, I would get fired," he jokes. "I was going to be too outspoken and too ridiculous to keep. So I knew I had to come someplace where they wouldn't fire me."
'A Little More Kinesthetic'
Noble was diagnosed with Tourette's—a neurological condition that causes a person to make involuntary body movements or vocal noises—when he was in second grade.
"I just happened to be a little more kinesthetic," says Noble, who sat down for a midday interview during what should have been his lunch break, after seeing four young patients that morning.
"I needed to move and touch people, and blurt out things, shake my head and make noises," he added as he restlessly twirled a small rubber-tipped hammer, the kind doctors tap on your knee to test your reflexes. "But it didn't mean I wasn't smart. So I think that probably formed me in some way."
An Iowa native, Noble grew up on the family farm near Milford in northwest Iowa. He earned a bachelor's degree at the University of Northern Iowa and went to medical school at Des Moines University. After completing a residency in pediatrics at Blank Children's Hospital, he spent nearly five years at the University of Iowa for a fellowship in developmental behavioral pediatrics. After he accepted the position as director of Blank's developmental center—which at that time was still in the planning stages—he returned to the University of Iowa for a fellowship in clinical genetics.
Despite a condition that slows the pace of his reading and makes it difficult for him to complete written examinations, he persevered to finish the rigorous programs. "I would say that intelligence will take you somewhere in medicine, but passion takes you much further," he says.
Short Supply
With the state's only other children's developmental center located at the University of Iowa Hospitals and Clinics, the new facility at Blank has been in high demand since opening. It currently has a seven-month waiting list for new patients; Noble estimates that 1,500 young patients will be evaluated each year at the center.
Early diagnosis is critical to avoid significant delays in cognitive, social and physical development, experts say. However, developmental pediatricians and geneticists are in short supply. "These kinds of services tend not to exist outside of academic centers, because caring for children with special health-care needs is not lucrative," Noble says. "The vast majority of my patient population has the type of insurance where I couldn't even keep the lights on for a day with the type of reimbursement they have."
Opening a children's developmental center at Blank fulfilled a need identified several years ago, says David Stark, the hospital's president and CEO. "It really started with my predecessor, Dr. Steve Stephenson," Stark says. "He asked a very simple question in our community: What was the best thing that Blank Children's Hospital could do in the community?"
Meanwhile, Noble was wrestling with where he would fit within the pediatric spectrum. He recognized that working with children came naturally to him, but that his personality demanded something outside of the usual general pediatric practice.
Stark presented the concept of the center to him and asked him to lead it, provided he would complete a fellowship in clinical genetics at the University of Iowa.
Setting the Bar High
The initial outlay for the center, about $3 million, was raised entirely through donations prior to its opening. The clinic has an annual operating shortfall of about $375,000. "There's a reason there isn't more than a handful of these across the country," Stark says. "They mandate a level of philanthropy to keep them going."
Before designing the layout of the new center, Noble and his team toured the highly acclaimed children's developmental center at Cincinnati Children's Hospital. "We went to see one of the best to see how high the bar could be, and then came back to see how well we could replicate that here," Noble says. "I think we did a pretty good job doing that."
Among the Blank center's features is an observation room with one-way windows and cameras so teachers and counselors can better understand their patients' conditions by observing them as they undergo therapy.
Working with Noble is Dr. Justin Ramsey, a specialist in pediatric physical medicine and rehabilitation. Supporting them are specialists in audiology, child life, neurology, psychology, orthopedics and social work, as well as other pediatric specialists.
A Place of Hope
Noble, who typically spends from one to two hours with each patient, might devote an entire initial session to simply playing on the floor with a young patient to gain his or her trust and to observe reactions to various toys. He sees between four and six patients a day, "which is an insane number for somebody (who) does what I do," he says.
Noble delivers a lot of bad news to beleaguered parents. So he likes to surprise them with as much good news as he can. "All they've heard up to this point is what (the children) don't do: 'They don't talk, they don't make eye contact, they don't make friends,' " Noble says. "Then I come in and say, 'Yeah, those things are there. Let's talk about what he does do. He's good looking. You guys should have more kids—you owe it to the world—this guy is awesome.' "
"I'm also a painful, ridiculous, irresponsible optimist," Noble adds. "But I have to be; how could I come to work if I wasn't? It's awesome when (patients) come back and they get that first word, or they turn to their voice—you can celebrate these things."
"Dr. Noble gave us hope," says Shannon Carlson of Clive. She and her husband, Brent Carlson, brought their 2-year-old daughter, Stella, to the center for an evaluation, concerned because she wasn't talking. Their first visit confirmed their fears that their daughter had autism. Despite their shock, Noble "made us realize that there are so many incredible things about Stella—that we were still going to have a great life," Shannon says. "He prayed with us; he cried with us. We left there feeling heartsick, but at the same time, with hope."
On their second visit, Shannon recalls, Noble's first question to them was, "How are you guys?" and told them, "Stella can only be as good as you two are."
"That kind of set us back," Shannon says. "We felt lucky to be with someone that recognized what we were going through."
The response to the center has been overwhelming, Stark says. "What happens in that clinic is very special, very emotional. There are often tears shed—tears of relief and gratitude that there is somewhere to determine what is wrong," he says. "The impact has been tremendous—to have a resource in town … to have kids diagnosed as early as 16 months is unprecedented. We'll have an impact for the lifetime of these kids. I don't know of a lot of other programs that can say that."