Written by Vicki L. Ingham
Photos by Ben Easter
Art Direction by Belle Du Chene
Photo assistant: Claire Latcham
(Click here for a behind-the-scenes peek at the photo shoot.)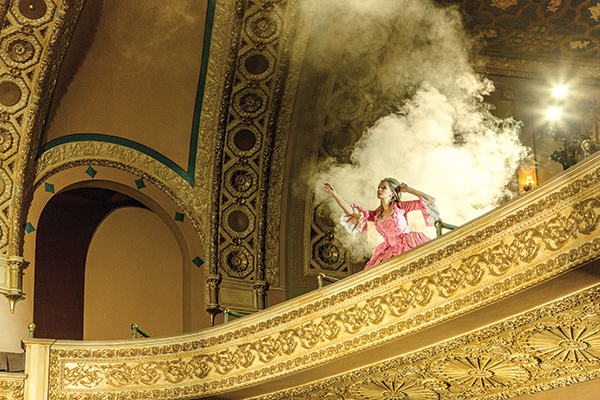 When the curtain goes up in June on Des Moines Metro Opera's (DMMO) production of Mozart's "The Abduction From the Seraglio," even those who don't know the story will realize they're in for something fantastical and fun. And with a happy ending, no less.
On the other hand, when audiences experience Puccini's "The Girl of the Golden West," they'll promptly be whisked back to a gritty Old West mining camp, complete with characters in cowboy hats and spurs. And when you take in Catán's "Rappaccini's Daughter," which will be performed at the Greater Des Moines Botanical Garden in July, you'll immediately sense how the lush surroundings and costumes befit the story.
Whatever the opera, costumes and sets act as silent partners that help the singers bring the opera to life, creating the world that pulls the audience in and shapes their expectations. "We strive to create a unique visual component that goes with the extraordinary singing," says Michael Egel, DMMO's general and artistic director. "We want to make the experience extremely memorable."
The visuals for "The Abduction From the Seraglio," he says, will be "very whimsical, very colorful." Mozart wrote the humorous, lighthearted opera in 1782. All things Middle Eastern fascinated Europeans in that period, so Mozart set the story in Turkey, in the palace of the Pasha Selim. A Spanish nobleman, Belmonte, and his servant conspire to rescue their lovers, Konstanze and Blonde, who were kidnapped and delivered to the pasha's harem. Although the ruler falls in love with Konstanze, in the end, he gives her up gracefully, and generosity of spirit wins the day.
---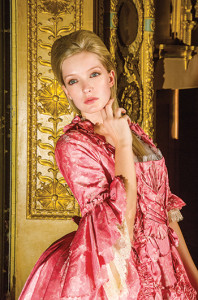 East Meets West
Stage director Chas Rader-Shieber has directed "Abduction" for several major companies and has taken a different approach each time. For DMMO, instead of interpreting the harem literally, Rader-Shieber and costume and set designer Jacob Climer have devised a vivid green garden peopled by characters in candy-colored clothes and wigs. "Rader-Shieber is playing on themes of East meets West," Egel says. To capture the idea of the pasha's fascination with the West, the stage will resemble a lush, verdant tapestry inspired by Viennese gardens, with large 18th-century-style gilt frames defining where the action takes place. "Each character has a different color of costume, all designed to pop against the green background," Egel says.
To develop his costumes for the European characters, Climer researched 18th-century clothing and hairstyles and devised garments and wigs that evoke a classic period look without aiming for museum-like accuracy. "Konstanze's hairdo is very Gainsborough," Climer says, but her gown reflects the earlier part of the century.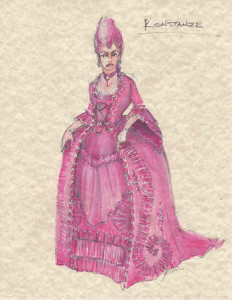 Historical accuracy also gives way to the demands of the stage: Her dress lacks the caged undergarments (panniers) of the period "because she spends a lot of time on the floor crying," he explains. Instead, soft netting gives the skirt bulk but allows the singer to fall or move freely, "so when Konstanze is running across the stage, the dress picks up air and flows behind her and looks beautiful."
Climer also balanced period-appropriate styles with modern ideas about proportion. In the 18th century, for example, the skirt started at the waist and blossomed straight out. "I like to go a little below the waist and see a little hip before the skirt starts," Climer says. "It makes for a better, more modern line." But he also adjusts costumes as needed to make the garment appropriate for an individual singer's body.
For the Turkish characters, Climer started with the costumes for the Janissaries, the pasha's guards. His research uncovered certain common elements—helmets, mustaches, and shapeless "MC Hammer-type" pants—so he took those elements to an almost cartoonish extreme with enormous mustaches and tunics in orange-patterned fabrics. The pasha's costume drew inspiration from historical garments and modern tribal tattoos, along with the 1924 silent film, "The Thief of Baghdad," and its 1940s remake.
---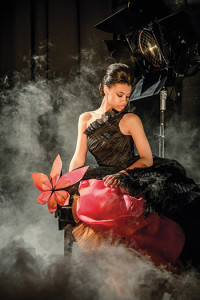 Lightweight Fabrics
Climer chose all of the fabrics and embellishments himself, going so far as to cut up and combine various low-end trims to create "one big, beautiful embroidery" for a male character's coat. Although fabrics may appear to be heavy brocade or weighty damask, most are lightweight, even tissue-thin, and made of natural fibers, including cotton, linen and Indian silks. At the costume shop, the dressmaker backed each piece of fabric with organza, cotton or canvas to give it the strength, durability and stiffness needed to survive on stage.
While the set is being co-produced with Kentucky Opera, the costumes are being rented from the Utah Opera Company, which has a large costume shop and a thriving rental business. DMMO usually rents costumes rather than creating new ones, partly because of the expense. Creating a new costume for a leading female character can cost $1,500 to $2,000, compared with $300 to $500 to rent. Costumes for chorus members are usually less lavish and may cost $500 to $1000 each to create new, versus $100 to $150 to rent.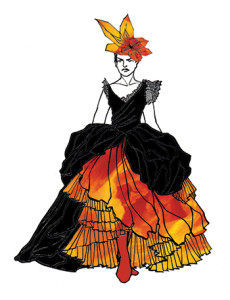 "Rappaccini's Daughter," the company's first production in Spanish, "would have been a nice opportunity for new costumes," Egel says, "because it's only seven characters, so you're not talking about a lot of costumes. But when I saw the Gotham Chamber Opera's costumes, they were so striking, so beautiful, I thought 'why bother?' They are so arresting visually and fit our production perfectly, so it was a no-brainer to rent."
Another factor affecting the decision to rent versus create new is whether costumes and scenery that capture the aesthetic vision of the stage director already exist. Puccini's "The Girl of the Golden West" will take a literal approach to the interpretation of the period (California Gold Rush) and setting (a mining town). For costumes, therefore, "it would be hard to come up with something different from what exists," Egel says.
---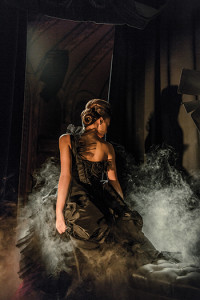 Harrowing Tale
For "Jen˚ufa," by Czech composer Leoš Janá˘cek, costumes also will be rented from the Utah Opera Company but will undergo some adjustments to better capture director Kristine McIntyre's vision for the show. "It's a harrowing tale," Egel, says "about a regimented and oppressive hierarchical society." The protagonist, Jen˚ufa, "is a beautiful soul trampled by the machine of society, and yet the choral scenes are beautiful. We don't want to be kitschy; we want to evoke that folk tradition but honor the mood of the piece too."
While custom-designed wigs are part of the aesthetic vision for "Abduction" (Konstanze's hair is pink to match her dress, for example), most singers wear wigs on stage regardless of whether the opera is a period piece. Wigs reduce the time singers need to spend in the chair for hair and makeup and ensure that each singer's appearance suits the character—something his or her natural hair might not do.
Although DMMO usually rents costumes, the company's set designer, Keith Brumley, often creates new sets to put a fresh spin on the interpretation of a work. "We are very lucky because we do a lot of creating new productions and new scenery," Egel says. "Most cities our size are renting costumes and scenery and dealing with what they get. The fact that we have this creative process as part of our productions is actually pretty rare in cities of our size."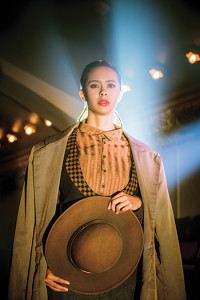 The 2015 Opera Season
"The Abduction From the Seraglio," Wolfgang Amadeus Mozart, 1782.
Evenings: June 26, July 3, July 11. Sunday matinees: June 28, July 19.
In this lighthearted tale set against the backdrop of the Ottoman Empire, a Spanish nobleman seeks to rescue the woman he loves from the pasha, who is determined to win her love for himself.
"The Girl of the Golden West," Giacomo Puccini, 1910.
Evenings: June 27, July 14, July 17. Matinees: July 4, July 12.
The composer of "Madama Butterfly" creates a different kind of heroine in this tale of a love triangle played out in America's Wild West during the California Gold Rush.
"Jen˚ufa," Leoš Janá˘cek, 1904.
Evenings: July 7, July 10, July 16, July 18.
Sunday matinee: July 5.
The story of Jen˚ufa and her stepmother takes place in a Moravian community, where rivalry and jealousy lead to tragedy and ultimately to forgiveness.
"Rappaccini's Daughter,"
Daniel Catán, 1991.
July 9 and 12; rain date July 13.
This one-act opera based on a short story by Nathaniel Hawthorne tells the tale of a doctor who tries to protect his daughter by keeping her locked in a garden where he experiments with poisonous plants. Part of DMMO's 2nd Stages Series, it will be presented on the Celebration Lawn at the Greater Des Moines Botanical Garden.