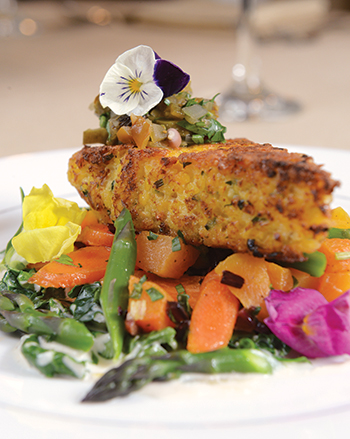 Dine Like a Wallace
"People in cities may forget the soil for as long as a hundred years, but Mother Nature's memory is long and she will not let them forget indefinitely."
Henry A. Wallace, native Iowan and former U.S. vice president
Reviewed by Wini Moranville
Photos by Duane Tinkey
The above quote, from one of the most famous native Iowans of the 20th century, might be considered a North Star for the weekly Food for Thought dinners, held at the Wallace House in Sherman Hill.
At each dinner, chef Katie Porter and her team help diners refocus on the sustenance and joys gleaned from our soils, and the importance of paying attention to food and farming issues that affect today's world. On Thursday nights throughout most of the year, Porter gives form to this mission in the shape of a dinner made from as much locally sourced, sustainably grown food as possible.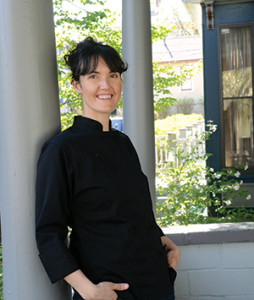 "Every single vegetable that is served comes from the farm," she says, referring to the farm at the Wallace Country Life Center in rural Orient. "We preserve and dehydrate what we need to get us through the months outside of the growing season."
While other talented chefs in our city also bring farm-to-table elements to their menus, the Food for Thought dinners go a step further by encouraging a conversation about food topics as part of the evening's raison d'être. Each meal focuses on a theme, from "Urban Produce Gardens" and "Eating Vegan" to "Food Trucks" and "Bacon," with a local expert on hand to engender conversations.
As such, the Food for Thought dinners tap into the way the Wallaces themselves felt about how food can bring people together.
"The Wallaces believed that gathering people around a table, particularly to share a meal, led to better understanding and finding common ground," says Diane Weiland, CEO and program developer for the Wallace Centers.
According to Weiland, after the turn of the 20th century, Henry Wallace (a.k.a. "Uncle Henry"), the co-founder of Wallaces' Farmer magazine, was among those on a task force charged by President Theodore Roosevelt to find out what life was like in rural America. Through his travels as a member of the Country Life Commission, he visited with people in their homes over dinner.
Weiland adds that Henry A. Wallace (Uncle Henry's grandson) traveled extensively as U.S. vice president from 1941 to 1944; on a trip through Mexico, he accepted farmers' invitations to eat with them. (Wallace also served as U.S. secretary of agriculture from 1933 to 1940.)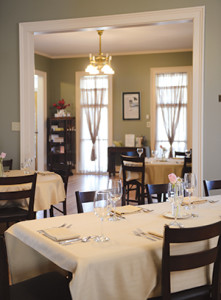 Later, when Henry A. toured through the South as the 1948 Progressive Party presidential candidate, he refused to patronize segregated restaurants and hotels. Instead, he stayed and dined in private homes, where he learned about issues that faced poor and tenant farmers, the lack of educational opportunities for children, and other concerns.
While all this is noble and inspiring, I must admit: When I heard that the Food for Thought dinners came with a side of ever-changing experts and programs, a small part of me feared the evening would be more earnest and educational than fun.
Certainly, I've delved passionately into such topics such as composting and food safety in my personal and professional life, but when I'm dining out, I'm rarely hoping that the server will ask, "Care for a lecture with that lemon-lavender cake?"
Well, dsm readers, as your intrepid reviewer, I tested the waters and found a lively evening in a charming venue, with spectacular fresh and seasonal food.
About the experts, Chef Porter clarified that they aren't speakers in a stand-up-and-lecture sense. Rather, they go from table to table, mingling with diners to discuss the topic of the evening. Porter says that it's fine to tell the host or server that you'd rather not have the speaker visit your table.
On my recent visit, the topic was bone broth; the guest was bone broth enthusiast Steve Bryce, a former chef who currently works at a large food company.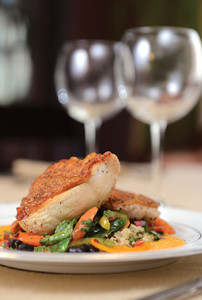 When Bryce stopped by our table, we had a thoughtful chat about how making broth from bones is a way to "eat the whole farm," an ethos that calls on cooking with everything possible from animal and land production—not just convenient bits like boneless chicken breasts, but also more challenging parts, like the bones.
The minute our first course arrived, however, Bryce had the graciousness to step away and let us enjoy our food.
And enjoy it we did. For starters, we relished a Gouda cheese and olive flatbread, which brought a sheen of rich cheese contrasted by pickled green garlic and shallots, with a teasingly bitter mustard-sorrel purée.
We especially reveled in the pan-roasted chicken, a dense and meaty breast-thigh portion with super-crisp skin that was more intensely flavorful than the best bacon. The vegetables, including sautéed cabbage, peppers and carrots from the Wallace Centers of Iowa Farm, added a taste of brightness we were craving this spring night. Crunchy on the outside, pudding-like on the inside, the pan-seared polenta cake thoroughly delighted, as did the accompaniments of creamed fresh greens and shallots. The meltingly tender wine-braised beef short ribs proved equally irresistible.
Ironically, the only dish that fell short was the bone broth. As much as I admire the "eat the whole farm" ethos that it represents, on its own, the soup tasted more like a fabulous ingredient than an appetite-rousing first course.
Yet overall, Porter consistently hits her mark. She combines thoughtfully sourced ingredients in inspired and progressive ways that, fittingly, remain focused and down to earth. Her creations are a perfect fit for the charming yet anything-but-opulent decor of the restored Wallace House and a fine tribute to the visionary family that these meals honor.
Wallace House
756 16th St.
243.7063
deannebryce@wallace.org
---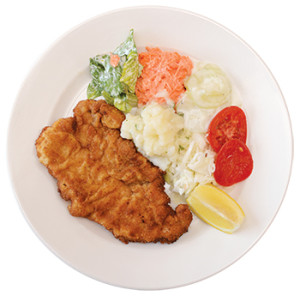 Dine Like an Austrian
Strudl Haus delivers the rich culinary diversity of Austria, incorporating Swiss, Italian and German influences.
Reviewed by Wini Moranville
Photos by Duane Tinkey
Having dipped into Austria only twice in my life, I'd have been hard-pressed to articulate how that country's cuisine differed from German food, without resorting to Google. Happily, my inaugural trips to the Strudl Haus, which opened early last winter, proved a much more satisfying way to find out.
Owner Michael Leo says that Austrian cooking is more diverse than German cooking, owing to the many cultures that have crossed paths throughout Austria's history. "Our cooking has Bohemian, Arabian, Italian and German influences," explains the Austrian-born Leo. "Over the years, we kept the influences we liked best."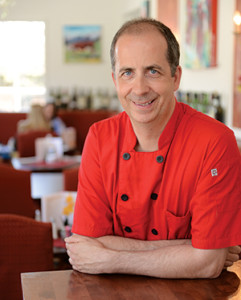 Diversity was evident on recent menus, which included Hungarian goulash, a Zurich-style stir-fry, Swiss sausage salad and a German sausage platter alongside more quintessential Austrian dishes such as Tyrolean stew and Wiener schnitzel.
If all that sounds a bit heavy for the summer, keep in mind that, according to Leo, Austria's cuisine is lighter than Germany's, and seasonality plays a key role in Austrian cooking.
Indeed, lightness and seasonality graced the entrees we enjoyed on a recent lunchtime visit. I've never had a more delicate Wiener schnitzel, with its crisp, greaseless, delightfully nubby breading. Leo's spätzle showed a soft, tender side of these dumpling-like noodles; they arrived with a balanced mix of ham and Alpine cheese. The accompaniments—including a touch each of a creamy carrot salad, dill-flecked cucumbers and a sprightly dressed cabbage—added freshness and brightness to each plate.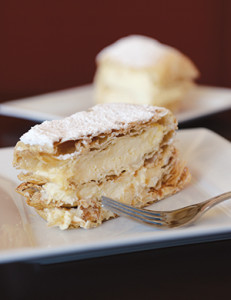 Across the table, my dining buddy tucked into green and white asparagus topped with a sunny Hollandaise sauce. Ribbons of thinly sliced ham and a judicious helping of fried potatoes added heartiness without taking away from of the seasonal appeal of the dish.
The atmosphere of comfortably cushioned armchairs and banquette seating underneath crystal chandeliers hint at Old World grandeur, but the snugness of the locale keeps the spotlight on a certain cozy charm. And anyone who's been to Austria will appreciate the ritual of the coffee service: The cup is served on a little silver tray, aside a glass of water and a cookie. It's tradition.
You'll want to stay for a treat from the pastry case, including high-and-mighty fruit-filled cakes; rich, elegant linzertortes; and Bavarian cream-filled Napoleons—the latter sent us swooning into the afternoon.
Strudl Haus
1951 Indianola Ave.
259.9886
strudlhaus.com