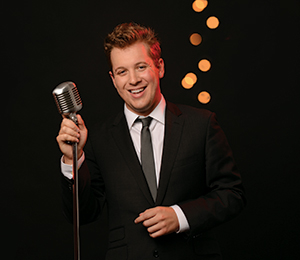 Written by Brianne Sanchez
Photos by Duane Tinkey
In a way, opening a jazz club is the climax of a coming-of-age story for both a kid who's grown up a performer and the arts and culture scene that has sprung to life around him.
Max Wellman was just 15 and a Roosevelt High School sophomore when he started playing gigs around town. His parents worked nights in the restaurant industry, so he'd grown up spending a lot of evenings at his grandparents' house, where he listened to recordings of Frank Sinatra and Ella Fitzgerald, and hanging around dimly lit establishments such as Noah's and Chuck's restaurants. You could say the now-24-year-old Wellman has an old soul with an entrepreneurial spirit, and, like a true improviser, his timing is right: Today Wellman is involved in developing a new jazz club, Noce (pronounced "NO-chay"), scheduled to open late this year.
Wellman had known of Bob and Maria Filippone for years, but he didn't meet the couple until last fall, when they approached him after a performance at the Des Moines Social Club. The Filippones, both medical doctors, had founded Des Moines Onstage and the Des Moines Young Artists' Theatre.
The Filippones' first exposure to Wellman's talents was at a small show at Mars Cafe years ago. "I took note that I really liked this kid's style and (that) I would like to work with him at some point," says Bob Filippone, who grew up on jazz in New Jersey and believed Max's vocals were reminiscent of the greats.
He got to know Max better through volunteer work Wellman did, providing free voice lessons to kids as part of the City Voices program, and saw an opportunity to collaborate. "Part of my vision is not only providing entertainment (at a venue such as Noce), but enabling artists to make a living doing what they were trained to do," Filippone says, adding that he trusted Wellman to envision and implement a concept.
"It was very clear to me from the get-go that (the Filippones) were serious," says Wellman, who will serve as the venue's general manager and entertainment director. He'd hoped to someday open a jazz cabaret, but believed that dream was another decade away. The Filippones' proposal changed that, he says: "Right away, we were off and running at it. (The concept) was really a blank slate to create together."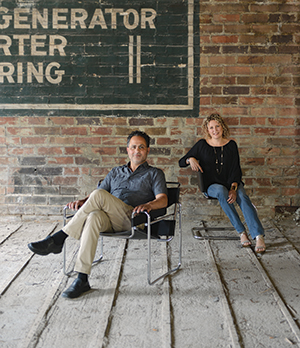 Intimate, Modern Space
Noce, which is Italian for walnut and a homophone of the Spanish word for night, will be a jazz and cabaret club with weekly programming. Knowles Blunck Architecture, Wellman and the Filippones are transforming a dilapidated building at 1326 Walnut St. into an intimate, modern space that captures the atmosphere of the Jazz Age. The after-dinner destination will be a spot to toss back cocktails and enjoy live music from local performers and a host of talent traveling through the Midwest.
"There are other clubs that are doing jazz and doing a great job, but most weren't designed for that purpose," Filippone says. "The seating isn't ideal, the acoustics aren't ideal. If we wanted to do it right, we had to gut the building and start from scratch."
Part of Wellman's role is to create a performer-friendly venue that artists will want to return to again and again. With a recessed entrance, raised stage, rigged lighting, polished concrete flooring, and bar and cocktail seating for around 100 patrons, Wellman hopes Noce will evoke the warm, smoky feeling of a bygone era—without going kitsch (or violating the smoking ban, of course). Behind the performance space will be a private room that will be rentable as an event space.
"I think there's certainly a need for smaller, artist-friendly venues in Des Moines," says Roxi Copland, a singer/songwriter/pianist who is currently based in Milwaukee. A Grinnell College graduate, she previously lived in Des Moines and has sustained a strong fan base here.
"I've heard from a number of musicians who love the area and want to play here, but (they) want an intimate performance space," she adds. "It sounds like Noce could mean a fantastic addition for the Des Moines music scene—a venue where the performer and listener can have an intimate musical connection would be a beautiful thing."
The Jazz Experience
Noce, its founders and others in the jazz community believe, not only will fill a void in the neighborhood around the revitalized Western Gateway, but also will allow for better booking and help foster a deeper appreciation of jazz music. "The problem, if there is a problem with jazz, is exposure," Wellman says. "People don't get to hear it or experience it."
Trumpeter Dave Rezek, who recently assumed leadership of the Des Moines Big Band, agrees. He's looking forward to bringing one of Iowa's longest-running jazz orchestras back downtown as the Wednesday night band-in-residence for Noce. The Big Band formed in 1959, and in its heyday played venues around Court Avenue, where Rezek remembers going to shows as a Hoover High School student, with hopes of sitting in on a song or two. For decades, the band was at Adventureland Inn. Lately it has been performing Monday nights at El Palacio Events Center in Windsor Heights.
"I've long thought that the Des Moines Big Band needs to be downtown, in its rightful home," says Rezek, who took over from longtime leader Jim Oatts. "Max and I have both talked for a long time about the needs of jazz musicians to have a home and the need for Des Moines to actually have a jazz club. Des Moines has been primed for this—at least since I've been back."
Rezek returned to Des Moines in 2008—around the time Wellman began performing—after decades on the East Coast, playing in Boston and then on Broadway. He plans to use the connections he made there to help book high-caliber musicians for Noce.
"It's always been my goal to have the top musicians be heard and also provide a place where these musicians can experiment and play their music at the highest level," Rezek says. At a club like Noce, "they can present it in a way that they're interacting with the audience—they can have that back-and-forth with the microphone. When they're explaining some of the things about the music, it becomes an experience for everybody."
Growing Audience
Rezek has been part of the packed Jazz Happy Hour events at the Des Moines Social Club, which local jazz fans point to as a signal the city is ready for more. "I'm optimistic," says jazz enthusiast Charles Timberlake, who moved to Des Moines from Bakersfield, Calif., seven years ago. "I feel like the audience is growing. Jazz in July being free gets a lot of families out there. I see positive signs."
Timberlake also has watched Wellman perform since he was a tousle-haired teen. "Over the years, every time I hear him he's better," he says. "The phrasing got better. The piano work is really quite nice now. I keep seeing growth with Max."
After high school, Wellman bounced between Indianapolis, Atlanta and San Francisco for a few years, which gave him a different perspective, and raised the bar in his mind, on the potential for a midsized city's music scene. But Des Moines has always been home base, with his music director and studio—and family—in town.
"I feel like I got started at such a perfect time here eight years ago," Wellman says. "The whole downtown and the creative scene were growing. That's been beautiful to experience because it's been happening as I've been growing up here."
---
Noce's Lineup
The jazz club promises a broad spectrum of jazz — both local and touring acts — and occasional theater.
Wednesdays: Des Moines Big Band
Thursdays: Instrumental jazz
Fridays: Max Wellman
Saturdays: Jazz vocalists