Writer: Tom Perry
Photographer: Duane Tinkey

Hoyt Sherman was a 19th-century lawyer and banker—as well as the younger brother of famous Civil War general William Tecumseh Sherman.
---
Hoyt Sherman Place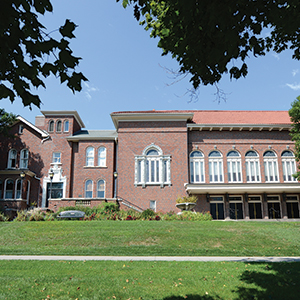 1501 Woodland Ave.
Built in 1927, Hoyt Sherman Place today hosts shows and other events in its 1,400-seat auditorium.
If there were ever a figure from local history whose name is well-known but whose life story is somewhat lost in time, it might be Hoyt Sherman. "Among the staff and the members of the Des Moines Women's Club, Hoyt Sherman has great name recognition, but there are probably quite a few people in the area who don't know anything about him," says Robert Warren, executive director of Hoyt Sherman Place.
The younger brother of famous Civil War general William Tecumseh Sherman, Hoyt Sherman was 21 when he made his way to Iowa in 1848, settling in what was then the frontier town of Fort Des Moines. A year later, he began to practice law and was appointed the city's postmaster by President Zachary Taylor. Over the next decade, Sherman became active in banking; at the start of the Civil War, he became the Army's paymaster. In 1867, he was one 15 local business leaders who established the Equitable of Iowa insurance company.
He died in 1904 as one of the city's most respected citizens. Today, Hoyt Sherman Place includes an art gallery, a reception hall and a 1,400-seat auditorium built in 1927. It also serves as the headquarters of the Des Moines Women's Club.
---
Finkbine Mansion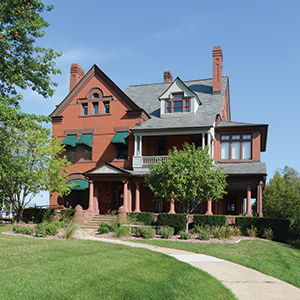 1915 Grand Ave.
The Finkbine family built this Grand Avenue landmark in 1895 as a residence. Robert S. Finkbine was the first family member to arrive in Iowa, moving in 1850 from Ohio to Iowa City. In 1870, Finkbine, who was prominent in the construction industry in Johnson County, was placed in charge of building the Iowa Statehouse in Des Moines. He and his wife moved to the city in 1890.
Their son, Edward Finkbine, founded Green Bay Lumber Co. in 1879 in Odebolt, moving the company's offices to Des Moines 15 years later. By that time, the company had yards throughout the state. When Edward and his wife moved to Pasadena, Calif., to retire, their son, Robert H. Finkbine, took up residence in the home.
The Finkbine mansion reportedly was used during World War II to house single women who were working at the nearby airplane factory, now Des Moines Public Schools' Central Campus. Today, the mansion houses the Community Foundation of Greater Des Moines.
---
Griffin Building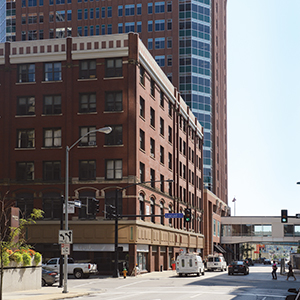 319 Seventh St.
Born in 1909 in Kentucky, Edna Griffin is regarded by many as the Rosa Parks of Iowa. She moved to Des Moines in 1947, and about a year later, she went downtown with her daughter and two friends to Katz Drug Store, where she ordered a cream soda. She was refused service because she was black. After that incident, she led sit-ins, filed a lawsuit and won a landmark desegregation ruling from the Iowa Supreme Court, setting the civil rights movement in motion for the rest of the country, according to some scholars. The year was 1948, well before the major protest movements of the 1950s and '60s.
For years, she lived with her husband, Dr. Stanley Griffin, and their three children in Beaverdale. A lifelong activist for civil rights and other progressive causes, she traveled to Nebraska at the age of 75 to sit on a highway to block the delivery of nuclear warheads to a military base. Griffin, who died in 2000, lived long enough to see the former Flynn Building, where Katz Drug Store was located, named in her honor in 1998. The pedestrian bridge over Interstate 235 at East Seventh Street also memorializes her.
---
Sheslow Auditorium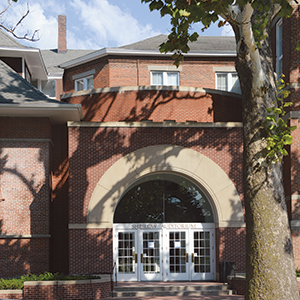 Drake University
A successful New York City stockbroker, Everett A. Sheslow became a force behind the renovation of Drake University's Old Main building, resulting in the state-of-the-art auditorium that was named in his honor in 1993.
Called "Rett" by his friends, Sheslow, now 85, is a New York City native who graduated from Drake in 1951 with an economics degree. After serving in the U.S. Army, he worked his way up the Wall Street ladder to establish his own brokerage firm, E.A. Sheslow Inc., in New York City.
Sheslow kept an interest in his alma mater and served on Drake's board of trustees from 1985 to 2002. He established the Sheslow Prize for Leadership and Achievement for returning seniors in 1984. Now living in Miami, Sheslow celebrated 50 years as a member of the New York Stock Exchange in 2009 by ringing the opening bell at the exchange in Manhattan.
---
Fitch Studios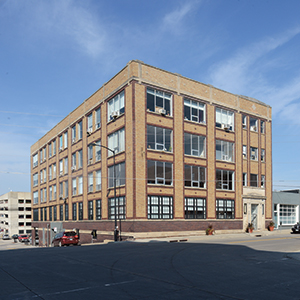 304 15th St.
The namesake of this building would have needed no introduction in Des Moines during the first half of the 20th century. Fred W. Fitch, a Webster County native born in 1870, began manufacturing shampoo and other personal-care products in the building soon after World War I. Over the next three decades, the F.W. Fitch Co. was one of the nation's best-known toiletries firms, thanks in large part to the "Fitch Bandwagon," a popular 30-minute radio show featuring big bands, broadcast nationwide by NBC.
As the show's sponsor, Fitch rubbed elbows with celebrities for years. But in Des Moines, he gained notoriety for other reasons. In 1923, Fitch separated from his wife of more than 30 years, and after a messy divorce, he married the family's 32-year-old Swedish housemaid.
Fitch sold his business in 1949 and donated $100,000 to Drake University for the construction of Fitch Hall of Pharmacy. Two years later, after a lengthy illness, he died at his home on Foster Drive.
---
Teachout Building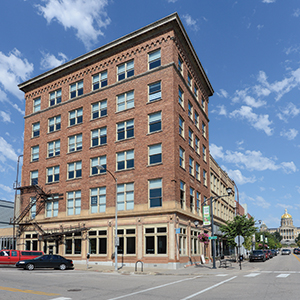 500-502 E. Locust St.
Horace E. Teachout moved from New York to Iowa in 1876 at the age of 30. He soon was one of the buyers of the Capital City Ice Co., one of the oldest enterprises in Des Moines. Teachout became a force for local modernization: In 1886, he played a role in making Des Moines one of the nation's early adopters of electric streetcar service, and in the early 1900s, he assisted in the founding of the Mutual Telephone Co. of Des Moines.
Teachout had served in the Iowa Legislature and been active in banking when he set out in 1911 to help promote business by constructing the tallest, most up-to-date commercial building on the east side of Des Moines. Teachout died in 1917, and 82 years later, in 1999, his building was added to the National Register of Historic Places. His name also adorns a family aquatic center on the city's east side.