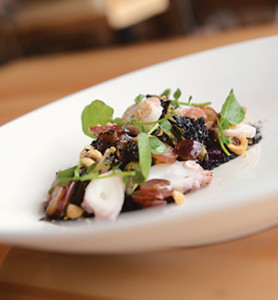 Reviewer: Wini Moranville
Photographer: Duane Tinkey
On a recent visit to Alba, I was slightly surprised and even a bit dismayed to see butternut squash soup on the menu.
Certainly, I like butternut squash soup just fine, but it's a familiar routine. What chocolate molten cakes became for the dessert course, butternut squash soup has become for the first course: the safe, predictable, inevitable offering.
What was it doing on the menu of one of the city's most visionary, chef-driven restaurants?
"A few weeks earlier, I had sunchoke soup on the menu," executive chef Joe Tripp later explained to me. "But it didn't sell. Butternut squash soup sells."
So, what's a chef, in love with sunchokes and other off-the-beaten-path finds, to do? Take the cynical route, throw up his hands, toss a few pans around in the kitchen, and turn out some rote butternut squash soup, while muttering under his breath, "OK, Des Moines, I've got your butternut squash soup right here"?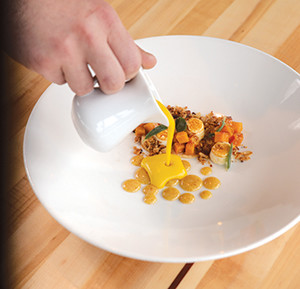 Or take a more loving route: Keep the cherished savory-sweet soup mostly intact, but nudge the diner forward with an unexpected package. Present a shallow bowl, empty of soup but striped with spiced pecan butter and squash-seed granola, plus a few dots of maple-syrup marshmallows and cooked squash scattered here and there. Bring it to the table with the silky soup in a pitcher. Allow the diner to behold the thoughtful accompaniments before the soup is poured into the bowl.
Do this, and the diner will never look at butternut squash soup in the same way. She'll always remember how each bite brought new character to the dish—the way the granola brought nuttiness and texture, the way the marshmallow filled the mouth with phantom maple sweetness, how the crispy sage registered bright, peppery contrasts.
She'll also remember how, thanks to the squash itself recurring throughout the presentation, the soup never lost its focus. Above all, she'll remember why everyone fell in love with butternut squash soup in the first place.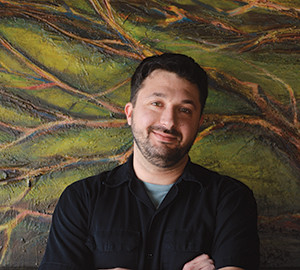 Memory, in fact, plays a significant role in this chef's cooking. "Food is psychological," says Tripp, who graduated from the University of Iowa with degrees in philosophy and psychology before shifting full time into the restaurant business. "The times when I can hit those notes of memory or recognition in unexpected ways are the dishes that strongly connect with people."
Other standouts I tasted on recent visits did exactly that­—crossed that sense of well-being derived from a longtime favorite with the surprise and excitement of the unforeseen.
No doubt, you've had that other inevitable starter, calamari, but how about its cousin, octopus? In Tripp's first-course salad, you'll recognize the seafood's sweetness and density, but you'll thrill to the dramatic presentation: The swipe of homemade Chinese XO sauce (a spicy, salty-from-the-sea condiment anchored by dried fish and seafood) and the tangle of grilled bitter greens spotlight the sparkle of the octopus.
You've had French onion soup; you've likely loved the caramely sweetness of the onions in a beefy broth and that sheen of melted Alpine cheese bubbling atop the toasty bread.
So how about this: Transform it all into a main dish that stars a spoon-tender beef short rib in a rich French onion broth and a scattering of herbed croutons, with the Gruyère cheese reborn as a smooth, luscious fondue dolloped into crisp-tender cippolini onion cups. It's the best of both worlds: the familiar comfort of the classic soup, but in a fresher, more polished presentation.
Tripp, who was nominated earlier this year for a James Beard Foundation Award for Best Chef—Midwest, moved up the ranks in Denver's esteemed Fruition Restaurant before heading back to his native Des Moines, where he's been at Alba since 2012. He continually energizes his cooking through short-term stints in high-end kitchens such as Coi in San Francisco and Alma in Los Angeles.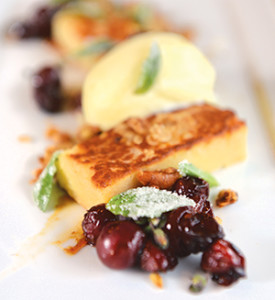 It was in L.A. that Tripp discovered the sake lees that eventually made their way into his cooking. Lees are the residual yeast particles left over in winemaking, and when Tripp tasted the sake lees in a savory dish, he began to think about what they might do in a dessert.
Hence, Tripp's ginger mochi cake with sake lees ice cream. The sweet Japanese-rice (mochi) cake arrives with roasted grapes, grape jam, ginger crumble and the ice cream. As it turns out, what lees bring to wine, they do equally well for ice cream. That is, they bring a sensation of smooth, creamy roundness and hints of vanilla-like flavors. Look closely, however, and at its heart, the exotic dessert echoes something that's delighted you for decades–cake and ice cream.
A caveat—and one that applies to most of the city's fresh-and-local-focused restaurants: The beautiful food you see on these pages will most likely not be on the menu when you visit. Tripp changes his menu weekly, and rarely repeats a dish.
It's not just a matter of what's fresh and in season (though that certainly comes into play). Rather, Tripp seeks to continually move forward. As this article went to press, he was preparing for a trip to Vietnam to further inspire his cooking.
Still, Alba's food does have a certain predictability to it. While you may not be able to order your "usual," you know that whatever you order will be fresh, thoughtful and life-enhancing—in ways that are both familiar and out of this world.
Alba
524 E. Sixth St.
515.244.0261; albadsm.com