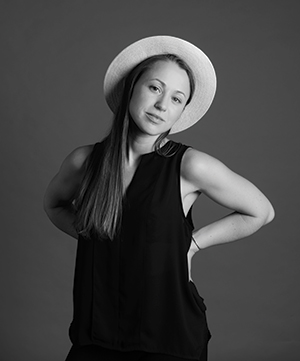 Writer: Chad Taylor
Photographer: Duane Tinkey
"Why say it when you can sing it?" has been Abbie Sawyer's mantra for as long as she can remember. But it wasn't until the Des Moines native was at the University of Iowa that her love of music found its first true outlet, in the form of the legendary Iowa City soul/funk act the Diplomats of Solid Sound.
"The Diplomats were my first band," says the now-31-year-old Sawyer. "I absolutely fell in love with the experience of performing and bringing that joy to people. People would just lose themselves in dancing. To see people light up like that was addictive for me."
What was originally meant as a one-off performance in Iowa City's pedestrian mall turned into a regular spot on the Diplomats' stage, as Sawyer became hooked on the alchemy of performing for a live audience backed by the Diplomats' luscious Hammond B3 organs.
"We did a tour in Italy and France together," she recalls. "It was a thrill. I organized the rest of my life to make that band work. I had a day job and friends, but nights and weekends were band time. I was so in love with that experience of performing. When I had a show at night, that whole day would be on cloud 9. It had an energy all its own."
Eventually, Sawyer made the difficult decision to leave the Diplomats—and Iowa—as she pursued the opportunity to study for her master's degree in film and media in New Zealand. The move, which she undertook with Chris LoRang, the man who would become her husband and playing partner in her band, Abbie and the Sawyers, proved to be one of the best decisions of her life. Not only did the experience open her up culturally and intellectually, but it also gave her the opportunity to make the subtle transition from singer to musician.
"We found this house to live in," she says. "The couple who owned the house also had a recording studio in the basement."
Sawyer recalls international jam sessions with other students and traveling musicians, stints that might include LoRang on saxophone alongside a French pianist and an Italian guitar player. Sawyer sang backing tracks for a Kiwi hip-hop act. She also learned to play the guitar.
"The thing about playing with the Diplomats was that I always had this incredible backing band," she says. "When I left, I still had ideas about songs I wanted to write, but now I needed a way to accompany myself."
Her New Zealand hosts had a guitar among the gear in their recording studio and were happy to help her learn. "I remember sitting in our kitchen," Sawyer recalls. "The fog's coming in, and I've got this classical guitar that I barely know how to play. My fingers are numb, but I'm strumming away. That's how I wrote my first songs."
Now back in her hometown, Sawyer splits her time between two acts: the NOLA Jazz Band, and her own Abbie and the Sawyers, where she is joined by standup bassist Alex Clemons, banjo player Lorin Ditzler and LoRang.
Sawyer and LoRang, a chiropractor who owns Capital Chiropractic in the East Village, have now been together 10 years and married for four. Though they have both always played music in a variety of acts, playing together was not a natural fit.
"When we started collaborating, it was really difficult," Sawyer admits. "We collaborate really well in every other way, but when you're making music, it's a different kind of vulnerability. Neither of us wants to let the other down. It's brought a whole new level of gentleness and acceptance, playing music with someone you're so close to."
That level of vulnerability and acceptance is clear in the band's music, as Abbie and the Sawyers' unique blend of backwoods Appalachia and Midwest charm creates a sound that is stunningly intimate. And though she has been around the world playing music and learning along the way, Sawyer knows better than most that there is no place like home.
"There's nothing like playing a hometown gig," she says. "People coming out and knowing they're going to have a good time. I'm not looking to be famous, I'm not looking to be wealthy. I'm looking for that thing that I love most: connecting with an audience."