Writer: Brianne Sanchez
Photographer: Duane Tinkey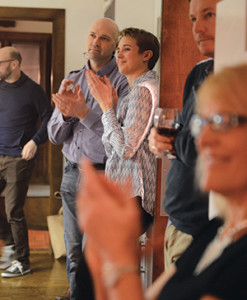 A drum set and electrified banjo have temporarily ousted the Byers family's massive midcentury modern table, transforming their Grand Avenue dining room into an intimate music venue. No stage separates the band's amps from the audience. The 52 attendees appear as varied as the hodgepodge of seating spread within spitting distance of the performers. The atmosphere is anticipatory, with guests filling dessert plates and wine glasses before selecting a seat.
This is the ninth house concert for hosts Katie and Jay Byers. The couple became intrigued by the idea after Katie attended a Folk Alliance International conference. "She wanted to recreate the experience of hearing live, acoustic music in a close and intimate setting like she did in these tiny hotel rooms at the conference," says Jay, CEO of the Greater Des Moines Partnership. "It was an easy sell to me because I have always loved live music. In fact, music was something that initially brought Katie and me together as a couple. I was playing a solo gig at a bar in Iowa City when we were both in law school there, and I dedicated a song to Katie. We have been together ever since. Over the years, we have attended a long list of live music shows. Now we also get to host them in our home."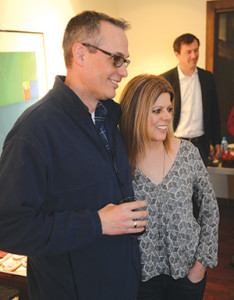 The Byers' passion for bringing people together and hosting musicians inspires them to book interesting acts that they can share with a growing invitation-only list of friends, family and acquaintances. "There is something truly magical that happens at house concerts," Katie says. "The intimacy of a house concert allows for a connection that occurs between the artist and guests that doesn't happen at larger venues. I find the storytelling aspect of house concerts fascinating, and I love hearing the inspiration for songs."
The Byerses started hosting concerts at their home last year with Aaron Howard, a folk singer and songwriter from Arizona. The Nadas have played in the Byers' dining room, as have Des Moines folk rock duo the High Crest and local jazz darlings the Max Wellman Trio.
"For our local musicians, it's all about supporting them, exposing them to a broader audience and helping make Greater Des Moines a place that attracts and retains musicians and artists," Katie says. "Every great city needs to have a thriving arts and culture scene."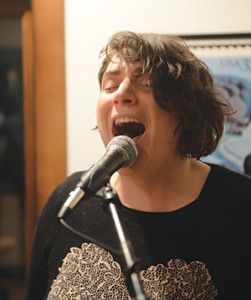 If Katie and Jay hear music they love at the Gas Lamp or the Temple for Performing Arts, they might reach out to the band through social media and invite them to play at their home the next time they're in town. The hosts often provide meals and a place to crash, along with the proceeds from the show. (In a very Silicon Prairie version of passing the hat, invitees book tickets by contributing a suggested donation through the Des Moines-based online ticketing company Tikly.co, with the option to pay by Dwolla.)
Past performers at the Byers' home also include Ira Wolf and Wes Kirkpatrick from Nashville, international touring band the Hollands, and Miles Nielsen and the Rusted Hearts (Nielsen is the son of Cheap Trick guitarist Rick Nielsen).
This night, the crowd is assembled to hear Megan Jean and the KFB, a husband and wife duo who play a witchy breed of zombie-survivalist Americana. They're influenced by their rambling, nomadic lifestyle as much as by any musical genre. Katie's first encounter with the band was a chance meeting during the Folk Alliance International Music Festival in Kansas City. It's a serendipitous story she shares with the crowd as the concert kicks off.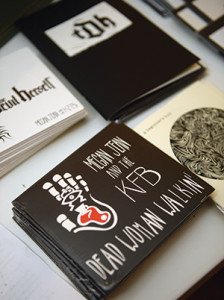 The two launch into their first set, and haunting, powerful vocals and percussion fill the room.
These bones, these bones
so far from home, mister,
can you tell me?
The reason why I roam?
The audience is rapt, respectfully toe-tapping but keeping the focus on the performers, who punctuate their songs with funny stories from touring life.
During intermission, a surprise: Andy TeBockhorst, a Des Moines marketer and a musician who played at the Byers' wedding, is in attendance. Jay has cajoled him into a singalong rendition of their first dance song, the Beatles' "Let it Be," on the family's piano.
It's a moment that delights the crowd. Among them are the family's pastor, Sarah Trone Garriott; Scott Bush, founder and president of Templeton Rye Spirits; Stephanie Jutila, president and CEO of the Greater
Des Moines Botanical Garden; and real estate developer Justin Mandelbaum. Kristi Knous, president of the Community Foundation of Greater Des Moines, snagged a spot on the couch with her husband, Lauren.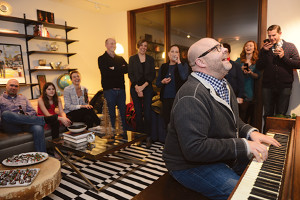 Mingling with other guests is part of a house concert's charm, and easy since everyone has a shared interest in the music. The set break also provides a chance for guests to chat with the bands.
"It's fun to learn more about the artists," says Kristi Knous, who has attended several of the Byers' shows and credits Jay and Katie with expanding her family's Pandora playlists. "They tell great stories of their path, the inspiration behind songs, life on the road—and you see such incredible talent and passion. We've even had the chance to tour some of the bands' tour buses."
This night's band seems to revel in the listening-room vibe, cracking jokes and playing ballads that might not get the best reception in a bar setting.
For Katie Byers, the allure of hosting house concerts is creating an experience that is a soul-stirring break from the routine.
"There is such beauty for me in live, acoustic music in an intimate setting," she says. "I feel most alive when I am experiencing a musical performance. Add in the fact that I get to share this with friends and help out a musician—it doesn't get much more rewarding than that."
Writer Brianne Sanchez is the community relations manager at Des Moines University. She moved to Des Moines in 2007 and likes to call herself an "Iowan by Choice." She's raising two Iowa natives.
---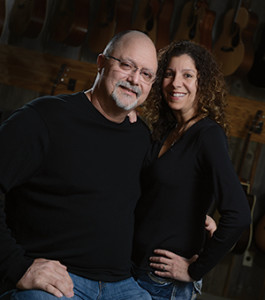 How to Host a House Concert
Inspired to host your own house show? Private concert pioneer Bonita Crowe and her husband, Keith, have hosted scores of house concerts since founding The GrapeVine in 2008, an intimate wine-serving music venue in Clive. In 2014, their efforts were recognized with an award from the Greater Des Moines Music Coalition. Based on her experience, Bonita offers these suggestions:
Book a band you can trust
It's easiest to start local, or with a band you know personally. But there's also a circuit of house-show performers, and once word gets out that you've hosted successful shows, artists might begin reaching out to you. Before you book musicians, be sure to see them live or watch videos from performances in front of an audience so you're confident in the quality of an act. "Be picky and do your research," Crowe says.
Keep the show intimate
Although her mailing list includes more than 1,500 contacts, Crowe says her ideal show seats between 20 and 40 people—by design as much as necessity. The GrapeVine is currently hosting shows at Crazyhorse Guitars, 2331 University Ave., which benefits that business and gives guests a unique setting for a quiet, relaxed evening. Requesting RSVPs is a must with such limited space.
Embrace the potluck
Set out glassware and some treats, but asking guests to bring their own drinks and appetizers is an acceptable practice for house concert hosts.
Lay the ground rules
"It's a listening room environment; for an artist, there's nothing better than having all of the eyes and ears in the room on you," Crowe says. The host should introduce the performers and set a tone for the evening, explaining that there will be a break for socializing.
Pass the hat
Proceeds from private shows should go directly to the performers. Suggested donations for concerts hosted by The GrapeVine run from $15 to $25, and Crowe says she might encourage tips as part of an encore.
Start early
If a house concert kicks off at 7 p.m., there's often plenty of night left after it wraps up for the music lovers to move on to another performance site and continue to support local music. "I do a lot of cross-promotion with bars and live music venues," Crowe says. It's not uncommon for a group to head out to Lefty's after a GrapeVine concert.