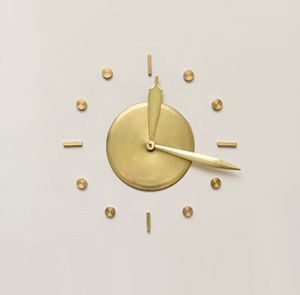 Writer: Larry Erickson
Photographer: Duane Tinkey
It's the windows. Everyone goes all swoony over them—owners and guests alike. Folks have reacted the same way for 60 years.
The windows are a signature design element of the 10-story building at 3660 Grand Ave., where on each floor at every corner, merging panes of glass are butted like the sides of an aquarium, framing vistas of the Greenwood neighborhood at every angle. Built in 1956, the building stands as a happy monument to the style now revered as midcentury modern.
That description—midcentury modern—applies loosely to almost three decades of futuristic style in furnishings, art and architecture, with influences from Buck Rogers through George Jetson. If you're over 50, it's the way you first envisioned the future. The style has been rekindled in recent years, a new discovery for millennials and the charming remnants of forward thinking for their parents. Home magazines in recent years have been packed with editorial winks and nods to the innocent, upbeat style spanning either side of 1950, without regard to the world tensions that spawned idealized visions of the future, from chairs to tail fins to architecture.
Tile and stone on the first-level exterior declare 3660's era proudly. It's an expression of style pronounced sweetly in the lobby, restored to its original glory, where furnishings, art and accessories all align with the original vision of the designers, Brooks Borg (now Brooks Borg Skiles). Leading the architectural team on this project was Ken Kendall, architect of the Ruan Center and Des Moines Marriott Downtown.
3660, as the old girl is known (having never needed a surname to give her life), drew a fair bit of attention when it moved from the drawing boards to the Grand Avenue site just west of 36th Street. A rarity in its day, the building introduced Des Moines to the notion of "high-rise" housing, with 36 elegant apartments—four on a floor, from the second to the 10th—that rented for the then-astronomic price of $325 for a two-bedroom unit and $425 for the more opulent three-bed unit.
In today's dollars, equivalent rents would be roughly $2,500 and $3,500. Serious change, indeed, but early tenants included big names of the era: Friedman, Goldman, Jewett, Kirkwood and Levitt. Those 36 apartments have since become 34 condos, including two double units, remodeled into high-level homes that each span half of a floor level, coincidentally about 3,660 square feet.
Construction didn't escape notice by the Des Moines Tribune, which described the new "ultra-modern 10-story apartment building" in 1956 as "one of the state's showplaces."
"The most striking feature of life in the $1,250,000 building," the Trib reported, "will surely be the view from the great mitered windows, a view that has been kept in mind by owner, architect and landscape artist from lobby to the tenth floor."
There are those windows again.
"The ribbon of windows and the beautiful view of living in the trees are what drew us to 3660," notes fifth-floor resident Connie Isaacson. "Every exterior wall in every unit is a full window.
"I love waking up here," Isaacson says of the condo she shares with her husband, Richard. "It's so beautiful in all seasons." In fact, she says, their family refers to the condo as "the treehouse." The grandkids think the ground-level pool is OK, too.
Far above the treetops, Mike and Bev Hutney enjoy ninth-story vistas of the wooded South of Grand neighborhood. Initially, Bev Hutney says, "we were thinking this might be an interim place or an investment property" following the sale of their former midcentury brick ranch-style house.
That changed on Day One, four years ago, she says. "We absolutely fell in love with the building!" You already know why: "Every unit is a corner, wrapped in windows.
"We appreciate the architectural heritage," Hutney adds. The owners' association is a friendly lot, so they visit other units and find an interesting and consistent quality
among them, she says: "Each level and corner has its charm."
Charm only goes so far, of course. There's work to be done on any 60-year-old building. Isaacson ticks off a list of features that will benefit from some attention—the pool, club room, laundry and lawns. That's OK; every home needs maintenance, and 3660 has dozens of proud residents ready to guide their collective home beyond its first centennial with a new "midcentury" in mind. It's all about a vision of the future—and corner windows.
---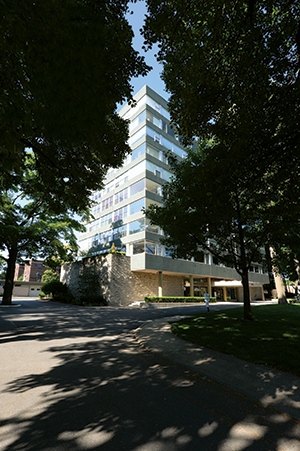 The 10-story building at 3660 Grand Ave. rose on a steel frame in 1956, in the Cold War era. International tensions contributed to escapist design ideas now known collectively as midcentury modern. They incorporated idealized visions of what a brighter future might hold, where ribbons of glass wrapping each corner expressed an openness to a new world as well as to scenic vistas. Sixty years later, 3660 still reflects that age, inside and out.
---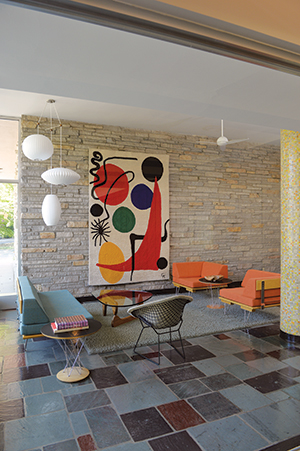 Over elegant, polished slate flooring, the cozy lobby embraces its heritage. Furnishings reflect a who's who roster of designers, heralded by fans of midcentury modern style, including Bertoia, Calder and Noguchi, to name-drop a few. The lobby's clock (opposite) and light fixtures unify the impression that this space has seen the future and is going to get there in style.
---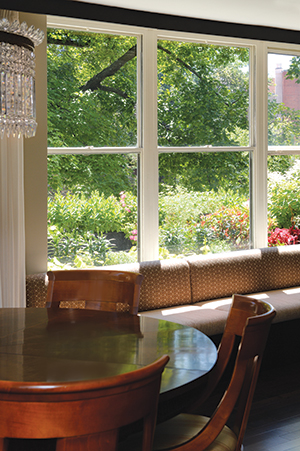 A distinction of the second floor (the lowest residential level) is the provision for rooftop gardens atop the lobby level. One thing residents agree on: Each floor has its own character, such as this tabletop close-up view of flowers growing against a backdrop of dense trees. Banquette seating along expanses of window was originally a common design element of the residential units, and remains so today.
---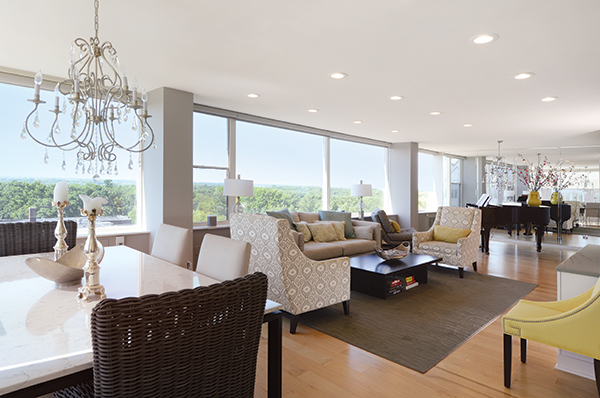 From the ninth floor, the expanse of trees suggests the rolling green hills of a Grant Wood painting. "We love to watch the weather move in," says owner Bev Hutney, scanning the horizon with husband, Mike, "and we can see seven different fireworks displays on the Fourth of July." Storms and fireworks aside, Bev says, "this is a very calming space." The room was expanded, eliminating a bedroom to provide a corner now occupied by a piano. Furnishing the place was fun, the Hutneys recall. "Midcentury modern is a nice foundation to pair with other styles," Bev says. "It has beautiful bones."
---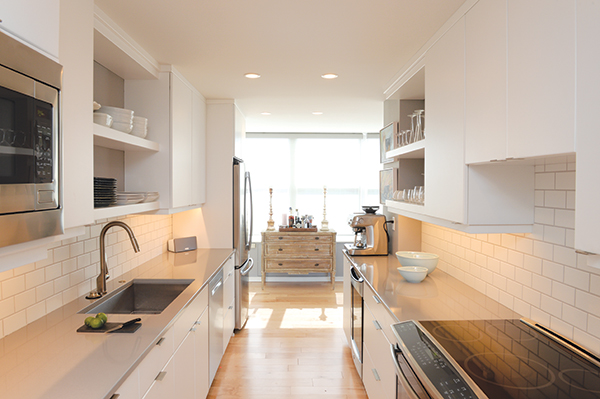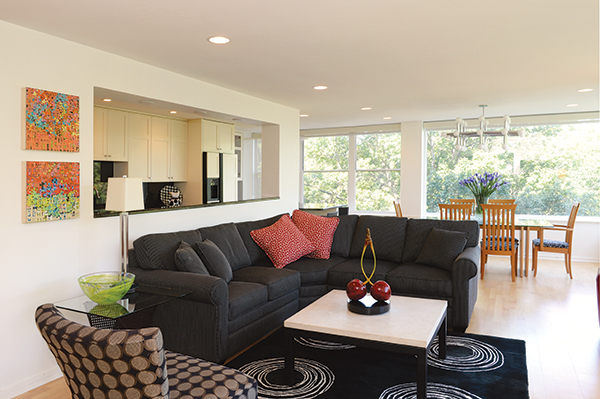 The kitchens at 3660 were originally galley kitchens, lined on either side with cabinetry and countertops. Bev and Mike Hutney appreciate that separation and functional focus in their home, shown at top. On the fifth floor, Connie and Richard Isaacson opted for a common modification that has its own fans: a pass-through opening that brings cooks into the conversation with guests and makes the 1,850-square-foot space feel bigger to them. "We've made almost every room have a dual purpose," Connie says. A guest room is also an office, the bath has laundry capability, and a pocket door allows a third bedroom to become an extension of the family room.