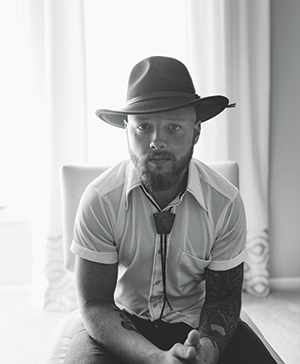 Writer: Chad Taylor
Photographer: Joseph Leaming
If you're a fan of local music, or have been pretty much anywhere it's happening in the last few years, odds are that you've encountered the Maytags. The band, fronted by Des Moines native Dustin Smith, has played the 80/35 Music Festival, been featured on Iowa Public Radio's "Studio One" program, played a residency at the Lift and opened for several acts in the Nitefall on the River series.
And with good reason: The band's funky, blues-tinged sound and Smith's slinky, decadent vocals have made the band a crowd-pleasing go-to for venue owners and promoters who are looking to draw people to their events. Now, with last summer's release of their first album, "Love Lines," the Maytags are bringing their sound to a wider audience.
Smith took a meandering route to get to where he is now. After graduating from Lincoln High School in 2005, he packed his bags and headed to New York City, intending to start his career there and never look back. He enrolled in a two-year program at The Collective School of Music, an intensive experience of instrumental learning.
But after his first year, Smith says, "my dad had gotten really sick, and I decided that I needed to come home to concentrate on that." When his father died about eight months later, "I stuck around to help my mom out."
He returned to New York in early 2008 and re-enrolled in music school, this time working on a BFA in jazz performance at City College in Harlem. But with Smith having a full class load, working student jobs to make his rent money, playing gigs whenever he could find them, and still struggling to come to grips with his father's death, the stress eventually wore him down.
"I don't think I'd taken a second to grieve through the process of my father's passing," he admits now at age 29. "So when I went back to New York, I think it all kind of hit me like a rock."
By the end of summer 2008, Smith was looking to come back home. "I didn't really tell anyone," he says. "There was kind of that sense of coming back with your tail between your legs. But I did hit up a couple of guys in town who I'd known from playing jazz and said, 'Hey, I'm coming back. I've got some original music, and I want to put on a show.' "
That show, a sold-out affair at Vaudeville Mews in 2008, was the catalyst for everything Smith has done since. Seeing the reception to his music re-stoked some of the fires that the previous two years had smothered. He began working through some long-simmering emotions, and a year after that first show, Smith released "Burgess."
A tribute to his father, the EP is about the process of grieving, Smith says.
He reconnected with his longtime friend Paige Harpin, and the two began working on songs together. In 2010, the pair formed Dustin Smith and the Sunday Silos, a collaboration that eventually resulted in the 2012 album "Northerner."
In 2014, Harpin and Smith parted ways creatively, and Smith moved on to forming the Maytags. "I feel like it's a very natural process," Smith says of the evolution from the Sunday Silos' singer/songwriter fare to the Maytags' horns-and-bass groove. "I think I was really pushing, trying to develop a soul music sound. Whether I knew it or not, that was what I was listening to and what I was trying to write."
The band released the album "Love Lines" this past July to a near-capacity crowd at Wooly's, and now Smith's focus is on developing the band's profile in the rest of Iowa, and getting more people to pick up what he's putting down.
"All of us in the band feel really good about the product," he says of "Love Lines" and the new material he's already started writing. "We're excited to get it out there."