Above: Rimmed by hazy hills, the warm wash of sunlight across the canyon floor bears out the name of Sunridge Canyon Golf Course.
Writer: Kelly Roberson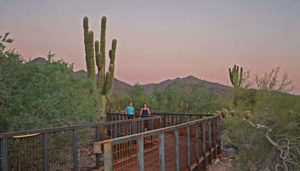 Long before U.S. Army chaplain Winfield Scott laid eyes on the territory that was to become Arizona, Native American tribes—the Apache, the Navajo and the Pima, to name a few—roamed the arid plains and mountains that distinguish the state. Much like those original inhabitants, Scott was drawn to the wild, idiosyncratic beauty of the region. But unlike most of the native tribes, Scott also saw agricultural potential. In 1888 he agreed to pay approximately $3 per acre for 640 acres of rich soil in the Salt River Valley.
Given the present-day town that bears his name, Scott's investment in Scottsdale was a moment of uncanny clairvoyance: Scottsdale has been in an almost perpetual state of boom since the end of the Great Depression. Scott's peanut, citrus and grape plantings have given way to spas, golf courses and botanical gardens, as well as a population of over a quarter-million people.
Many, like Des Moines residents Peggy Fisher and Larry Stelter, were drawn by the weather, especially in winter months—opposite in every way to Iowa's. After visiting a few times, Fisher and Stelter, owners of the Stelter Co., decided to rent a place for a month. While on the hunt, they went for a walk, saw a house with a "For Sale" sign, fell in love, and put an offer on it the next morning. "We love to cook and we entertain all the time," Fisher says. "Everybody has an outdoor area. We have a fireplace and a TV outside, and we can be outside all the time. In the winter, that's a huge draw."
From January through about April, you'll find Fisher and Stelter with the windows open, basking in the sun, enjoying fruits of labors Scott would never have dreamed of 150 years ago.
Seeing Scottsdale: Old Scottsdale is the remnant of the city from its time as a way station to California and as a cowboy town. Modern-day Scottsdale is divided into four areas—Old Town, South, Central and North, where Fisher and Stelter live.
Getting outdoors: The couple's home is on a golf course, and that's a draw for many who visit and live in the region.
"Golf is the biggest thing to do, and there are a gazillion golf courses," Fisher says.
The couple walks every morning, and Stelter hikes in the nearby McDowell Mountains. Good trails to try include the 3.5-mile loop to Pinnacle Peak, or the popular 4-mile trip to Tom's Thumb.
Shopping: Boutiques and open-air malls dot the city; Fisher's favorite is Kierland Commons, which is full of shops and restaurants. Another well-known spot: Fashion Square, which borders Old Town Scottsdale. "It's the biggest shopping center I've ever seen and has everything you could ever imagine, from Barneys to Tiffany & Co. and little stores," Fisher says.
Restaurants, restaurants and more restaurants: There's no shortage of places to dine, and "everybody eats out all the time," Fisher says. She loves the Herb Box, a favorite neighborhood lunch haunt that specializes in seasonal and regional cuisine. If she's taking company out for a midday meal, she'll go to Zinc Bistro, a French-inspired restaurant with outdoor and indoor garden patios. At Tutti Santi, a family-owned Italian spot, Fisher and Stelter enjoy sitting in the bar area and feasting on a veal dish.
Outside North Scottsdale, they go to Olive and Ivy with its outdoor patio and canal: "You don't see a lot of water in Arizona," Fisher says. But her favorite restaurant is Elements at the Sanctuary Resort. "It's very elegant, with extraordinary views of Paradise Valley," she says.
In bloom: Fisher loves visiting the Desert Botanical Garden. Although technically in adjacent Phoenix, it's just 20 minutes away from the couple's home in Scottsdale. The garden's 140 acres are packed with over 20,000 plants, and there's always a different, rotating exhibit. Last year the garden featured sculptures by glass artist Dale Chihuly. "To see those outside, looking like a cactus amidst the natural cactus, was beautiful," Fisher says. The garden also has a Music in the Garden series.
What to wear, and what to watch: There's great people-watching in Scottsdale, Fisher says, but if you overdress, you'll stick out. "The outfit there is workout clothes," she says, although dinner might be jeans, heels and a blouse.
Find out more: Experience Scottsdale, experiencescottsdale.com; Greater Phoenix Convention & Visitors Bureau, visitphoenix.com.