Above: Papers, card stock and block letters, with a faint scent of machine oil, all contribute to the warm atmosphere of the Permanent Collection, a cozy custom print shop on East Sixth Street.
Writer: Dan Weeks
Photographer: Duane Tinkey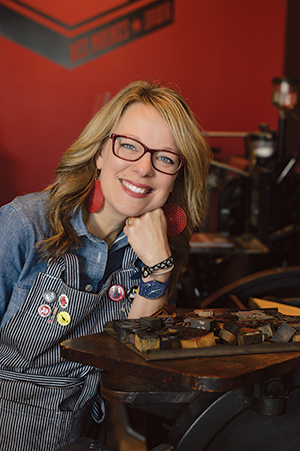 As a girl, Sarah McCoy "was always drawing, mostly letterforms. I drew on all my walls and dolls and books," she recalls, leaning against a 1916 Chandler & Price printing press in her East Village print shop. "My mother enrolled me in a calligraphy class when I was in second grade."
Her interest only grew from there. A 1999 graduate of the University of Iowa, she majored in graphic design and journalism "because journalism offered courses in typography and the history of books and printing. I loved it." In fact, she loved it so much that she returned to receive advanced degrees in 2003 and 2005.
A year later, married and a mother of two, she dived into a career that includes the entrepreneurial passion of her print shop and imparting her enthusiasm for print and design as an assistant professor of design at Drake University.
With her time divided among family, work and art, at age 41 McCoy doesn't sit still for long. She virtually interviews herself while whirling around her print shop and retail store. She grabs examples of her work out of horizontal files and gestures to more pinned to the walls—original-design, letterpress-printed cards, stationery, posters—even T-shirts.
"People come in here and say, 'Wow, did you make all this stuff?' " she says. "I tell them, 'Well, not yesterday, but yes. I've been doing this a long time,' " first on university equipment at UI—"I hogged all the press hours," she confides—then in her basement and garage, and now here, at her shop, the Permanent Collection, at 520 E. Sixth St.
Like an artist with a pallet knife, she mixes her own ink colors on thick glass plates and runs jobs on four presses lined up along a wall. Two came from an old print shop in Shenandoah.
Mesmerizing Precision
When nudged into motion, the machines perform an incredibly complex, tight-tolerance choreography, inking and printing designs. Paper is hand-fed, one sheet at a time, into the click and whir of the press's plates and rollers. Her biggest machine, a 1940s-era Heidelberg she uses for larger runs, is self-feeding. "But you still have to baby-sit it," says McCoy, who even during a brief demonstration seems mesmerized by the machine's precision.
Multicolor jobs require multiple press runs. Each pass leaves an impression on the paper that gives McCoy's work an almost sculptural quality.
Back when these presses were built (the newest is from the '50s), each printed page required an elaborate composition of hand-placed metal type, wood type or acid-etched metal plates. Now, fonts and designs can be created from digital files or freehand drawings and cast in sheets of polymer. The presses use these sheets just like the traditional materials to create a product that has the textured surface and rich color of vintage printing, but offers new design flexibility, particularly for illustration.
"My favorite pieces are a mix of old metal and wood type and digitally created polymer plates," McCoy says. Ink-stained wooden fonts in old glass display cases divide the print shop's work area from its retail displays. There's more type in a battered, multiple-drawered wood type-case on the shop's back wall.
Three Roles
McCoy likes being involved in all aspects of her work, from customer consultation to design to selection of the paper, type and packaging. Being a designer/printer allows her to be an artist, a craftswoman and a machine operator. She likes all three roles. "Yesterday I was in here 10 hours, cranking through a job," she says cheerfully.
"I've never had a formal business plan," she admits. "I'm not in it to sell the most work. I want to do good work for great people, and I work hard at it. I want my work to resonate with those it most needs to. I want to design and set and print a poem a husband wants to share with his wife on their 50th wedding anniversary.
"I love being a part of the East Village and … watching people's surprise when they discover all thatDes Moines has to offer. I love being on the cusp. That's where you thrive."
While McCoy is talking, a customer wanders in, peruses the stationery, and choses a box to bring home to his wife.
"It's nice to see people doing old-school stuff," he says. "I still write letters on my IBM Selectric. These days everything is so disposable: Facebook. G-mail. Text messages. They're here and they're gone. I used to teach college, and I told my students the most important person in the history of Western civilization was Guttenberg."
McCoy is quick to agree: "I call my business the Permanent Collection because when you make an impression with a letterpress piece, it's there to stay."
The customer leaves with a smile.
Resurgence of Letterpress
All of this makes Rick von Holdt smile, too. A past president of the national Amalgamated Printers Association, von Holdt is a collector and printer with a private shop in his home near Perry.
"Sarah McCoy is very creative and a great example of the resurgence of letterpress printing," he says by phone from a printer's convention in Wisconsin. Formerly a male-dominated industry, today letterpress is appealing to a growing number of women, he adds. McCoy, for example, is a member of a national group called the Ladies of Letterpress.
The tactile aspect appeals to consumers, too, von Holdt notes. "They like the look of the page, with its imperfections, and that distinctive feel. It's very real, compared to the bland consistency of modern computer printing."
That bodes well for artisans stirring the resurgence of the printing craft, people like McCoy or Tammy and Adam Winn at the Red Door Press, located in Mainframe Studios. They're all dedicated to elevating their craft and expanding its audience.
Creating a Future
What's next for McCoy? She pauses. "I could use a bit more space," she says, "but I'm happy here.
"I could use more time to create, to work on new products, new series. There's a printing museum in northern Italy that has some obscure wood type. I'd love to get in there and play with their type on press," she muses, looking off. Then her eyes snap back into focus.
"But seriously!" she says. "All that would take away time from what I do here, and I love what I do here. I love it when people walk in with an idea. And I hate to turn down a job."