A magazine cover is like fine gift-wrapping—lovely, evocative, tantalizing, intriguing. At dsm, our covers generate more response than any other part of the magazine; readers aren't shy about letting us know when they love a cover—and when they don't.
And what a variety of subjects we've featured on our covers: dogs, cats, kids and chickens; artwork and jewelry; ballerinas, actors, models and more. All of our covers (and dsm editorial pages) are created by design director Annabel Wimer.
Some photos are created specifically for covers. Others become cover candidates when we recognize their potential while designing stories. The selection is made by a committee—made up of our chairman, president, publisher and editorial team. An exchange of thoughts typically grows into a lively discussion as we consider mockups of potential covers. Here's a look at our 15 all-time favorite covers, ranked in order of our preference.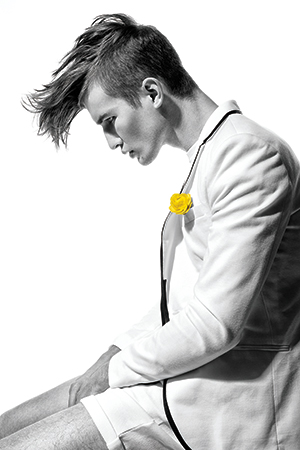 1. May/June 2014
Photographer: Ben Easter
The profile. The yellow flower. The head tilt. THAT HAIR! Sharp, smart and fun, this cover is an enduring treasure to all of us at dsm. When we met with photographer Ben Easter to discuss ideas, the only direction we gave him is that we'd like the cover to somehow convey a touch a spring. That's it. Ben took it from there, developing the concept, finding model Winston Relph, gathering the creative team and doing the shoot. We remain utterly beguiled by the result.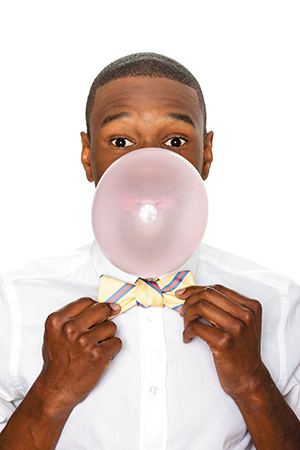 2. The Men's Book, 2012
Photographer: Kathryn Gamble
This lifts our mood every time we look at it. In fact, the editor loves it so much she has a poster-size copy of this cover in her office. To prepare for the shoot, photographer Kathryn Gamble and art director Lindsay Berger tested six different types of bubblegum to find the right color. "We chewed so much gum my jaw hurt," Kathryn recalls. Capturing the perfect bubble took a few tries, but model James Sanigular "was an excellent bubble blower," she adds.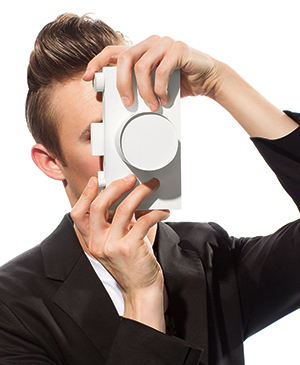 3. November/December 2014
Photographer: Ben Easter
This cover is yet another example of Ben Easter's clever approach to his work. A portrait where you don't see the face? Sure. A real camera? Heck, no; what fun would that be? Instead, model Eric Brockob, who is a local photographer and postproduction specialist, made the camera out of cardboard, enhancing the cover's irresistible appeal.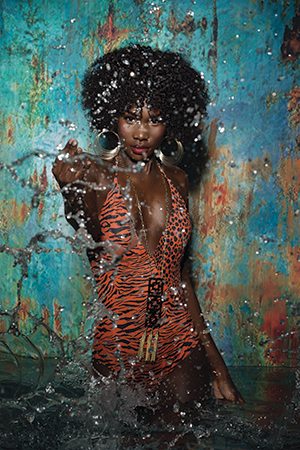 4. May/June 2016
Photographer: Kari Shannon
We love the 1970s vibe of this cover: the big earrings and big hair and orange animal-print swimsuit. Model Adot Gak captured that era's look with aplomb. The most challenging part of the shoot, which took place at Advertureland Inn's pool, was "getting just the right splash in the shot," says photographer Kari Shannon. Clearly, she succeeded—and had fun in the process: "I love shoots involving water."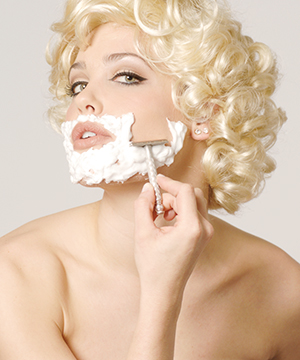 5. The Men's Book 2009
Photographer: Duane Tinkey
In 1965, Esquire ran a now-iconic cover photo of Italian actress Virna Lisi appearing to shave her face (the magazine re-created the concept in 2008 with Jessica Simpson). We loved the original so much that we decided to shamelessly "ROAD"—rip off and duplicate—it, as we say in the publishing biz. Model Savannah Wadsworth pulled it off with cheeky charm.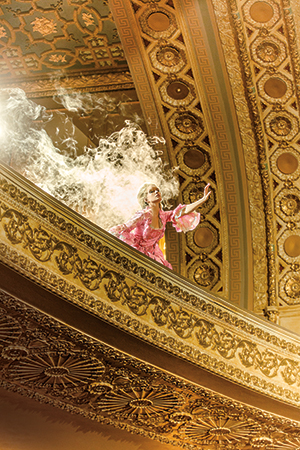 6. May/June 2015 
Photographer: Ben Easter
Opera isn't only about the singing; costumes and scenery star as well, creating a world that can make the experience magical. For a story in this issue, the dsm team took over Hoyt Sherman Place to photograph the costumes that were featured in Des Moines Metro Opera's productions that year, including this 18th century-style dress modeled by Abi Rouw.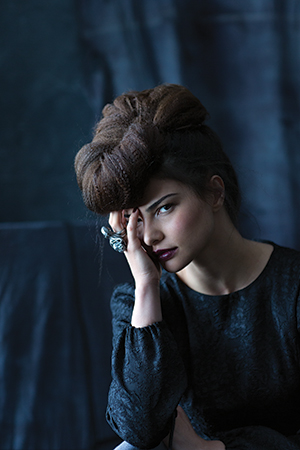 7. September/October 2015
Photographer: Kathryn Gamble
Model Carolina Brandao exudes style, sophistication and mystery as she draws you into the cover and to the story inside, which spotlighted Midwest fashion designers.
8. July/August 2015
Photographer: Tonya Scarcello
As our regular readers have undoubtedly figured out by now, we at dsm are ardent dog lovers. Dogs have starred on several covers—Dee, an endearing bloodhound; LuLu, a spunky standard poodle; Zeke, a soulful-eyed Weimaraner. This pooch stole our heart as well: Apollo, a Leonberger mix, was an affectionate 7-month-old pup when photographer Tonya Scarcello snapped this shot. Adopted from the Animal Rescue League of Iowa, Apollo is no doubt a bigger boy by now; male Leonbergers can weigh in at 150-plus pounds.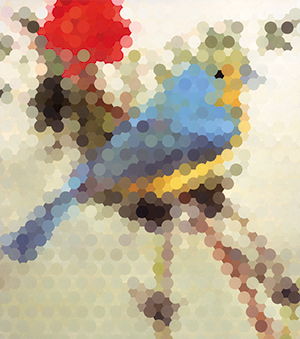 9. May/June/July 2013
Artist: Alex Brown
We often showcase stunning works by talented local artists on our covers, and this one by Alex Brown is no exception. We were especially drawn to "Bird" (oil paint on canvas) for its springtime subject matter and subtle beauty. Brown keeps a low profile in Des Moines, but his works, which show a complex mastery of color and abstraction, have drawn international acclaim and fame. As Jeff Fleming, director of the Des Moines Art Center, said of Brown: He "uses so many sources—cubism, op art and others. Yet he always comes back to abstraction in the fashion of a virtuoso."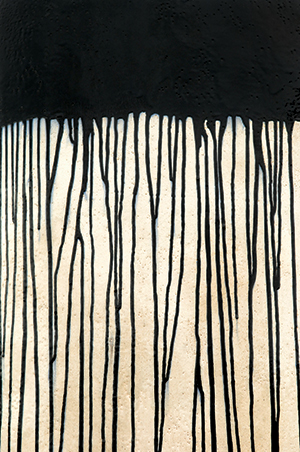 10. February/March/April 2013
Photographer: Duane Tinkey
After Omaha artist Jun Kaneko's five ceramic "dangos" were installed along the Principal Riverwalk, dsm design director Annabel Wimer had an idea: Provide our readers with a more unconventional, and intimate, view of the pieces by zeroing in on a portion of one of them. The result is an intriguing perspective that showcases the work's texture and graphic artistry.
11. January/ February 2018
Artist: Ding Darling
"The Baker's Boy," created by Iowa legend Jay N. "Ding" Darling, immediately captivated us when we saw it. The only illustration we've ever featured on a cover, the work evokes a long-gone time—how many people do you know who can ride a bicycle while balancing a huge platter of bread on their head and smoking a cigarette? "The Baker's Boy" is just one of many characters Darling (1876-1962) drew during his world travels a century ago. His sketchbooks and other artifacts form the foundation for a new center that commemorates the conservationist and Pulitzer Prize-winning Des Moines Register cartoonist.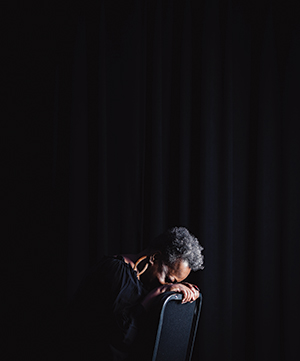 12. July/august 2017
Photographer: Jami Milne
Featuring Claudine Cheatem, general manager of Pyramid Theatre Company, this arresting photo is one of the most dramatic and evocative we've ever published as a cover. It drew a range of emotional reactions from our team as well as from our readers. As photographer Jami Milne put it: "The image left me with many emotions. You can't tell if she's laughing or crying, if she's hiding or resting, if she's acting or experiencing true heartache."
13. July/august 2016
Photographer: Duane Tinkey
Spotlighting Restaurant Week, this cover also reminds us how far the city's dining scene has come since 2003; you really wouldn't have found this level of imaginative and exquisite cuisine 15 years ago. For the photo, dsm staff photographer Duane Tinkey captured the precise detail that defines dishes created by David Baruthio, chef-owner of Baru 66.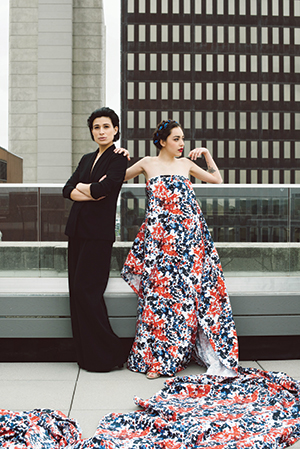 14. September/October 2016
Photographer: Joelle Blanchard
We've featured many models on our covers, of course, but never the actual fashion designer—until this issue. Designer Laura Rodriguez (left) creates custom gowns, including the one modeled here by Maria Avalos. The look and style of the two women, the gown that revives the glamour of a bygone era, the setting atop a downtown building—all combined to win us over.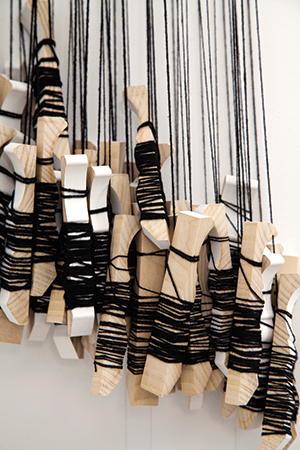 15. November/December 2017
Artist: Olivia Valentine
This detail from an installation by Des Moines artist Olivia Valentine appealed to us because, as dsm design director Annabel Wimer says, the "object and palette are so calm and quiet. It's different than what a typical 'grab your attention' cover would be." The permanent installation, which is in Chicago, suggests a pair of casement windows; this detail consists of pieces of actual window trimwork that were remnants of a remodeling.