Writer: David Elbert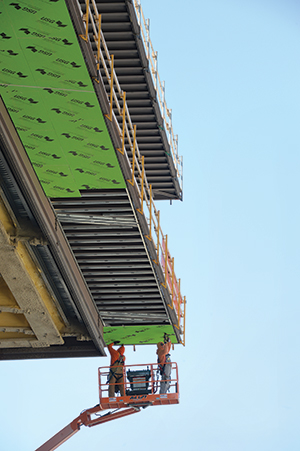 Five years ago, when we celebrated dsm's 10th anniversary, we listed 10 things we wanted to see accomplished in the coming decade. Since then, four of those goals have been achieved, three are works in progress, and three are still on the drawing board (see story, page 93).
Rather than produce another list, this time we'll take a broader look at where we are, where we're headed and how to get there.
We'll start with a quotation from legendary developer Bill Knapp, who recently said: "I have never seen a time when downtown is on a growth spurt like it is now."
Knapp, who turns 92 this summer, cited several reasons, including the fact that nearly 100,000 people work downtown and more than 10,000 now live there.
Downtown has more plans than ever, including two that
could be game changers along the lines of the Iowa Events Center and the John and Mary Pappajohn Sculpture Park.
One involves efforts to turn the downtown riverfront into a white-water venue with opportunities for canoes, kayaks, water taxies, zip lines and skateboards.
The other is the grand proposal of New York architect Mario Gandelsonas to push Des Moines into national leadership of the local food movement by developing a series of greenhouses stretching across the southern edge of downtown from the state Capitol to Meredith Corp.
We'll look at both, but first let's consider the trends that have placed Des Moines in the national spotlight in recent years.
Downtown Housing
Tens of thousands of people lived downtown during the first half of the 20th century. But a mass exodus occurred after World War II, and very little new housing was built downtown until 2001 when Leslie Gearhart and Jodi Beavers remodeled the adjacent Arlington and Hallett apartment buildings at 13th and Locust streets. By 2007, others had jumped in and added 1,200 new downtown units.
Today the downtown area has 7,600 residences, not counting the nearby Sherman Hill neighborhood. Last year alone, 1,736 housing units opened. This year, another 1,700 are under construction or being planned.
So far, the distribution has favored the south and east, with 1,457 units on the south near Martin Luther King Jr. Parkway, 1,312 in the central core, 1,214 in the East Village, 588 in the Court Avenue area, 449 in the west end and 229 north of downtown.
In the future, most of the growth will come in what developers call the Market District, south of the East Village, and south of MLK where Hubbell Realty and Minneapolis developer George Sherman have accumulated large parcels of land.
"In 15 years, you won't recognize those areas," says Matt Anderson, Des Moines' assistant city manager for development.
Downtown Retail
The downtown housing boom prompted Hy-Vee last year to open the city's first modern urban grocery store on Court Avenue. The opening was hailed as a retail landmark.
But the truth is retail has been gradually returning to the city center since Kelli Linnemeyer opened Projects Contemporary Furniture in the East Village in 1998. Her effort encouraged a handful of additional entrepreneurs to open niche stores, including Kitchen Collage and others that sold everything from clothing to local art to specialty foods.
In 2005, Mike Draper launched Ray Gun, a funky T-shirt shop that grew to become Iowa's most eclectic gift store. A year later, developer Jack Hatch opened an apartment building at 333 E. Grand Ave. that featured work/live lofts for a dozen small businesses.
In recent years, scores of new and expanding small businesses have flooded the East Village. So have two new hotels and enough eating and drinking venues to challenge Court Avenue's claim as the city's entertainment district.
Retail development on the west side was delayed by the 2014 fire at the former Younkers store, but niche businesses are now sprouting along Walnut Street in the area south of Western Gateway Park.
One of the new landlord/developers in that area is Kum & Go chief Kyle Krause, who began acquiring properties after deciding to move the headquarters of his chain of convenience stores from West Des Moines to a site on Grand Avenue, across from the park.
Downtown Commercial 
With its array of world-class sculpture collected by John and Mary Pappajohn, Western Gateway Park was conceived by New York architect Gandelsonas as a centerpiece for attracting high-end commercial development, and it has done precisely that.
Nearby corporate campuses are occupied by health insurer Wellmark Inc., Wells Fargo, Nationwide Insurance and Meredith Corp., the world's largest magazine company.
At the eastern edge of the park are the golden glass walls of the $32 million Des Moines Public Library, completed in 2006 and designed by renowned British architect David Chipperfield.
Soon, Chipperfield's library will be paired with the equally stunning Krause Gateway Center designed by Italian architect Renzo Piano, whose work includes the visually distinctive Shard high-rise in London and the 52-story New York Times Building.
The scale of the $151 million Krause Center is understated to keep the building from overwhelming the park. But its four floors with unique rooflines reflect its location on a block where the downtown axis shifts 14 degrees from the city's pre-1850 alignment with the Des Moines River to the more typical north-south/east-west grid.
The Krause Center reflects a trend among employers to create unusual workspaces to attract 21st-century workers, says Erin Olson Douglas, Des Moines' economic director. It will include an outdoor bocce ball court and human-scale chess set, as well as a rooftop patio.
Another example of this trend, Olson Douglas says, is Principal Financial Group's $200 million renovation. The downtown corporate campus features state-of-the-art collaborative workplaces and a massive atrium at its 711 High St. headquarters.
White Water
Efforts to make the Des Moines River more accessible began in the late 1800s and resulted in two notable successes. In the early 1900s local leaders created a riverside "civic center" district with seven public buildings, including the city's library and a stately city hall. The second success grew out of the city's 1990s Vision Plan and produced the Principal Riverwalk with its distinctive Women of Achievement Bridge overlooking the Center Street dam.
Now a third effort is underway to make the river accessible to small watercraft, as well as to create adventure venues for water sports, zip line riding and skateboarding. That may sound daunting, but it is no less attainable than the 1890s goal of turning a river that had become an open sewer hidden by ugly billboards into a downtown centerpiece of graceful public buildings and gardens.
That early effort to beautify the river took more than three decades and cost the equivalent of more than $100 million in 2018 dollars. Like the current effort, it began with a single step, raising money for a public library.
There is no timetable for the current effort, but advocates of a dynamic riverfront have already taken several steps, including raising $500,000 to create a plan and tying their efforts to statewide water-quality issues. In 2017, river visionaries launched a second fundraising campaign for a riverside skateboard park, and they have buy-in from key private sector leaders, including Hubbell Realty chief Rick Tollaksen, Principal Financial Group's Dan Houston and Kum & Go's Kyle Krause.
Ultimately, they hope to remove two downtown dams, pull back the riverbanks for public access and add boulders to create an area for white-water paddlers.
Greenhouses
The proposal to build up to two miles of high-tech greenhouses on the southern edge of downtown near an existing rail line is a bold goal. In fact, it is so bold that at first glance it may seem impossible, which is what many people said 30 years ago about the Pappajohn Sculpture Park and the East Village.
Like those earlier successes, the greenhouse concept is designed to benefit multiple constituencies and ultimately create high value for property that has been largely absent from development conversations.
Proximity to Des Moines' well-trafficked Downtown Farmers' Market helped start the conversation that led to the greenhouse idea, according to New York architect Gandelsonas.
He says the greenhouses could give Des Moines a leadership role in the national conversation about local food because they would supply year-round produce for Greater Des Moines restaurants and stores. The structures would also be educational, offering research tools for agricultural studies. And, they could be designed with spaces for concerts and other gatherings. When lit, he adds, the glass houses could cast a spectrum of colors into the night sky, creating a unique landmark.
The obvious impediment is financing. At one point, local developer and philanthropist Jim Cownie hoped that farm, food and energy groups would see the value and back the greenhouse concept.
But that support has been slow to develop, and a portion of the debate has shifted to whether the project would be better if pursued as a philanthropic effort with buy-in from local and national governments and nonprofit groups.
"There is interest," says Krause, whose new Kum & Go headquarters building is a few blocks from the nearest proposed greenhouse site. But, he adds, "I just don't know if the economics are there yet."
Ultimately, what both the downtown river project and the greenhouse concept need are engaged leaders from the private and public sectors who can work together as happened with the Des Moines Vision Plan in the 1990s and the statewide Vision Iowa effort in the early 2000s.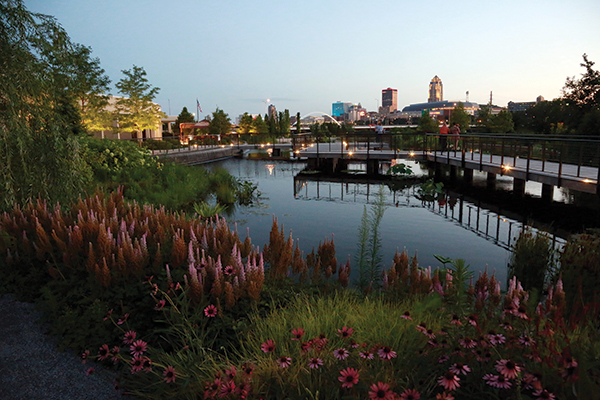 Five Years Later
Here are outcomes of our 10-project wish list from five years ago. 
Four of our 10 proposals are accomplished: The Greater Des Moines Botanical Garden (pictured) underwent an $11.6 million makeover. The Iowa Events Center's new Hilton Hotel opened in March. The half of the former Younkers Building left standing after a 2014 fire has been converted to apartments. And the former Nollen Plaza received an $8 million face-lift and is now Cowles Commons.
Three proposals are works in progress: to create new recreational space along the riverfront and in new neighborhoods; to attract new retail and nightlife on Walnut Street; and to develop the site of the former riverside YMCA.
Three suggestions are still on the drawing boards after state budget cuts sidelined proposals to find a new role for the State Historical Building and to bring passenger rail service to
Des Moines. Meanwhile, efforts to attract major retailers are sidetracked by industry changes, including the growth of online sales.
---
15 Big Changes in 15 Years 
Major changes in downtown Des Moines since dsm magazine launched in 2003:
The Science Center of Iowa was relocated in 2005 from Ashworth Park behind the Des Moines Art Center to a new $62 million museum on the south edge of downtown along Martin Luther King Jr. Parkway.
The $217 million Iowa Events Center's Wells Fargo Arena, Hy-Vee Hall and Iowa Hall of Pride opened in 2005. Seven years later, the adjacent Veterans Memorial Auditorium received a $42 million makeover.
In 2006, the Des Moines Public Library moved its downtown branch from the west bank of the Des Moines River to Western Gateway Park and a $32 million building designed by British architect David Chipperfield.
The John and Mary Pappajohn Sculpture Park was created in 2009 when the Des Moines couple donated 27 sculptures worth $40 million. Business leaders raised $6 million for landscaping, installation and security.
The 1.2-mile Principal Riverwalk opened in stages in 2006, 2011 and 2013. Principal Financial Group led the $72 million effort, which includes the dramatic Women of Achievement Bridge and other attractions.
In 2011, the 1903 beaux-arts downtown library building underwent a $30 million transformation to become the World Food Prize Hall of Laureates. The family of World Food Prize benefactor John Ruan led the effort.
The opening in 2012 of a new $21 million DART Central Station was a game changer for mass transit. It moved bus travel into the digital age with GPS tracking and removed congestion from Walnut Street.
Ownership of the Greater Des Moines Botanical Garden moved from
Des Moines Water Works to a private foundation in 2013, with the foundation completing a two-stage, $18 million renovation and expansion in 2015.
In 2012, the city sold its 1937 art deco fire station to the Des Moines Social Club for $600,000. The nonprofit spent $6 million converting it to an event and performance space and a restaurant that opened in 2015.
The $11 million makeover of Nollen Plaza in 2015 included a new name, Cowles Commons, a unique light sculpture by artist Jim Campbell and a "red brick carpet" leading to the Civic Center's front door.
The first phase of a new $30 million Wellmark YMCA opened in 2015 in the former Polk County Convention Complex, but financing for an Olympic-style pool stalled and the pool did not open until this year.
In 2017, developer Justin Mandelbaum turned a 1980s telephone building on Keosauqua Way into Mainframe Studios. The $12 million conversion created studios for up to 180 local artists and performers.
The East Village has changed radically in recent years, adding two new hotels, more than a dozen new restaurants and bars, scores of housing units, and retailers from stylish West Elm to funky Ray Gun.
Hy-Vee's new $10 million food store is one reflection of a downtown housing boom that has added 6,200 units worth more than $1.2 billion since 2003 with
another 1,000 units in the planning stage.
The $151 million Krause Gateway Center, designed by Italy's Renzo Piano, is the perfect neighbor for the Pappajohn Sculpture Park. The new headquarters for Kum & Go convenience stores opens this fall.
---