Above: Stephen Metcalf, "I Don't Know Why He Chose Me" (detail); oil on paper, 22 by 30 inches. Metcalf's works can be found at Olson-Larsen Galleries, a mainstay in Valley Junction that represents about 55 regional and national artists.
Writer: Jody Gifford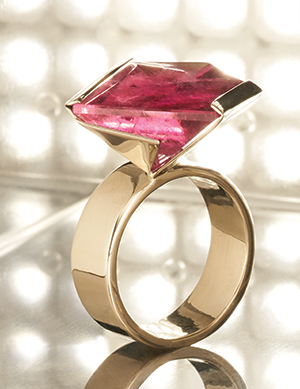 If 2017 was any indication, the 2018 holiday shopping season is poised to be one of the best yet. Low unemployment, increasing wages and a rising stock market led to record holiday spending last year, according to the National Retail Federation. Confidence in the economy coupled with a willingness to open their wallets suggests consumers will be hitting the stores with zeal this year.
But while shoppers are on board to spend, two trends—an increase in online shopping and the erosion of once-mighty department stores—indicate they may seek a more convenient, personalized and unique shopping experience.
This is great news for retail districts like Valley Junction in West Des Moines. As it celebrates its 125th anniversary in 2018, Valley Junction is experiencing a revival that may bode well for holiday shoppers.
Jim Miller, executive director of the Historic Valley Junction Foundation, says the district's eclectic mix of retail, professional services, and food and beverage options is bringing new faces to the area like never before.
"When I started [13 years ago], we were still known for antiques. We now have less than a handful of antiques stores," Miller says. "The demographic has shifted. As it continues to get younger, we're seeing new businesses coming in, and new business owners bringing new ideas and new customers. It's an entirely different crowd."
From July 2017 to June 2018, Valley Junction welcomed 11 businesses that were new, relocated or expanded, Miller says. During that same time, 48 building renovations and rehabilitation projects signaled business owners' willingness to invest in the historic area rather than seek out newer options elsewhere.
Ann Harmon is one of the business owners who moved to Valley Junction. Harmon, owner of From Our Hands, relocated in March from the East Village to 136 Fifth St. She says the move came after 12 1/2 years at the corner of East Fourth and Locust streets.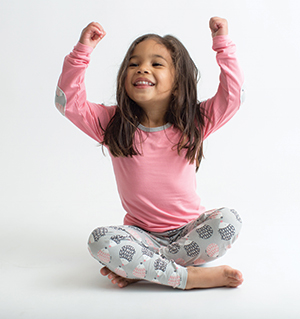 "My lease was up in 2020, and Sticks had first option on my lease," Harmon says. "I didn't know if I had a spot.
I had been looking, but for the size I needed, I had been priced out of the market. I needed something in a reasonable price range for a small business. … In any case, it seemed to be a good time to look somewhere else."
From Our Hands is an "American craft gallery" according to Harmon, selling pottery, glass, jewelry, sculpture and other handmade objects, some from local artists. Valley Junction has proved to be a good fit for the business, she says.
"I hadn't been down here in a very long time," Harmon says of Valley Junction. "When I first visited, I saw the growth spurt and was surprised at the nice variety of shops. I was rediscovering it too. I saw a lot more opportunity for exposure."
Susan Watts, owner of Olson-Larsen Galleries at 203 Fifth St., says the mix of old and new retailers not only keeps the area fresh and appealing to shoppers, but also to the business owners themselves.
"We have a nice mix of stores—like other districts do, as well—but part of it is a lot of retailers have been here a long time," Watts says. "It's a tight-knit community. We help each other out. That's reflective of the foundation of the district. It's a great community vibe. We're quirky, but that really helps."
---
Holiday Events In Valley Junction
Sip & Shop—Girls' Night Out: Nov. 1 and 8, 5-7 p.m.
Shop and socialize after hours at participating stores.
Small Business Saturday: Nov. 24, all day.
Jingle In the Junction: Nov. 29, Dec. 6 and 13, 5-9 p.m.
The businesses and streets will be lined with over 150,000 lights. The event also will include horse-drawn carriage rides, Santa Claus and caroling.
More information: valleyjunction.com
---
Shopping in Valley Junction
The next time you're in Valley Junction, check out the neighborhood's newer stores, as well as old favorites, starting in the 100 block of Fifth Street and strolling your way north.
A Okay Antiques:
With a focus on midcentury modern design, owner Steve Mumma packs his antiques shop, a longtime neighborhood staple, with an eclectic mix of merchandise. Big items like jukeboxes and furniture live next to vintage toys, jewelry, clocks and ceramics. As you browse all the fun finds, it's easy to lose track of time.
124 Fifth St.; aokayantiques.com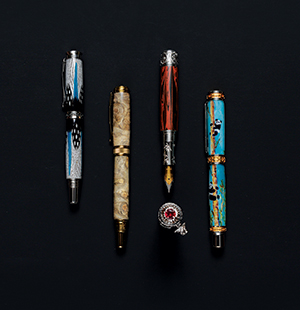 Beautifully crafted pens made by owner Rob Beers at Quill & Nib.
Quill & Nib:
This is a store for the serious pen aficionado and anyone who appreciates handwriting and stationery. You'll discover beautifully crafted fountain pens, roller balls, ballpoints—any way to get ink on paper. Many of the pens are created by owner Rob Beers, who transforms slim blocks of exotic woods and decorative acrylics into sleek pen barrels. While pens are the stars here, Quill & Nib also carries art supplies, portfolios and briefcases. 133 Fifth St.; valleyjunction.com/business/quil-nib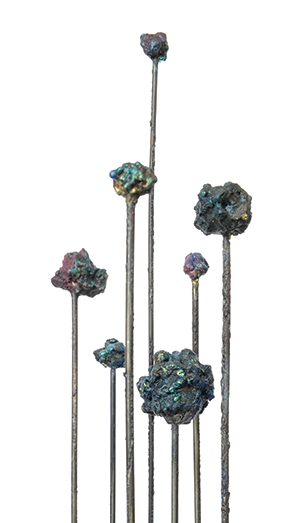 Brutalist sculptures by nationally acclaimed artist James Bearden command attention at From Our Hands, which also offers works by other well-regarded regional artists.
From Our Hands:
Owner Ann Harmon possesses a well-honed skill for curating, filling her store with striking works by well-regarded regional artists. Find an impressive selection of brutalist sculpture by nationally acclaimed Des Moines-based artist James Bearden, plus work from other local artists including Linda Lewis (sculpture), Rod Townsend (vessels made of xylem), retired architect Scott Stouffer (watercolor), and Steve Aitchison of Ames (porcelain vessels). 136 Fifth St.; from-our-hands.com
2AU Limited:
Everything in this contemporary jewelry design center and art craft gallery is exquisite, from owner and jeweler Ann Au's stunning statement creations—rings, necklaces, earrings and bracelets that showcase precious and semiprecious gemstones—to the brands she carries (Monies, among others). Jewelry is displayed alongside artful and elegant decorative items (ceramics by Elizabeth Peckacek, for example) and accessories. 200 Fifth St; 2aulimited.com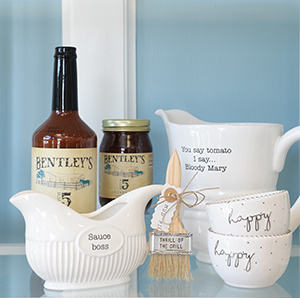 Find whimsical kitchen goods and other specialty gifts at MoMere.
MoMere:
We were most drawn to the distinctive, sometimes whimsical, kitchen goods and barware at this specialty gift shop. Decorative hand towels? Of course. Practical kitchen tools? Sure. Also find platters, mugs, bowls, GurglePots and more. Finchberry soaps, children's gifts and clothing, collectibles and seasonal items round out the offerings. 201 Fifth St.; momere.com
Sisters in the Junction:
Sisters expertly, and impressively, mixes diverse lines of well-selected merchandise. High-quality women's accessories, including Hobo and Baggallini purses and Mariana jewelry, share space with top brands in baby apparel, toys and gifts (KicKee, Petunia Pickle Bottom). Another focus: an enticing variety of candles, lotions, soaps and home fragrances by such brands as Caldrea, Pre De Provence and Voluspa.
202 Fifth St.; sistersinthejunction.com
Olson-Larsen Galleries:
One of the state's premier art galleries, Olson-Larsen hosts a changing roster of exhibits. Browse as in a museum, but you can take a work home as well. The gallery represents about 55 major artists, including top Iowa artists such as Amy Worthen (prints), Molly Wood (photography), Lee Emma Running (installation, sculpture), Tilly Woodward (oil painting), Yun Shin (paper) and Michael Brangoccio (painting). Olson-Larsen also offers custom framing services. 203 Fifth St.; olsonlarsen.com
Bing's:
If you want—or need—a laugh, head to Bing's. Silly and clever adages adorn socks, cards, welcome mats, cocktail napkins ("Our book club can outdrink your book club"), and coasters ("I feel less guilty about napping when I call it pursuing my dream"), among other items. Opened in 2017 by Victoria Veiock—former longtime owner of Wicker and the Works—and her daughter, Val, the store also sells a variety of garden art poles. 204½ Fifth St.; bingsdsm.com
Artisan Gallery 218:
This artist-owned contemporary fine art gallery—founded in 2015 by partners Annie Temple, Louise Mcilhon, Mary Kline-Misol and Victoria Herring—exhibits and sells the works of select Iowa artists in a range of media, including fiber, photography, painting, sculpture, jewelry, glass and pottery. In addition, the gallery hosts book readings, lectures, classes, workshops and art demonstrations.
218 Fifth St.; artisangallery218.com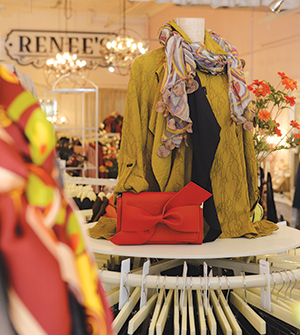 Top contemporary brands in women's clothing and accessories can be found at Renee's.
Renee's:
With an inviting environment that recalls an Old World French country boutique, Renee's specializes in contemporary brands from the United States, Canada and Europe, such as Simpli, Khangura and Dolcezza. You'll find everything from flirty dresses and bold geometric-patterned jackets to basic yet elegant tees and pants, along with an appealing collection of accessories and jewelry. Another draw of shopping here is the personal service you receive: Owner Desiree Renee Johnson, who opened the boutique in 2017, is exceptionally helpful and refreshingly honest—she'll make sure you go home with the right styles and the right fit for you.
221 Fifth St.; reneesiowa.com