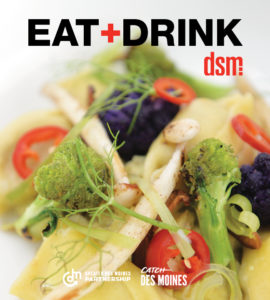 To come up with this list, we asked ourselves not only where anyone could dine well, but where we truly eat and drink—not on assignment and not out of newsworthiness, but simply because, after all is said and done, these are our personal favorites. This is our most subjective, opinionated and whittled-down guide to date. 
Writer: Wini Moranville
Note: The dsm editors, along with longtime restaurant reviewer Wini Moranville, chose the restaurants in this guide. No venue paid to be included on the list.

On the cover: The agnolotti at Reed's Hollow features homemade pasta squares filled with a shitake bisque, while the shitake mushrooms and vegetables sit atop the ravioli.
---
FINE DINING
PRESENTED BY SPLASH SEAFOOD BAR & GRILL
CENTRO
1003 Locust St.; 515-248-1780
centrodesmoines.com
Yes. You've seen so much of it all before: pizza, bruschetta, fried ravioli, giant meatballs, hearty pasta and crowd-pleasing Italian-American entrees, some sided with (wait for it…) fettuccine Alfredo. The difference is that Centro has put the passion back into the classics. Head here to taste why America fell in love with Italian-American food in the first place. More reasons to go: The craft beers are purveyed as passionately as the wine, and the see-and-be-seen draw of the downtown hot spot remains irresistible.
DJANGO
1420 Locust St.; 515-288-0268
djangodesmoines.com
Django's appeal—as a high-energy French brasserie with an easygoing vibe—endures in its new Locust Street location. The menu offers both weekend-worthy French classics, such as escargot, steak au poivre, beef bourguignon and filet Rossini, as well as weeknight-perfect France-inspired burgers, sandwiches and main-dish salads. The U-shaped raw bar, with its cheese and charcuterie station, makes Django a great spot for a nibbles-and-sips kind of night. Our only caveat: While some might call this place lively, others might call it loud.
801 CHOPHOUSE
801 Grand Ave., Suite 200; 515-288-6000
801chophouse.com/des-moines
This hallowed steak-and-martini shrine is all about opulence—it's the place to go when you're feeling flush (or when someone else is paying). With etched glass, leather booths and gleaming wood, its dining room exudes Edwardian grandeur, and the servers possess poise and polish. Best of all, the meat measures up to the well-heeled setting—this is the place for extravagant cuts of USDA prime steaks, from the velvety filet to the richly marbled rib-eye. If you're not on an expense account, go ahead and split the behemoth main dishes and sides—the staff has always been gracious when we've done so.
HARBINGER
2724 Ingersoll Ave.; 515-244-1314
harbingerdsm.com
Chef Joe Tripp often imbues his vegetable-centric small plates with flavors inspired by his repeated culinary journeys to Southeast Asia and beyond. Yet a New American sensibility flows abundantly through the menu, too. The ingredients—as locally purveyed as possible—come first, and seasonality stars on every plate. The rustic-chic ambiance, complete with reclaimed wood from a beloved local farm, underscores the restaurant's true-to-Iowa ethos. Want a sample? Test the waters at happy hour: You'll find casual-yet-detailed bites at exceedingly compelling prices from
4 p.m. to 6 p.m. 
FLEMING'S PRIME STEAK HOUSE AND WINE BAR
150 S. Jordan Creek Parkway
West Des Moines; 515-457-2916
flemingssteakhouse.com
While Fleming's doesn't quite possess the grandeur and gravitas of 801 Chophouse, the steakhouse chain delivers where it matters most: with the lusty prime-grade steaks, seared at 1,600 degrees and rife with bold, beefy flavor. Equally irresistible are the indulgent sides, such as creamed spinach and jalapeño-spiked potatoes. Keep an eye out for limited-time specials (a Tomahawk Tuesday three-course meal for two, for example, recently snagged our attention). And remember Fleming's bar menu for more casual nights—the steak sandwiches and prime burgers come reasonably priced for the quality rendered.
SPLASH SEAFOOD BAR & GRILL
303 Locust St.; 515-244-5686
splash-seafood.com
Splash endures as the city's premier spot for high-end seafood. Anchored by jet-fresh fish and shellfish in a number of preparations, the menu is vast. Yet this is one of those places where once you've found a favorite it's hard to stray—at least, that's been the case for those of us who have tasted the Chilean sea bass meunière, the Sriracha scallops and the miso salmon with edamame salad. Also, when it comes to oysters, East Coast or West, raw or cooked, we've found no reason to head anywhere else in town. Oh, and one more thing: There's never a corkage fee here. 
TABLE 128 BISTRO + BAR 
12695 University Ave., Suite 140
Clive; 327-7427
table128bistro.com
Yes, you could order a signature dish at this modern-American bistro (the warm Brussels sprouts salad or the "angry donuts" come to mind); however, Chef Lynn Pritchard's passion is to "paint with all the colors in the paint-box"; that is, to continually find new ways to showcase America's diversity of cultures, cuisines and flavors. So don't go falling in love with a fennel pollen-dusted heirloom chicken breast with marbled potato chips, sautéed grapes and cashews, crispy polenta and rosemary-golden balsamic jus. It will soon be replaced. And chances are the chef will outdo himself once again. Other draws: Truly well-crafted craft cocktails and a wine list devoted to gems from smaller producers and lesser-known wine regions of the world. +
---
SINGULAR SENSATION
The Utterly Un-Categorizable Reed's Hollow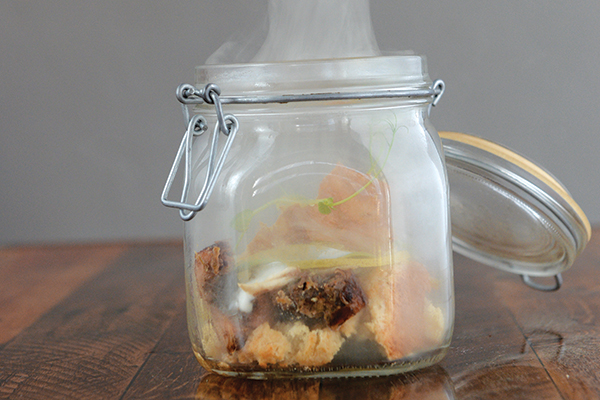 Served in a jar, Reed Hollow's smoked chicken consists of confit chicken, crispy chicken skin, hay-infused yogurt, pickled apple, applewood smoke and bourbon barbecue sauce, among other ingredients.
The word "elevated" gets bandied about often in the food world. What does that even mean? The best way to understand it is to experience it, and to do so, head to this quirky Beaverdale venue, where chef Zach Gutweiler intricately builds flavors in a way that enhances the essence (and joys) of each dish. Case in point: A dish of tomato-infused watermelon with caramel-glazed pork belly atop a green-tomato paint, with a scattering of micro-greens, makes us see the BLT in a whole new way. Note that the avant-garde food is served in a somewhat random and decidedly relaxed atmosphere.
(2710 Beaver Ave; 515-777-3625; facebook.com/reedshollow)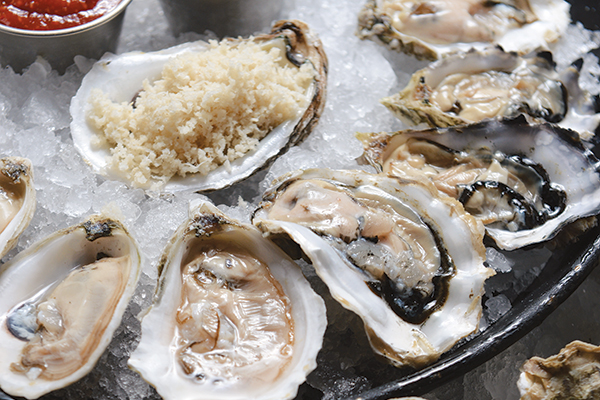 SINGULAR SENSATION
Birthday Lunch at Splash Raw Bar
Start the party with a bottle of single-grower Champagne and a slew of raw oysters—the shockingly fresh, ice-cold bivalves bring a sweet-salty-funky flavor of the sea that sets oyster lovers swooning. Continue living large with a lobster Louis salad or a shellfish platter of colossal shrimp, Alaskan king crab and Maine lobster. Finish with a slice of chocolate-truffle cake with crème anglaise. Yes, it's going to be a great year. 
---
POLISHED CASUAL
AMERICANA
1312 Locust St.; 283-1312
americanadsm.com
In a three-way tie, Americana vies with Django and Centro as the downtown hot spot. Which one to choose? The choice is easy when you're jonesin' for American comfort food—or, more specifically, contemporary takes on American comfort food. Here, lobster mac-and-cheese gets glammed up with a garlic, tomato and onion compote, and their signature burger swings au courant with tomato marmalade and Dijon aioli. Expect equally buzzy touches on everything from meatloaf to roast chicken. Don't miss the $7 burger special on Sunday nights. 
BUBBA—SOUTHERN COMFORTS
200 10th St.; 515-257-4744
Bubbadsm.com
At this ultra-stylish downtown venue, you can certainly fill up (and out) on gut-busters like chicken-fried steak and chicken and waffles. However, we mostly prefer the more refined side of the menu, such as the luscious shrimp and grits and the crab cake salad with a charred lemon-buttermilk dressing. That said, the Bubba burger, with pimiento cheese, pecan-smoked bacon and a brioche bun, gets us back on the big-food bandwagon in a hurry (and no, we won't split it). We also admire restaurateur/impresario Christopher Diebel's constant commitment to making a splash—there's always a head-turner afoot here, from a limited time custom-barrel-aged beer, to new Frozé (frozen rosé) drinks, to the exclusive unveiling of Texas wines. 
EATERY A
2932 Ingersoll Ave.; 515-282-8085
eateryadsm.com
What do you get when a critically acclaimed chef-restaurateur turns his attention to menu items that are priced under $20 a plate? How about Spanish octopus with chorizo, kale, Yukon potatoes and preserved lemon aioli? Or tender gnocchi with Grana Padano cheese, tomato pan sauce and a cured egg yolk? Or countless other ambitious, detailed dishes that taste like top-dollar Saturday-night splurges but come at Tuesday-night prices. Indeed, when restaurateur Jason Simon opened Eatery A in 2014, he and Chef Nick Gonwa raised the bar on casual food in this city. We cannot thank them enough.
MIYABI 9
512 E. Grand Ave.; 515-288-8885
miyabi9official.com
Chef-owner Miyabi "Mike" Yamamoto brings over 50 years of culinary experience to this cream-of-the-crop sushi spot. Enjoy expert versions of classic sushi and sashimi, but also order signature creations with confidence: Yamamoto does complex modern sushi without ever going over the top. Thanks to the energetic East Village ambiance—with historic touches amid the neo-urban unfinished look—the cool factor soars plenty high here. Our menu favorites include the shrimp dumplings, nigiri topped with warm green-lipped mussels and any roll that features the pristine tuna
and yellowtail.
ST. KILDA
300 S.W. Fifth St.; 515-369-7854
stkildadsm.com
Since opening in 2017 in the growingly chic warehouse district south of downtown,
St. Kilda has become a favorite for fresh, colorful and refined meals, from breakfast through dinner, with plenty of pastries, coffee, and cocktails for the hours in between. Only time will tell if we can move past the irresistible avocado toast (with a poached egg) or the grilled salmon (with a poached egg), but when we do, we'll probably be just as thrilled, thanks to items such as the Waldorf chicken salad with pistachio aioli or the mushroom toast, with mushroom fricassee and truffle queso spread atop toasted sourdough bread (with a poached egg). +
---
SINGULAR SENSATION
Lunch With a View at Trellis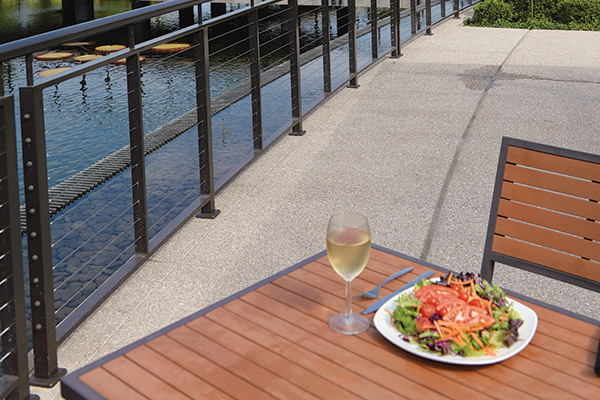 At the Greater Des Moines Botanical Garden, the restaurant's terrace overlooks the water garden, which flourishes with water lilies, water irises and three islands of tropical and seasonal plants. Add to that a panorama of downtown Des Moines looming across the river, and our natural and cultural worlds come together in one exhilarating view. So, what's to eat? Chef/owner Lisa LaValle describes her cooking as "creative cuisine from the plant world," and indeed, grains, legumes and veggies grace the menu in dishes such as a veggie-tabbouleh salad with pumpkin-mint vinaigrette. But meaty entrees—such as pasta with beef brisket and blue cheese—keep carnivores plenty satisfied, too. (909 Robert D. Ray Drive; 515-323-6288; dmbotanicalgarden.com)
---
CASUAL
CHEESE BAR
2925 Ingersoll Ave; 515-277-7828
cheesebardsm.com
With its fierce dedication to all things artisanal, the Cheese Bar is the unofficial headquarters of the slow-food movement in this city. Settle into a long, communal, farmhouse-style table for a scene reminiscent of hipster Brooklyn (and we mean that admiringly), then order platters featuring some of the world's most striking cheeses, lush pâtés and cured meats sliced so delicately thin you can read through them. Groove to the 30 painstakingly purveyed craft beers on tap; each is thoughtfully served in wine glasses, because each is worth savoring. Smörgs (Scandinavian-style open-face sandwiches), artful grilled cheeses, fondue and raclette are also major draws here. 
GUSTO PIZZA CO.
1905 Ingersoll Ave., 515-244-8786
three other locations
gustopizzaco.com
Here, a pizza is more than just cheap eats: The thin-crust pies provide the vehicle for a great ride of thoughtful combinations (e.g., the Duke, with barbecue sauce, smoked brisket, colby jack cheese, red onion and cilantro). In fact, it's hard to stick to a tried-and-true favorite at Gusto, because tempting new pies make their debut often from the never-a-dull-moment kitchen. Note that the Clocktower Square—West Des Moines location recently unveiled their take on Chicago pan-style pizza; based on our unsuccessful inaugural try, we recommend sticking with their traditional pizzas until they get the kinks worked out. 
LA MIE
841 42nd St.; 515-255-1625
two other locations
lamiebakery.com
Locals line up for the artisan breads, French pastries and desserts at this bakery cafe, which was among the first spots in town to tap into the French macaroon renaissance. La Mie or La Mie Elevate are both full-scale options for breakfast or lunch; look for omelets, soups, salads and sandwiches with creative fillings between slices of the famed fresh-baked bread. At La Mie Express, the options are fewer in number, but still plentiful, including the outstanding wood-fired lunch-sized pizzas.  
LOLA'S FINE KITCHEN
1615 S.W. Main St., Suite 106; Ankeny
515-289-9302
lolasfinekitchen.com
Chef and managing partner Hannah Elliot draws culinary inspiration from her mother, who is Filipino, and her paternal grandmother, who is Pakistani. The result is a pleasurable fusion of the two cuisines. We love the way the dishes combine the gratification of age-old recipes with the freshness of a next-gen chef. While you can build your own bowl with rice or mung bean noodles topped with meats or veggies and exotic sauces of your choosing, we prefer the kitchen to think it through for us. We're stuck on the beef and lamb meatball bowl, with green and red chutney, rice pilaf and Paki Pico, a chutney-dressed salad of cucumber, tomato and onion. Another great choice is the Sising roasted pork bowl–slow–cooked pork, mung bean noodles, savory Asian quick pickles and a garlic-vinegar-pepper sauce. Ask for a side of green chutney; the vivid cilantro, parsley and mint sauce goes with everything.
SCENIC ROUTE BAKERY
350 E. Locust St.; 515-288-0004
scenicroutebakerydsm.com
While Des Moines gets coffee culture, coffee-and-pastry culture has yet to go mainstream. If any place can make the pleasures of pastry go beyond a once-in-a-while indulgence, Scenic Route is the spot, thanks to superior espresso drinks and a rotating selection of baked treats made in-house from scratch. Specialties range from down-home to European-inspired—from thickly white-iced cinnamon rolls and chewy peanut butter cookies to ultra-flaky croissants and custardy canelés. Certainly, the kitchen turns out terrific salads and sandwiches for casual cafe dining, but it's the work of the bakers and baristas—dedicated to bringing so much joy to our everyday lives—that sets this place apart. 
THAI FLAVORS
1254 E. 14th St.; 515-262-4658
thaiflavorsiowa.com
In the late '90s, we all thought our Thai restaurants were pretty darn good. Then, in 2002, Thai Flavors burst onto the scene, showing us fresher, more vivid and stirring takes on Thai food. Now a number of really good Thai restaurants dot the city, but this one remains our favorite. Enjoy engaging takes on curries, noodle dishes, and stir-fries; good bets include the Tom Ka Kai soup, the green curry and the eggplant with sweet basil. Don't let the aging-strip-mall location dissuade you from checking it out; while the simple spot used to be best suited for a workday lunch, the decor was revamped a few years ago. These days, the ambiance remains casual, yet warm and inviting enough for a leisurely dinner out. + 
---
TAKE FIVE: GO-TO GLOBAL DINING DISHES
Given the extensive menus at many ethnic restaurants, sometimes it's hard to know where to start. Here are some can't-miss dishes at some of our favorite globally focused spots.  
Empanadas at Mi Patria: Empanadas—savory hand-held pastries filled with meat or cheese—are a signature snack in Central and South America. Every meal at this casual Ecuadoran venue should start off with an order of the warmly spiced, blistery-crisp half-moons. But share 'em—they're huge. 
Green Curry at Thai Flavors: The amazing-ness of this coconut-milk-laced, aromatically spiced, sweet-salty-spicy-nutty curry is hardly breaking news. Indeed, loving this dish is almost like loving the medley on the B-side of Abbey Road. Who doesn't? Still, it never gets old. 
Pork and Egg Roll Bùn at Aroy Dee: This vermicelli rice-based dish is a study in contrasts: Savor warm, chewy-in-a-good-way pork with cool and crunchy vegetables and soft and slippery white noodles, with chopped eggrolls for yet another crisp and savory dimension. 
Tacos at Fernando's Mexican Grill: Here, they wait until you order to press the dough balls into tortilla disks—how fresh is that? Top them with moist, seasoned steak bits, pico de gallo, salsa verde and cilantro-flecked red onions for taco-truck-fresh, killer-good tacos that you can enjoy indoors, all year round. 
Vegetable Tempura at Miyabi 9: Forget all the lackluster versions of tempura you've ever endured, because here's your new gold standard (pictured, above). The off-the-beaten-path mix of vegetables (which can include such wild cards as okra, Japanese lotus and kohlrabi) arrives with a heavenly fried coating that's generously dappled yet impossibly light and crisp. 
---
TAKE FIVE: JAVA JOINTS
To make this list, above all, the venue had to craft superior coffees. We also chose places where we like to linger a while.  
DSM Brew: To thrive in a crowded field, a coffeehouse must set itself apart. Mission accomplished at DSM Brew. Nitro coffee (cold-brewed, nitrogen-infused coffee served from a tap) is a specialty, and the gelato case beckons with 16 flavors. We also appreciate the spacious and clean ambiance of the renovated 1908 building. (300 W. Martin Luther King Jr. Parkway, Suite 140; 515-259-3634; www.dsmbrew.com)
Grounds for Celebration: Owners George Rivera-Davis and Jan Davis take coffee so seriously, they grown their own in Panama. The tea is sourced with equal expertise—Jan is a certified tea blender. (Locations in Beaverdale, West Des Moines, and Windsor Heights; groundsforcelebration.com)
Mars Cafe and Mars Sidebar: Whether you settle in at the Drake-area mainstay or the newer downtown location in Capital Square, you'll find expert coffee, personable baristas and a great groove. (Mars Cafe: 2318 University Ave., 515-369-6277; marscafe.net; Mars Sidebar: 400 Locust St., Suite 130; 515-288-6277; facebook.com/marssidebar)
Ritual Cafe: With works of local artists on the rich red walls and the storefront windows framing the downtown skyline, the Ritual is the kind of warm and funky, one-off coffeehouse we love. (1301 Locust St., Suite D; 515-288-4872; ritualcafedsmiowa.net)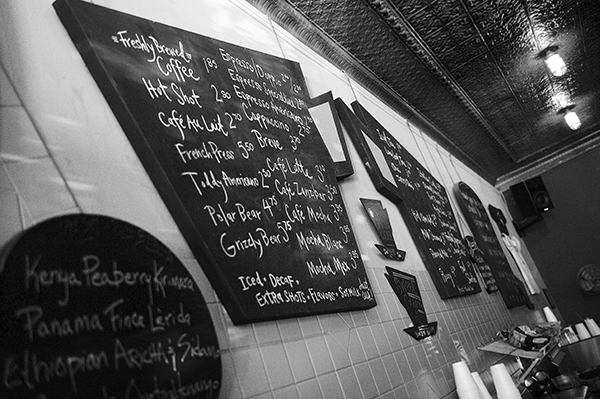 Still one of the best: Zanzibar's Coffee Adventure on Ingersoll.
Zanzibar's Coffee Adventure: One of Des Moines' first coffeehouses remains one of our best, with painstakingly sourced coffee beans roasted in-house, then crafted into precisely wrought cuppas. The neighborhood vibe is especially irresistible. (2723 Ingersoll Ave.; 515-244-7694; zanzibarscoffee.com)
---
BARS
BUBBA—SOUTHERN COMFORTS
200 10th st.; 515-257-4744
bubbadsm.com
A handsome wall of whiskey beckons the minute you walk through the door, and that's your first hint: Bubba is this city's bourbon central. The high-ceilinged, giant-chandeliered lounge—resembling a stylish update on a grand and glamorous Southern parlor—is a fine ol' spot to sip one of the 50-plus bourbons in stock. Also enjoy classic and creative cocktails and a dedicated craft beer selection. 
HELLO, MARJORIE
717 Locust St.; 515-369-2296
hellomarjorie.com
Though it's tricked out with 100 percent funky midcentury finds, Hello, Marjorie (pictured, left) is an irony-free zone: The pinks, aqua-blues and oranges in the color scheme, along with the crushed velvet soft seating, clunky '70s-style dining-room sets and ornate vintage china cabinets now serving as bar shelves, are not meant to mock. Rather, they come together with grace and beauty, and you sense an earnest admiration for the spirit and style of a bygone era. Located in the former lobby of the Des Moines Register and Tribune Building, the lounge was named for co-owner Nick Tillinghast's sloe-gin-sipping grandmother. Indeed, Marjorie must have been one fun lady, because this is one fun spot. 
NOCE
1326 Walnut St.; 515-244-5399
nocedsm.com
Housed in a renovated warehouse, this cabaret and music club updates the allure of the Jazz Age for our own era. Well-known vocalist and pianist Max Wellman heads up the jazz programming on a somewhat set schedule: The Des Moines Big Band, an ensemble that originated in the 1950s, plays on Wednesday nights, while Thursday nights bring "Jazz on the House," with no cover charge. Rotating local, national and regional acts take the plush blue-curtained stage on Friday and Saturday nights. Insider bonus: Late on Friday nights, stop by for "Last Call with Max Wellman," when Wellman and bassist Steve Charlson play a cover-free show of standards from 10:30 to 12:30. 
REPUBLIC ON GRAND
401 E. Grand Ave.; 515-518-6070
therepublicongrand.com
Located on the sixth floor of the AC Hotel in the East Village, this is our favorite spot in town to enjoy alfresco drinks. Spacious terraces offer fresh air, a buzzy crowd and views of the East Village and downtown. We love the way the top-floor spot, high above the street, feels like an in-crowd hideaway in the center of everything. More good news: Heat lamps allow the terraces to remain open longer than one might expect. Yet even if winter chases you indoors, plush soft seating and a swanky blue and silvery decor can make you feel like you're truly where it's at. Colorful craft cocktails and a sharp wine list, including seven bubblies by the glass, add to the draw. + 
---

The sip-worthy bluish concoction on the left is Lavender Love Potion #9, a lovely offering at RoCA, on Court Avenue.
SINGULAR SENSATION
Lavender Love Potion #9 at RoCA
While some craft cocktails in the city are fun novelty acts—nice to try, but not always worth a revisit—the Lavender Love Potion #9 (left in the photo) is a keeper. A refreshing, lilac-colored beauty, this sip combines crème de violette, St. Germain, lime juice and prosecco for one of our craft cocktail scene's loveliest and most inspired concoctions. Be sure to stick around for chef Aaron Holt's equally inspired shared plates menu. (208 Court Ave., 515-282-3663; rocadsm.com)
---
TAKE FIVE: HERE FOR THE BEER
Each of these beer-focused venues serves dozens—if not hundreds—of craft beers, as well as solid bar-grill food. They fall under the Full Court Press umbrella of restaurants, which are dedicated not only to beer, but also to showing patrons a fine time for a reasonable price.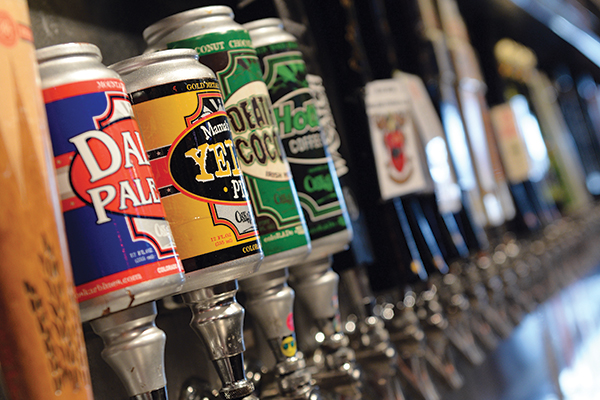 Beer taps line up and stack up at El Bait Shop, a crafty little bar with a Big Brag: more American microbrews than any other bar on the planet.
El Bait Shop: With (at last count) 262 beers on tap, plus dozens more by the can and bottle, this quirky bar-grill (pictured, right) claims to stock more American microbrews than any other bar in the world. Adding to the draw is a decidedly goofy decor that's reminiscent of a 15-year-old boy's basement room in the 1970s—in a good way. (200 S.W. Second St., 515-284-1970; elbaitshop.com)
Iowa Tap Room: One of our favorite ways to wear our locavore badge is to drink Iowa-produced beer. It's a pleasure to do so at this handsomely renovated East Village warehouse (pictured, above) that showcases 120 beers on tap made by more than 30 Iowa breweries. (215 E. Third St., 515-243-0827; iowataproom.com) 
Hessen Haus: Eins, zwei, drei, vier—have yourself a stein of bier! Why not? Especially when this true-to-München beer hall serves 150-plus German and German-style brews. Join the fun alongside a rollicking good-time crowd as you tuck into piles of hearty German food and German-kitsched bar food (e.g.: Bavarian nachos, fried sauerkraut pretzel balls). (101 Fourth St., 515-288-2520; hessenhaus.com)
The Royal Mile: Rich with well-worn dark-wood furnishings, the parlor-like setting helps you ease into the unmistakable sense of warmth and well-being of a true British pub. Enjoy one of the numerous ales, stouts, bitters, lagers and ciders to drink alongside honest pub fare. Then, choose from dozens of Scotch whiskys to sip into the night. (210 Fourth St., 515-282-2012; royalmilebar.com)
Truman's KC Pizza Tavern: Named after Missouri's most famous native son and dedicated to all Kansas City sports, all the time, this good-time joint specializes in pizza and American craft brews, including many from (you guessed it) Kansas City. (400 S.E. Sixth St., 515-214-2759; trumanstavern.com)