Above: Managing the state's enormous liquor warehouse in Ankeny, Herb Sutton is bartender to the masses, and he knows what Iowans are likely to order. 
Writer: Mike Kilen
Photographer: Duane Tinkey
This is less a warehouse than 175,000 square feet of pure party.
Three million bottles of booze are stacked so high at the Ankeny warehouse—the temporary home of every drop of distilled spirits sold in Iowa—that the rows create a welcome tunnel of all your diverse friends, such as erudite Johnny Walker and gentleman Jack Daniels.
Leading the way down the aisle is Herb Sutton, 51, the bottle baron of Iowa. He knows every brand you drink like the back of his hand. The bureau chief of operations at the state's Alcoholic Beverages Division cut his teeth running this warehouse and can tell you the season of the year simply by walking past the inventory.   
Iowa is one of 17 states that control distribution of distilled spirits. That means it all comes through here, under Sutton's watchful gaze. The first thing you learn from him is that Iowans have evolved into adventurous drinkers.
There was a time when old codgers lugged around a fifth of their favorite brand like an extra appendage. But today, young and old, men and women, try so many new concoctions of alcohol and in smaller sizes that just in Sutton's dozen years here, the options have grown fivefold to more than 2,300.
"I have a great job," he tells his friends seeking booze advice, "but that doesn't include cracking the caps and taking a sip of everything that is listed in the warehouse."
He learned long ago that giving them tips led to too many guilt-ridden offers to buy when they didn't like the recommended liquor. But it's no wonder they want advice. The choices are head-spinning.
You want peach flavor in your Crown Royal? Done. ("I never thought that would work," Sutton says.) A booze infused with hibiscus? Cucumber in vodka? Well, sure.
"Choice is what people want," he says. "We have to change and keep up with what people are drinking."
When Fireball Cinnamon Whisky became a trend a few years ago, he would never have seen it rising all the way to second place in sales (134,233 cases) in fiscal year 2018, right behind the all-time champ.
"Black Velvet Canadian Whisky has been the favorite in the state for years," he says. "Because it's inexpensive like Busch Light, Black Velvet has no challengers."
Near the rear of the warehouse, Black Velvet is stacked high on four pallets, next to the state's other big sellers such as the surprising comeback of Captain Morgan Original Spiced Rum (No. 3), perennial cheapo favorite Hawkeye Vodka (No. 4) and its serious new challenger, Tito's Handmade Texas Vodka (No. 5).
Forklift drivers zoom in an out of the aisles in orchestrated chaos, wearing wrist scanners to fill orders for the 15 trucks that depart daily, laden with liquor for hundreds of retailers. 
The state owned 220 liquor stores in 1987, but in the 32 years since privatization, the number of retail outlets has grown to 1,569, including the fastest-growing category—convenience stores, which have been allowed to sell liquor since 2011.
Going down the aisles in March, you could tell it was just after St. Patrick's Day by the leftover stacks of Jameson Irish Whiskey. Already, the tequila and flavored vodka piles were growing in anticipation of summer for margaritas and fruity drinks, while stacks of rum and expensive gift liquors for winter months were dwindling.
Add local distilleries, such as Templeton and Cedar Ridge, and you can see why it's popular to gaze at the top-50 display case of bottles at the warehouse entrance that change position according to sales, just to keep up with trends.
Iowans spent $320 million on booze in 2018; the amount has increased each year from $255.8 million in 2013. The 2,044,523 cases last year came in all colors and flavors, and Sutton studies those trends closely as retailers bug him to order all the new varieties. So much has changed that the warehouse, once a maze of boxes on the floor, is today a grid network of towering metal shelves. And they still need to bust out the walls for a 20,000-square-foot expansion in the coming year. Apparently, Iowans love to party with variety.
"What's hot today is not necessarily hot in six months," Sutton says.
State regulators investigate and approve any new liquor brands, but it falls on Sutton to work with retailers on their requests, especially bars and restaurants that have ventured into the growing art of mixology.
Edgar McGuire says that's Sutton's strength as Iowa's "bottle baron." 
"There is no brand loyalty, so it's hard for the state to know what to bring in," says McGuire, one of the owners of Bootleggin' Barzini's in Coralville. "But he's changed the warehouse to understand our need for special orders. With Herb, we are able to communicate back and forth. He's a stand-up guy and not one to blow smoke."
So what is the bottle baron's go-to brand at the end of a hard day in the booze warehouse?
"Johnnie Walker Blue," he says, smiling at the thought of the Scotch whisky.
If ever there was a warehouse that produced smiles, this is it.
---
Polk County's Five Favorite Iowa Brands (fiscal year 2018)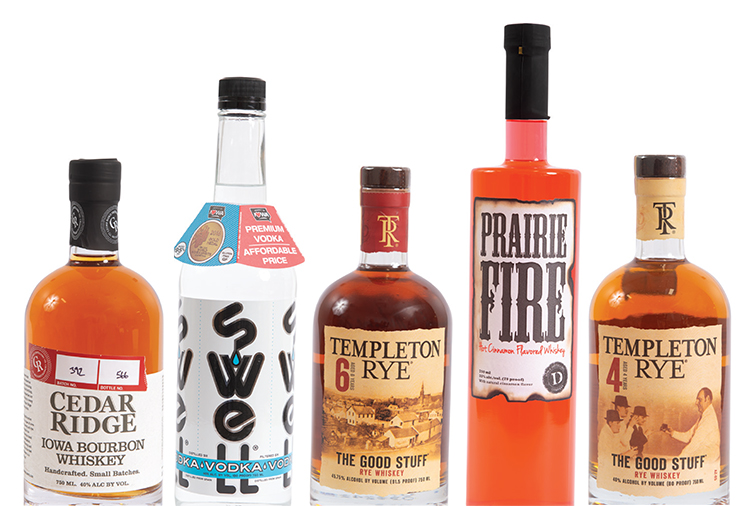 Cedar Ridge Iowa Bourbon Whiskey
Swell Vodka
Templeton Rye Aged 6 Years
Prairie Fire Hot Cinnamon Flavored Whisky
Templeton Rye Aged 4 Years
---
Top 10 Brands in Retail Sales in Polk County (fiscal year 2018)
Source: Iowa Alcoholic Beverages Division