From Josephs Jewelers, this traditional emerald-cut engagement ring pairs with a vintage-inspired band called Nicolet designed by Sylvie, a female-owned brand. Vintage looks are one of the trends Josephs is seeing. The engagement ring starts at $3,810 in 14-karat gold without the center stone; the set is available in yellow, white or rose gold, as well as platinum. Photography courtesy of Josephs Jewelers.
Writer: Beth Eslinger
While the classic white round diamond will always have its place, today's engagement and wedding rings are taking unexpected turns.
The local jewelers we spoke to agree many couples are looking for something unexpected. Customers are "embracing the uniqueness," says Bruce Owen of Owen Jewelry Design. "Everybody wants to be individual."
That means diamonds in different colors, such as pale yellows, champagne and brown hues, and salt-and-pepper tones. Naturals and yellows are particularly popular. "Diamonds come in all different colors," says designer Marisa Adamson of Daily Bliss Jewelry Design. "Sometimes they're chemically treated; many are natural." Synthetic rocks are also trending on the national scene.
Diamonds continue to be a mainstay, but other gem types such as rubies and sapphires, as well as alexandrite, aquamarine, morganite (blush pink), emeralds and spinels (a ruby alternative) are also starring in settings.
The cuts of those stones are also becoming more diverse. Ovals, pears, marquise, even kite shapes are increasingly popular. At 2AU Limited, "we're seeing unusual shapes for white, not the normal round," says jeweler Ann Au. She shows a rose cut, a stone with a flat base and faceted top. Another ring features a rough or uncut diamond suspended in a thin setting. For his creative looks, Owen has set diamonds sideways or at an angle.
Lifestyle is another key consideration for many couples. Medical professionals, gardeners, athletes and active types all have specific needs. For these clients, jewelers are creating rings with flat stone settings (so medical professionals can easily put on gloves, for example) or a satin finish (perfect for a gardener).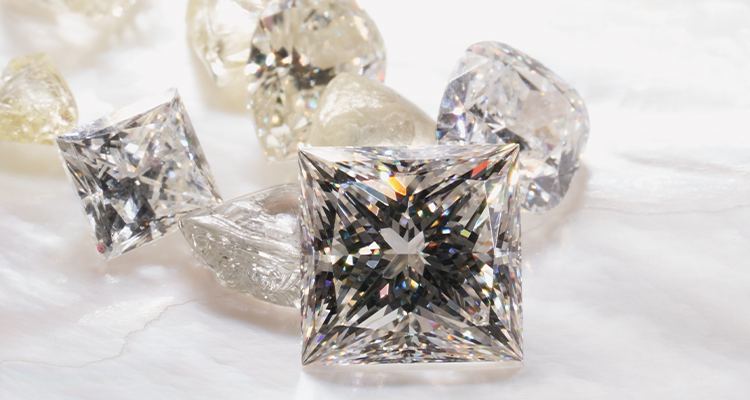 Contemporary diamond shapes are anything but ordinary. Here, a mix of faceted and natural diamonds are cut into princess, pear, cushion and natural diamond macles. These stones are from 2AU Limited. Photographer: King Au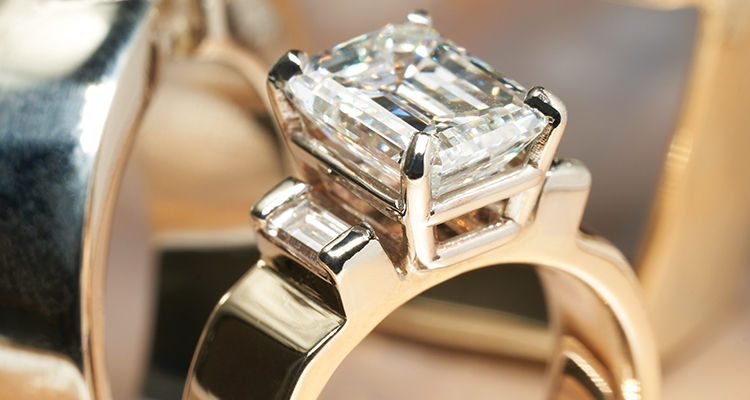 Designed by Ann Au of 2AU Limited, this 14-karat yellow gold band wraps an emerald-cut diamond with straight baguettes. Contact 2AU for pricing. Photographer: King Au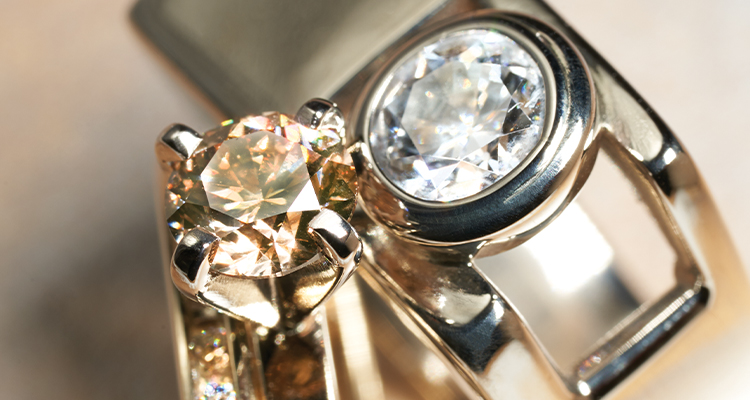 Traditional and modern settings are highlights of these rings from 2AU Limited. Left: A 1-carat champagne diamond round is set in 14-karat gold, with a matching band of small diamonds. Contact the jeweler for pricing. Right: A 1.2-carat European-cut diamond is bezel-set into 14-karat gold in an asymmetrical mounting. Photographer: King Au
Also trending:
Family jewelry, which is often used in unusual ways. "We're seeing a resurgence in repurposing heirlooms," Owen says.
Vintage looks. Trisha Joseph of Josephs Jewelers says customers may study the store's vintage case to see Victorian Era options, but they often opt for modern interpretations featuring similar looks.
A mix of metals in wedding bands—such as rose and yellow gold—as well as layered rings for a mix-and-match look. At Josephs, they're pairing rings with diamonds set in a chevron shape with several delicate bands.
Going big. Known for her oversize pieces, Adamson mixes textures, finishes and materials. Her ring combos can cover two fingers for a statement approach, and she often pairs a massive piece with a smaller piece.
Whatever the style, jewelers say they strive to give couples a one-of-a-kind ring and experience. As Au says, "We work hard to personalize so the ring becomes part of you."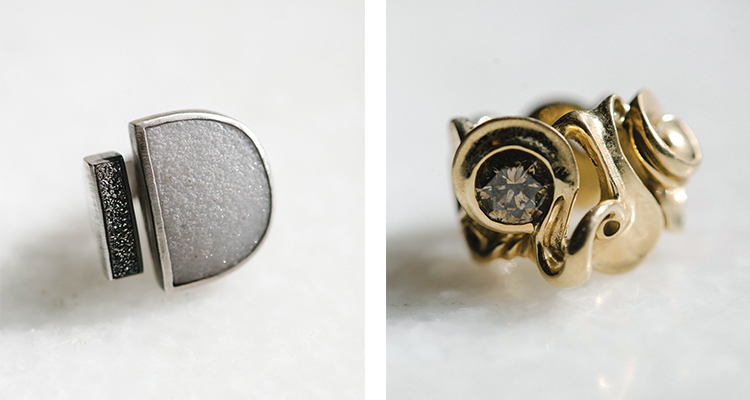 Marisa Adamson of Daily Bliss Jewelry Design specializes in large, graphic rings. Left: This oxidized silver cast ring features a half moon-shape light gray druzy accented by a rectangle-shape dark gray stone of the same type; $925. Right: A 3.16-carat champagne diamond complements the 18-karat gold cast design; price available upon request. Photographer: Joelle Blanchard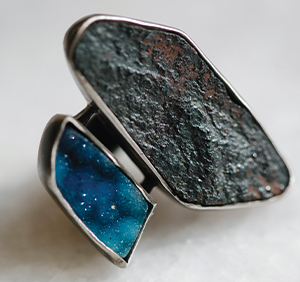 Another Daily Bliss design, this oxidized silver cast ring pops with a bright blue druzy and botryoidal hematite; $1,095. Photographer: Joelle Blanchard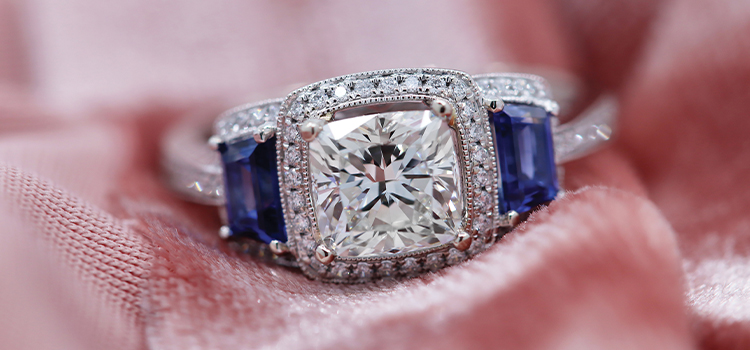 This Simon G ring is a vintage-inspired look from Josephs Jewelers. Trapezoid-cut blue sapphires add color contrast to the 1-carat cushion-cut center. Pricing starts at $3,300 in 18-karat white gold (center stone not included). The ring also comes in rose and yellow gold, plus platinum. Photography courtesy of Josephs Jewelers.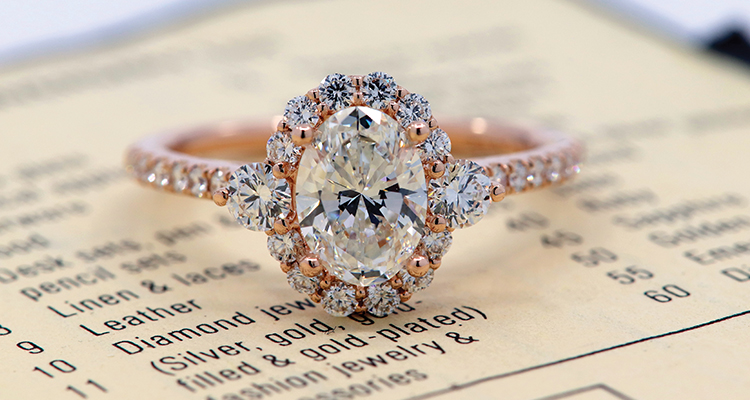 Designed by Sylvie and available at Josephs Jewelers, this three-stone oval halo engagement ring is shown in rose gold, with a 1-carat oval center stone. It's a customer favorite, Trisha Joseph says. Pricing starts at $2,550 in 14-karat gold. Photography courtesy of Josephs Jewelers.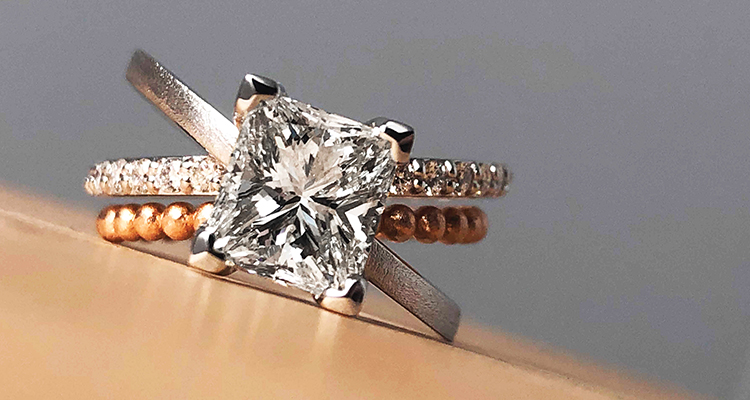 From Owen Jewelry Design, this 2-carat princess-cut stone is accented by bands made of round diamonds, 20-karat rose gold and 14-karat gold. Call for pricing. Photographer: Clayton Owen.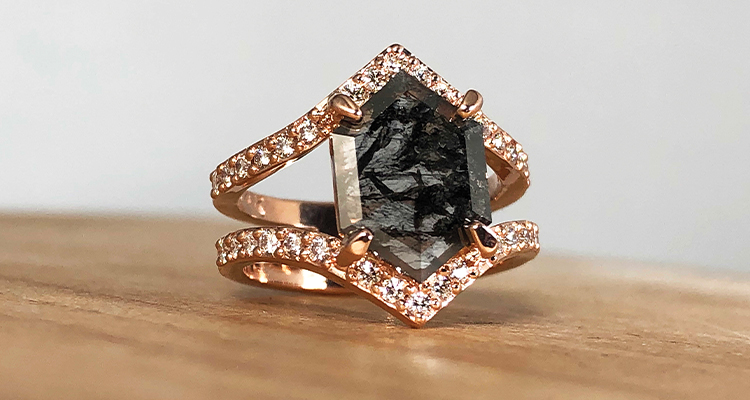 Salt-and-pepper is one of the popular diamond colors. Here, a hexagon-shape rose-cut diamond is framed in 14-karat rose gold and round accent diamonds. Contact Owen Jewelry Design for pricing. Photographer: Clayton Owen.